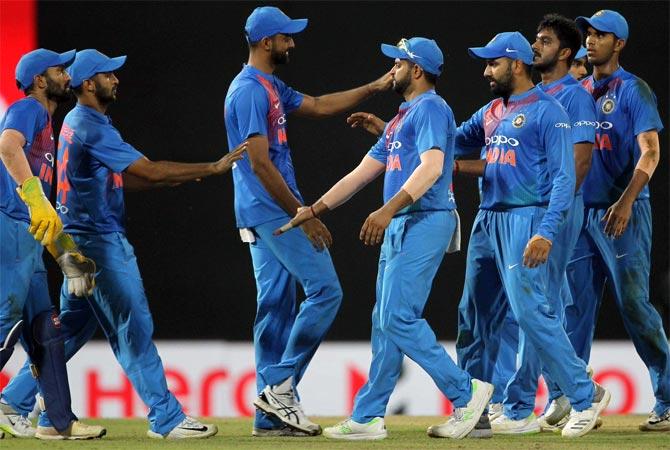 IMAGE: Vijay Shankar celebrates with teammates on claiming a wicket. Photograph: BCCI
All-rounder Vijay Shankar says he doesn't want to put himself under pressure by drawing comparisons with Team India's regular all-rounder Hardik Pandya.
Shankar claimed two crucial wickets to bag the Match of the Match award as India defeated Bangladesh by six wickets in the second T20 international in the tri-series on Thursday.
"For me, what is more important is to get better and better everyday. Because the pressure or comparing me with Hardik -- because he is also an all-rounder -- I think most cricketers don't like comparison but it is important for us to show what we have and give our best instead of putting ourselves under pressure," he said.
Shankar's maiden international wicket was delayed after Suresh Raina dropped a catch at mid off and Washington Sundar also missed an attempt in the bowler's first over.
Asked if those dropped catches affected him, Shankar said: "That didn't affect me much because dropping catches is part of the game.
"Obviously I would have loved to get my first wicket at that time but as cricketers we know it is not easy to field under lights with the white ball. I didn't give much importance to that, I was just focusing on bowling the next ball," he said.
Shankar, one of just six players to have 1500 runs and 25 wickets in domestic cricket, said his hard work finally paid off and it is a good start for him.
"It feels really great. I have been working really hard. I think the intensity with which I have been working, all that paid off with this and I feel it is just a start for me. As a cricketer, the constant thing is to keep improving and learning and I am really looking forward to the coming weeks," he said.
"I think the inner strength that I have helps me stay calm. Obviously, playing for India is special but I try to play each and every game seriously and my only thinking is to improve everyday, so it has been good for me."
Shankar acknowledged the role of the team management for giving him the freedom to express himself.
"I think the team management plays a huge part, they give us the freedom to express ourselves which is very important at this stage," he said.
"The pressure will always be there, if we enjoy the pressure then we will be able to do well but if we put ourselves under pressure then we can get into trouble."
India restricted Bangladesh to 139 for eight in 20 overs after electing to field.
"I think we bowled a really good length. The important thing is we kept taking wickets and were able to restrict them to 138-139 and that is more important," Shankar said.
India skipper Rohit Sharma lauded the team for its clinical show.
"It was a great performance -- something that was expected from us. Till the last ball of the game was bowled, it was clinical," he said.
"We looked into what went wrong against Sri Lanka and we thought hitting back of a length was a good option. We wanted them to go after the long boundaries. I thought the bowlers executed their plans really well. Came out and did what was asked. We kept it simple."
Sharma, however, said India have to raise their fielding performance after being sloppy during the second T20 match.
"We need to improve out catching. We want to get better as a fielding side every game we play. We are much better than that. Hopefully we won't make the same mistakes again."
His Bangladesh counterpart Mahmudullah blamed his batmen for not putting enough runs on board.
"It's obvious that we didn't bat well. We should've scored a lot more runs, probably 30 more runs," he said.
"They executed their plans very well but we should have found ways to make more runs. We need to rotate the strike more often. The dot balls created a lot of pressure. I think we are just one win away from getting a boost. We're still searching for it and I think we'll get it," he added.
India will play Sri Lanka on March 12.