'When you have two legends, Virat and Mahi, one is leading the team and the other has led the team, it is helpful.'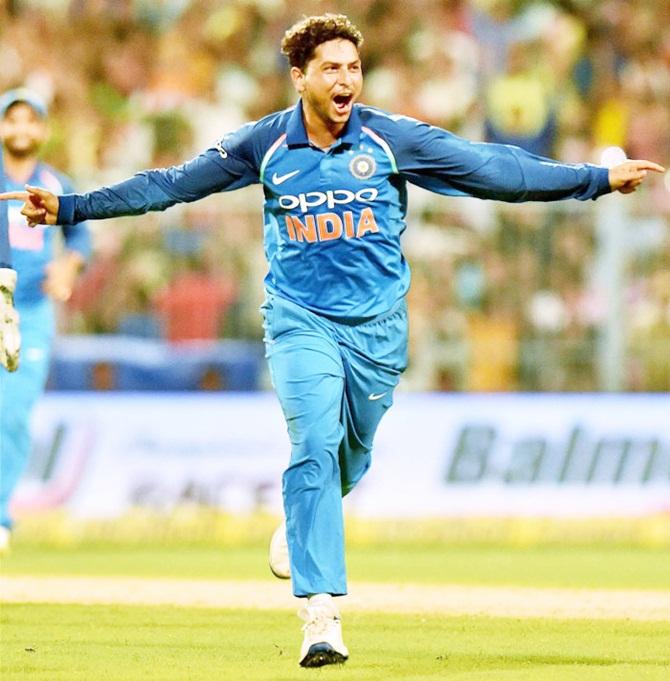 IMAGE: Kuldeep Yadav finished with figures of 3 for 34 in 10 overs and was easily the pick of India's bowlers in the first ODI against South Africa in Durban on Thursday. Photograph: Ashok Bhaumik/Reuters
Left-arm spinner Kuldeep Yadav credited Mahendra Singh Dhoni for his success in his first outing on South African soil, saying the former India skipper eased 50 per cent of his workload by providing useful advice from behind the stumps.
Yadav and fellow-spinner Yuzvendra Chahal shared five wickets between them in the first ODI to restrict South Africa to 269 for 8, a target which India overwhelmed with six wickets in hand to take a 1-0 lead in the six-match ODI series in Durban on Thursday night.
Yadav finished with 3 for 34 in 10 overs and was easily the pick of the India bowlers. He bamboozled the South African batsmen with his craft and dismissed JP Duminy, David Miller and Chris Morris.
He said his task was made easier also by skipper Virat Kohli, who believes in his abilities.
"Actually, I was confused a bit what I should bowl, because I am playing in South Africa for the first time and it was a new experience for me. The wind was good and the ball was drifting so I was confused what to bowl, and which variation to use. I was asking Mahibhai (Dhoni) and he told me 'bowl as you are bowling'. It is good that he keeps advising from behind the wickets, it gets easier," said Yadav.
"When you have two legends, Virat (Kohli) and Mahi, one is leading the team and the other has led the team, it is helpful. As a spinner, Mahibhai does 50 per cent of your work because he has played so much cricket, he reads the batsmen easily," the spinner said at the post-match press conference.
"We are youngsters and we don't have that much experience. That is why he (Dhoni) keeps telling me what to do in what situation. And the mindset comes from the captain. Virat bhai always tells us one extra wicket is more important than trying to save 10 runs. If your captain tells you that, then you start believing in yourself," he added.
Yadav and fellow leg-spinner Chahal have been at the heart of India's sensational ODI run since last year's Champions Trophy. India have lost just four of the 21 matches they have played since the mini World Cup in England.
Of late, Yadav and Chahal have become a lethal spin combination in world cricket and the former says they complement each other brilliantly while bowling together.
"Obviously, there is a lot of understanding between us. We now have been bowling for 5 years together. We were together at Mumbai Indians as well. So there is a mutual understanding between us," Yadav said about his pairing with Chahal.
"Even when he (Chahal) bowls first in the match, we talk how the wicket is behaving and whether it is turning or not, whether it is drifting and how the wind is playing out. So communication is very important and it is very good between us," he said.
Asked about the challenges of playing in overseas conditions for the first time, Yadav said, "It doesn't matter where you are playing. Since childhood I have bowled on cement wickets. So that was tough wicket for me. Here the ball was turning, so it helped me.
"Whether you are playing in India or South Africa, it doesn't matter to me. In my head the only thing is taking wickets for the team and this is Chahal's plan as well when we are bowling as a pair."
Talking further about his strengths and weaknesses, the young spinner said, "Sometimes you are under pressure, like at the start or your first over. For me, I was nervous too because it was my first game in South Africa but slowly I got into the rhythm and then you start playing with the batsmen.
"My quality is that if I go to stop runs, if I bowl fast, I will go for more runs. I try to bowl it slow, and then change the pace, then it makes life difficult for the batsmen. It is easier to bowl to someone who likes to play his shots than someone who keeps rotating the strike."
Yadav said India bowled well in the middle overs against South Africa on Thursday.
"We bowled very well in the middle overs and we put them under pressure. If you bowl well on any wicket, it is very difficult to score runs. There was a partnership in the middle between Faf du Plessis and Chris Morris. If Morris had batted for a few more overs, they could have reached 290 or 300," he said.
"I felt I could get him (Morris) out and I took my chance. I always think if I try to bowl to contain, I will concede more runs."
© Copyright 2021 PTI. All rights reserved. Republication or redistribution of PTI content, including by framing or similar means, is expressly prohibited without the prior written consent.