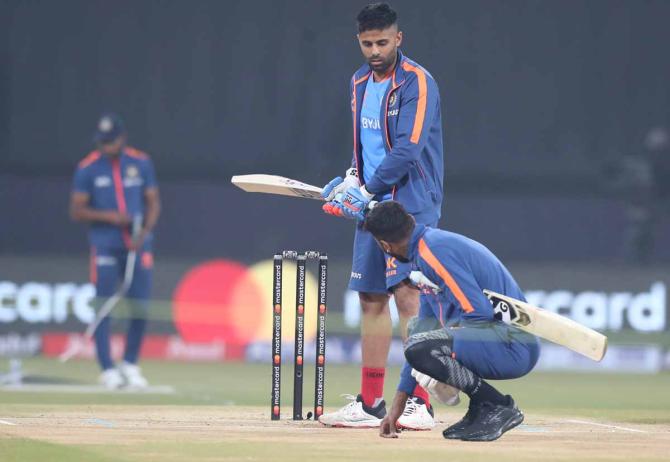 Lucknow's Ekana Cricket Stadium's pitch curator Surender Kumar has been removed from his job after preparing a "shocker of a pitch" for the second T20 International against New Zealand.

Though India won the game on Sunday with a ball to spare, skipper Hardik Pandya did not mince his words, calling the Lucknow wicket a "shocker".
New Zealand were restricted to 99/8 in their 20 overs and India had a hard time chasing the small target on a turning track with spinners bowling nearly 30 overs out of the 39.5 overs that were bowled in the second T20.

"The curator has been removed and replaced by Sanjeev Kumar Agarwal who is a very experienced curator. We will turn things around in a month.

"A lot of domestic cricket was already played on all the centre wickets ahead of the T20I and the curator should have left one or two strips for an international game. The surface was overused and due to the bad weather, there was not enough (time) to prepare a fresh wicket," a UPCA source told PTI.

Agarwal, who has prepared pitches in Bangladesh in the past before being removed in October last year, has been tasked to set things right as far as pitch-making is concerned. He will work closely with veteran BCCI curator Taposh Chatterjee, said the source.

The series-deciding third and final T20 International will be played in Ahmedabad on Wednesday.

Hardik has not been happy with the surfaces on offer so far in the first two games of the three-match T20I series.

"To be honest, it was a shocker of a wicket. Both the games we have played on so far. I don't mind difficult wickets. I am all up for that, but these two wickets are not made for T20. Somewhere down the line, the curators or the grounds that we are going to play in should make sure they prepare the pitches earlier," Hardik had said after the six-wicket win in Lucknow.

According to a report in The Indian Express, the curator had prepared two black soil pitches for the game in advance.

"However, at the behest of a last-minute request from team management three days prior to the match, the curator had been asked to prepare a fresh pitch made of red soil instead. The new pitch could not be adequately prepared on short notice, and led to even slower conditions," the report stated.