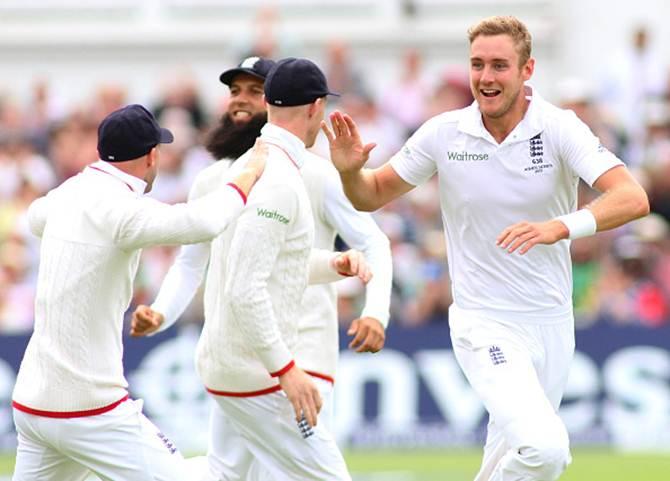 England pacer Stuart Broad celebrates taking the wicket of Michael Clarke during Day 1 of the fourth Ashes Test at Trent Bridge. Photograph: Mitchell Gunn/Getty Images
England pacer Stuart Broad took eight wickets for 15 runs as Australia collapsed to 60 all out in 94 minutes on the first day of the fourth Ashes Test on a remarkable morning session at Trent Bridge on Thursday.
Needing a victory in the Test to clinch the series, England put the Australians in to bat in overcast conditions and had them at 15-4 after 16 balls in 14 minutes, with three batsmen – Chris Rogers, David Warner and recalled Shaun Marsh -- out for ducks.
Ben Stokes took a sensational one-handed catch at fifth slip to dismiss Adam Voges (1), leaving Australia on 21-5, and Broad completed the fastest ever five-for when Australia captain Michael Clarke (10) edged a wild hit to first slip.
Broad then ripped through the tail to dismiss Mitchell Starc (1), Mitchell Johnson (13) and Nathan Lyon (9), ending the innings after just 18.3 overs. It was the shortest first innings in Test history, and extras -- 14 of them -- was the top score.
It was Australia's 10th lowest Ashes total, and 39th overall in Tests.
Here's a look at the lowest totals in Ashes history.
Australia 36 v England Birmingham 1902
Australia 42 v England Sydney 1888
Australia 44 v England The Oval 1896
England 45 v Australia Sydney 1887
England 52 v Australia The Oval 1948
England 53 v Australia Lord's 18
Australia 53 v England Lord's 1896
Australia 58 v England Brisbane 1936
Australia 60 v England Lord's 1888
Australia 60 v England Nottingham 2015
England 61 v Australia Melbourne 1904
England 61 v Australia Melbourne 1902
England 62 v Australia Lord's 1888
England 65 v Australia Sydney 1895
Lowest innings totals in Tests
New Zealand 26 v England, Eden Park, Auckland, 1954-55
South Africa 30 v England, St George's Park, Port Elizabeth, 1895-96
South Africa 30 v England, Edgbaston, Birmingham, 1924
South Africa 35 v England, Newlands, Cape Town, 1898-99
Australia 36 v England, Edgbaston, Birmingham, 1902
South Africa 36 v Australia, Melbourne Cricket Ground, 1931-32
Australia 42 v England, Association Ground, Sydney, 1887-88
New Zealand 42 v Australia, Basin Reserve, Wellington, 1945-46
India 42 v England, Lord's Cricket Ground, 1974
South Africa 43 v England, Newlands, Cape Town, 1888-89
Australia 44 v England, Kennington Oval, Kennington, 1896
England 45 v Australia, Association Ground, Sydney, 1886-87
South Africa 45 v Australia, Melbourne Cricket Ground, 1931-32
New Zealand 45 v South Africa, Sahara Park, Newlands, Cape Town, 2012-13
England 46 v West Indies, Queen's Park Oval, Port of Spain, 1993-94
South Africa 47 v England, Newlands, Cape Town, 1888-89
New Zealand 47, v England, Lord's Cricket Ground, 1958
West Indies 47 v England, Sabina Park, Kingston, 2003-04
Australia 47 v South Africa, Sahara Park, Newlands, Cape Town 2011-12
Pakistan 49 v South Africa, Wanderers Stadium, Johannesburg, 2012-13
West Indies 51 v Australia, Queen's Park Oval, Port of Spain, 1998-99
England 51 v West Indies, Sabina Park, Kingston, 2008-09
Zimbabwe 51 v New Zealand, McLean Park, Napier, 2011-12
England 52 v Australia, Kennington Oval, Kennington, 1948
England 53 v Australia, Lord's Cricket Ground, 1888
Australia 53 v England, Lord's Cricket Ground, 1896
West Indies 53 v Pakistan, Iqbal Stadium, Faisalabad, 1986-87
Pakistan 53 v Australia, Sharjah Cricket Association Stadium, 2002-03
New Zealand 54 v Australia, Basin Reserve, Wellington, 1945-46
West Indies 54 v England Lord's Cricket Ground, 2000
Zimbabwe 54 v South Africa, Sahara Park Newlands, Cape Town, 2004-05
South Africa 58 v England, Lord's Cricket Ground, 1912
Australia 58 v England, Brisbane Cricket Ground, 1936-37
India 58 v Australia, Brisbane Cricket Ground, 1947-48
India 58 v England, Old Trafford, Manchester, 1952
Pakistan 59 v Australia Sharjah Cricket Association Stadium, 2002-03
Zimbabwe 59 v New Zealand, Harare Sports Club, 2005-06
Australia 60 v England, Lord's Cricket Ground, 1888
Australia 60 v England Trent Bridge, Nottingham 2015