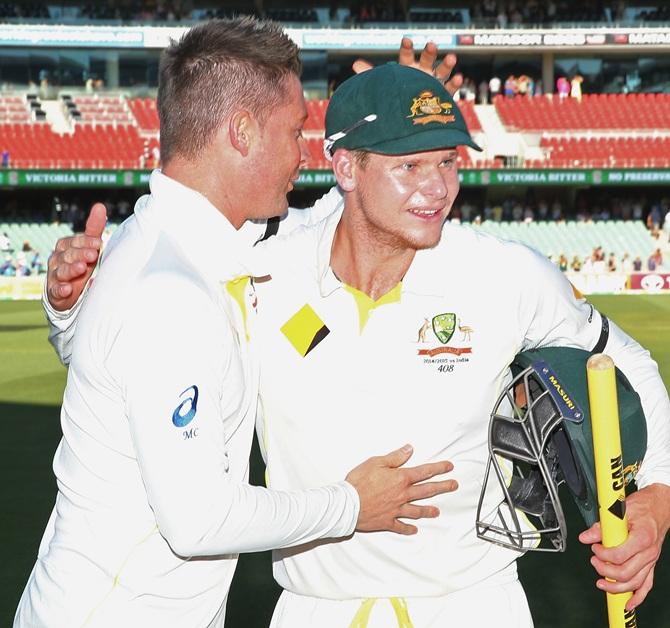 Michael Clarke of Australia congratulates Steven Smith. Photograph: Scott Barbour/Getty Images
Former Australia captain Steve Waugh is annoyed in the manner a section of people are being critical of Michael Clarke's captaincy terming them as 'loose lips' who are trying to destroy his relationship with Steve Smith by spreading unnecessary rumours.
Aus captain Clarke denies rift with teammates
"I am pretty shocked by the whole situation," Waugh was quoted as saying by the News Corp. in a report published by Herald Sun.
"We are winning games comfortably and doing some great stuff so I would hate to see it if we were losing. There might have been one or two loose lips around the team that have started these things up. I think if you talk to the players they would be pretty content with things and the way the leadership has panned out," Waugh stated.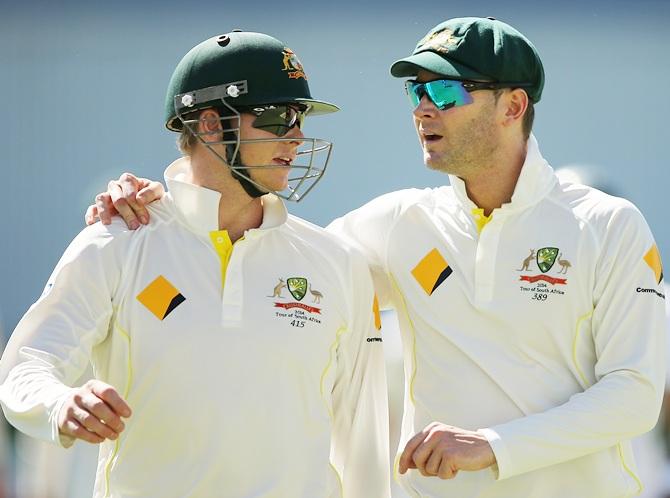 Michael Clarke, right, of Australia speaks to Steven Smith. Photograph: Morne de Klerk/Getty Images
Waugh is unhappy with rumours of division despite Test and One-day tri-series victories against India and England.
"Steve's played incredibly well for a young captain and that leaves us in good shape with two fantastic leaders. It doesn't happen that often so we should be grateful about the situation instead of trying to split the two guys up."
Waugh rated the Australia — armed with 'explosive' opener David Warner — favourite to win the World Cup — whether led by 'mature' trio Clarke, George Bailey or Smith.
However the host would come back to the pack if deprived of ice-cool all-rounder James Faulkner (side strain) or Clarke who averages 83 in 18 World Cup games.
"The fitness of James Faulkner and Michael Clarke probably adds that little bit of unknown element into the side, uncertainty," conceded Waugh, who featured in Australia's 1987 World Cup win in India and regained the trophy in 1999 as captain at Lord's.
© Copyright 2022 PTI. All rights reserved. Republication or redistribution of PTI content, including by framing or similar means, is expressly prohibited without the prior written consent.