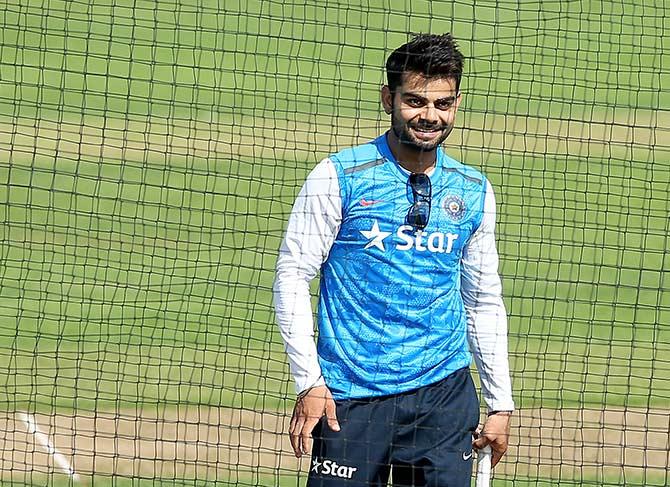 IMAGE: Virat Kohli during an India nets session. Photograph: Getty Images
Virat Kohli has put his efforts in Johannesburg, Adelaide and Wellington as his three best Test centuries.
Kohli, who has 11 Test hundreds, was asked to pick his top three efforts during a Facebook video chat with his fans.
"The century in Johannesburg (119 in December 2013) has to be at the top. We chose to bat on day one, the wicket was green,
the bowling attack was challenging and I had not scored runs in the preceding one day series. There was a build up before that Test match. We were tagged as not being able handle to bouncy balls. Looking back, that century was special," said the Indian Test captain.
"Second one will be second innings at Adelaide (141 in December 2014). We went for the target and I did not plan to focus on the hundred. It was one of the best zones I have been in while batting," continued Kohli, adding, "Wellington (105 in February 2014) is third.
"I wanted to finish the series on a high. So this has to be the order of top three," he said.