'I have to be very careful about how I go forward with my body, my mind and my cricket.'
Virat speaks.
Rediff.com's Harish Kotian listens in.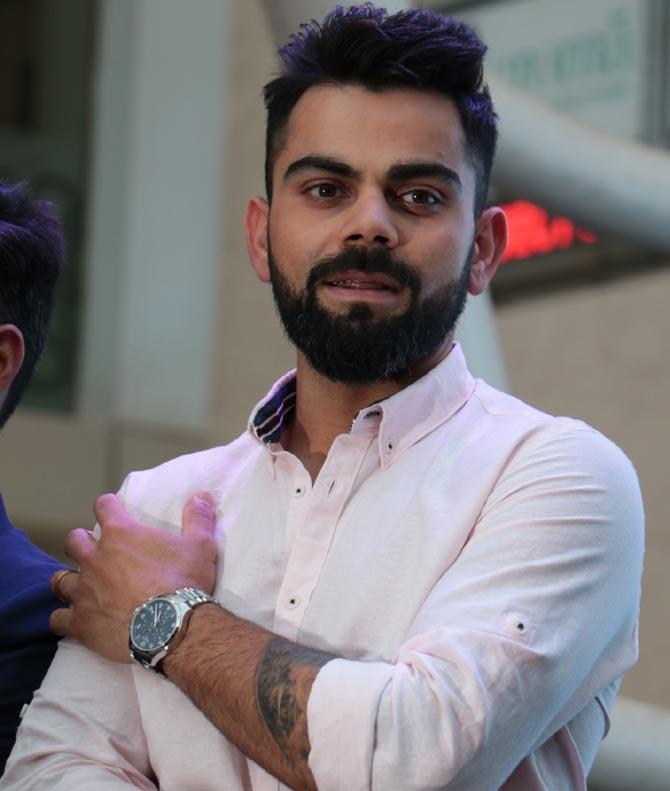 IMAGE: India Captain Virat Kohli at an event in Mumbai, March 13, 2018. Photograph: Hitesh Harisinghani/Rediff.com
The last year's cricket schedule, Virat Kohli revealed in Mumbai on Tuesday, has taken a toll on his body and he will be "very careful" managing his workload in the future.
After a long tour of South Africa involving three Tests, six ODIs and three T20Is, Kohli was rested for the T20 tri-series in Sri Lanka.
"Physically, I had a few niggles, I am just getting over those niggles," the skipper said. "The workload has started to disagree with me a little bit, so I have to be very careful about how I go forward with my body, my mind and my cricket."
"So times like these are very, very, important going ahead. I am totally enjoying it. I don't have even an inch of me missing out on anything because my body really needed this," Virat added.
In South Africa, Virat battled cramps to hit an unbeaten century to guide India to a comprehensive 124 run victory against the Proteas.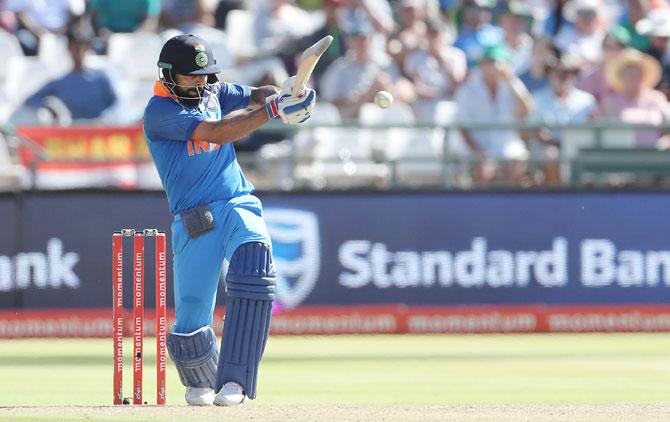 IMAGE: Virat was awesome during the ODI series against South Africa. Photograph: BCCI
Virat has totally switched off from cricket and even though he watches games on television, he is not itching to be back on the field.
"I watch the boys play whenever the matches are on. Yesterday, it was a good win for us. Look, I don't feel like I want to be on the field because I have started to listen to my body," he said.
This period of rest will be followed by a hectic schedule for Virat with the IPL starting on April 7 followed by tours of England and Australia later this year.
"Obviously in the IPL, I will be coming out fresh. I will be mentally in a better place to want to be out there on the field," Virat, who will captain the Royal Challengers Bangalore, said.
"I have been on the road for a long, long, time and I have hardly missed any games. Look, you need to respect your body at times and this phase is very important for me," he added.
Virat, who has shifted to Mumbai after he wed Bollywood star Anushka Sharma in December, is using the off time to just relax and rest.
"It is just nice to be resting for a bit, just relaxing. It is very important to have these times as well and I am just embracing it, enjoying all the downtime, just trying to recoup and recover."
"We will be on the road again soon."