'Rahul went to Australia before with the India 'A' team earlier this year, so he has some knowledge of the conditions over there.
'He also knows how the wickets play, so I am hoping he will do well if he gets an opportunity.'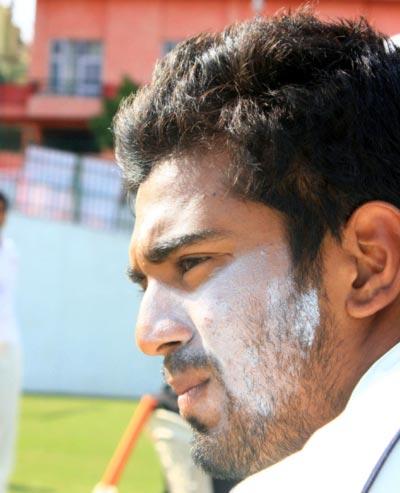 KL Rahul. Photograph courtesy: KL Rahul/Facebook
Dr KN Lokesh basks in the joy of his son Rahul being named in India's Test squad for the tour of Australia in conversation with Rediff.com's Harish Kotian.
Dr KN Lokesh is perhaps the happiest man in India right now.
For someone who has specialised in the field of academics for the last three decades, it was tough for him to see his son drift away to cricket. Today, though, after Lokesh Rahul's selection to India's Test team for the upcoming tour of Australia he doesn't "have words to express his happiness over his selection".
Dr Lokesh is head of the Department of Civil Engineering in NITK Surathkal, near Mangalore, while his wife, Rajeshwari, is a professor at Mangalore University.
Thus, it was but natural for him to expect his son also to excel in academics. However, as fate would have it, Rahul turned his attention to cricket at a very young age.
After initial reluctance, Dr Lokesh finally gave in when the right-hander started showing promise, on condition that Rahul would continue to pursue his studies.
"At a very young age when he was in school he was showing a lot of interest in cricket; at the same time he was good in studies also. I told him if you can balance both, you can carry on. He was balancing both, but then a stage came where he played for India in the Under-19 World Cup [in 2010] and the priorities changed from studies to cricket.
"Till then it was both studies and cricket, but after that cricket came first and studies second. But he didn't neglect his studies and managed to balance both and completed his Bachelor of Commerce degree," Dr Lokesh told Rediff.com.
An ardent fan of batting legend Sunil Gavaskar, Dr Lokesh, who is in the field of teaching for 32 years, named his son Rahul thinking it was the batting legend's son's name.
"Yes, when I realised my mistake it was too late. As the birth certificate was already done there was nothing I could do," he recalled, adding, Rahul's selection as an opener, "just like Gavaskar was", pleases him a lot.
"I am happy, particularly very happy, that he got into the Test team as an opener."
He is confident that Rahul will excel in Australia given that he had a taste of the conditions Down Under earlier this year with the India 'A' team in a two-match unofficial Test series.
"Rahul went to Australia before with the India 'A' team earlier this year so he has some knowledge of the conditions over there. He also knows how the wickets play, so I am hoping he will do well if he gets an opportunity."
Dr Lokesh recalled how Rahul worked hard for his success. Among the sacrifices he had to make was moving away from the family because of the absence of proper cricketing infrastructure in Mangalore.
Rahul, who was coached by Samuel Jayaraj when he took up cricket, shifted base to Bangalore in 2006 to hone his cricketing skills further. There he was under the guidance of former Karnataka players GK Anil Kumar and Somsekhar Shiraguppi.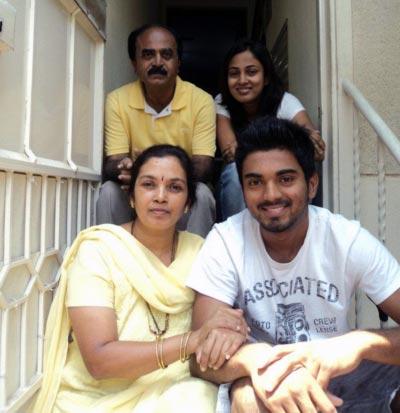 KL Rahul with his mother Rajeshwari (left), father Dr KN Lokesh (top left) and sister Bhavna. Photograph courtesy: KL Rahul/Facebook
'It was a conscious move to shift him to Bangalore at the right time. When he represented India at the Under-19 level, the same year he got into the Karnataka Ranji Trophy team and we thought that he should be in a big place and play some big cricket under the watchful eyes of some national coaches.
"Those things were not in Mangalore so we shifted him to Bangalore, where all the facilities were there and he made use of these to the best of his abilities. We moved him to his aunt's place in Bangalore so he could advance his cricketing career in that city."
Does he speak with his son every day when he's on tour?
"Yes, I do. I don't scold him over his game or how he has got out. I don't talk to him about his cricket at all. I wish him all the best for the games. In the initial stages, I used to discuss cricket with him sometimes but once he grew up I stopped.
"He knows his responsibilities, what to do and what to not, and does not require any advice."
Rahul is only the second player from Mangalore to get a call-up to the Indian Test team, after Budhi Kunderan, who played 18 Tests for India in the 1960s.
Obviously, Dr Lokesh, who has been on the phone non-stop since Monday afternoon when the squad for Australia was announced, cannot hide how delighted he is.
"We are all very, very happy. I don't have words to express my happiness over his selection. I was at home and I received the call about his selection and I felt very happy about it. In fact, we were expecting it because there were reports in the media recently that he might get selected. It was very good news for us."