- Scorecard: India vs Bangladesh, 1st Test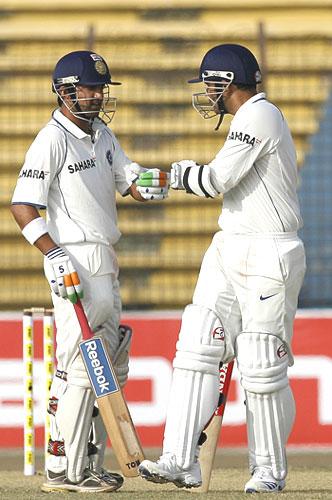 India took control of the first Test against Bangladesh, finishing Day 3 on 122 for the loss of one wicket in their second innings, at the Zohur Ahmed Chowdhary stadium, on Tuesday.
Openers Virender Sehwag and Gautam Gambhir (47 not out) gave the team a solid start, putting on 90 runs for the first wicket, before the Indian skipper gifted his wicket away to his opposite number, Shakib Al Hasan, after scoring 45.
Sehwag went for an expansive sweep against a delivery from Raqibul Hasan outside off stump only to top-edge it to midwicket.
Amit Mishra (24 not out ), who came in as night-watchman, and Gambhir played few attacking shots, before the umpires offered light to the batsman.
Earlier, India dismissed Bangladesh for 242, and took a one-run first innings lead. The hosts were tottering on 98 for six before Mohammad Mahmadullah (69) and Mushfiqur Rahim (44) stitched together a crucial 108-run stand for the seventh wicket to revive the innings.
Zaheer Khan (3/54) and Amit Mishra (3/66) were the main wicket-takers, while Ishant Sharma finished with 2 for 47) and S Sreesanth with 2 for 55.
Morning session (39 runs, 19 overs, 3 wickets):
India's pacers enjoyed the morning session reducing Bangladesh to 118 for six by lunch.
Ishant Sharma, Zaheer Khan and S Sreesanth rattled the Bangladesh top-order as India fought its way back into the Test after being dismissed for 243.
Ishant started the slide, picking up the dangerous Mohammad Ashraful for two runs. Zaheer then dismissed Bangladesh skipper Shakib Al Hasan, who looked good in his brief innings.
Shakib played some good counter-attacking cricket to prevent the Indian pacers from making further inroads before he was gobbled up by Virender Sehwag off Zaheer Khan for 17 runs. Zaheer's ball bounced a bit more, enough to get a healthy edge and Sehwag took a smart catch in the gully.
S Sreesanth, who replaced Zaheer as the first change, then had overnight batsman Raqibul Hasan caught behind by wicketkeeper Dinesh Karthik for 17 runs. 
Raqibul's dismissal meant that Bangladesh lost six wickets for just 75 runs.
Mushfiqur Rahim (8) and Mahumudullah (14) were at the crease when lunch was called.
Earlier, Ishant claimed he first wicket of them morning, when he had Ashraful edging one to Rahul Dravid in the first slip.
Overnight batsman Raqibul started the day for Bangladesh, hitting a streaky boundary to set the innings going.
India could have had Ashraful in the second over of the day had VVS Laxman held on to Mohammad Ashraful's edge. Zaheer Khan was the unlucky bowler. He bowled a fuller length and angled the ball across the right-hander to get a healthy edge, but Laxman couldn't hold on to a low catch in second slip.
Another foggy day meant that there would be yet another delay on Day Three.
The weather played a huge part on the second day too as only 24.5 overs could be bowled in the entire day.
Post-lunch session (110 runs, 27.2 overs, 2 wickets):
Bangladesh staged a remarkable comeback into the Test, largely due to a century-partnership between wicketkeeper Mushfiqur Rahim and Mahumudullah.
Once the India pacers did the early damage in the opening session, the bowlers failed to penetrate the defences of the Bangladesh duo until Mishra struck twin blows 15 minutes before tea.
Mishra first lured Rahim to play a lose shot and was caught in front of mid-wicket by Virender Sehwag.
He then dismissed Shahdat Hossain, who went for the lofted drive only to chip it to Yuvraj at point.
Earlier, Mahumudullah and Rahim revived the Bangladesh innings after the Indian pacers jolted the middle-order. The duo mixed caution with aggression to put a 108-run stand for the seventh wicket -- the highest partnership in Chittagong. 
In the process, Mahumudullah, completed his maiden Test half century, which included ten boundaries.
Bangladesh, who were reduced to 98 for six wickets, were helped by some sensible batting by the duo and also some erratic Indian bowling.
With the last recognised pair left, Mahumudullah was particularly severe on leg-spinner Mishra, hitting him for consecutive boundaries.
The duo soon reached the 50-run partnership, the highest seventh wicket stand at the ground, keeping the bowlers at bay.
Sreesanth, who bowled well in the morning session, couldn't find the same rhythm and was guilty of bowling as many as four no-balls in an over.
The field placement too was left much to be desired as Bangladesh made full use of the vacant third man area, scoring as many as eight boundaries in that region.
Post-tea session (14 runs, 2 overs, 2 wickets)
It took India just two overs after tea to wrap the Bangladesh innings.
At the break they were 228 for eight.
S Sreesanth, who was slapped for a boundary of his first over after the tea-break, came back strongly and found a faint edge off Mahumudullah which was easily taken behind the stumps by wicketkeeper Dinesh Karthik. The batsman was out after a well-made 69.
Amit Mishra then claimed Sahiful Islam, who scooped an easy catch to Yuvraj Singh at point.
India second innings (122 runs, 22.2 overs, 1 wicket)
Openers Sehwag and Gambhir made a solid start to the second innings. The Delhi duo put on 90-runs for the first wicket before the Indian skipper gifted his wicket away to his opposite number, Shakib Al Hasan for 45.
Sehwag went for an expansive sweep off Raqibul Hasan from outside off-stump, only to top-edge it to midwicket.
Amit Mishra, who came in as a night-watchman played few attacking shots before the umpires offered light to the batsman.
He was unbeaten on 24 while Gambhir was 47 not out when bad light forced the players off the field.