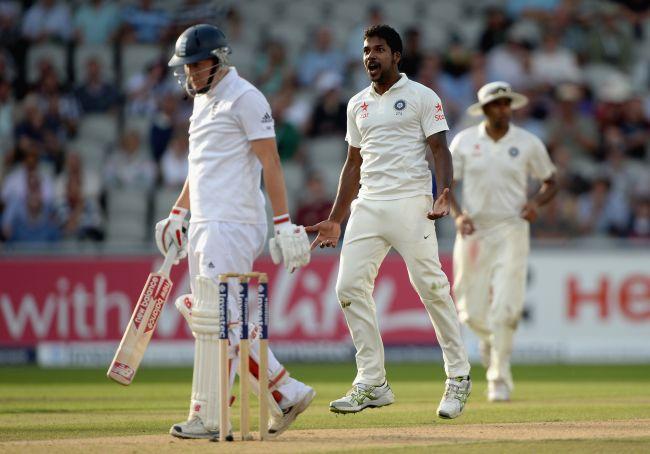 Image: Indian fast bowler Varun Aaron. Photograph: Gareth Copley/Getty Images
'Unless Indian bowlers work with the correct information, the right mindset and the learning that encourages pace and accuracy together, they won't be able to maximise their talent,' English bowling coach Ian Pont tells Manu Shankar/Rediff.com
Joe Dawes's decision to quit as India's bowling coach has created a void that needs to be filled quickly, considering the World Cup is barely four months away.
While there is talk that he was sacked by the Board of Control for Cricket in India, Dawes quickly pointed out that the parting was 'amicable.'
Dawes and fielding coach Trevor Penney were asked by the BCCI to take a break after India's debacle in the Test series against England in August.
While changing a coach is often a difficult decision, England bowling coach Ian Pont feels it is up to the incumbent to decide his shelf life.
"Changing a coach is always a difficult decision and coaches themselves often understand when the tenure has expired. However, the world moves on, and it is a part of life that coaches come and go. We all have a shelf life," Point points out.
"The right time to change a coach is when it is appropriate for the team, regardless of the proximity of a tournament," says Pont who worked with Haryana's Ranji Trophy team in 2011.
"I think having a love affair with certain coaches from certain countries is cyclical. Some appointments tend to be biased towards a specific country and other times not. The best thing is always to appoint the right coach for your team and that might mean using a local coach over a foreign one," adds Pont.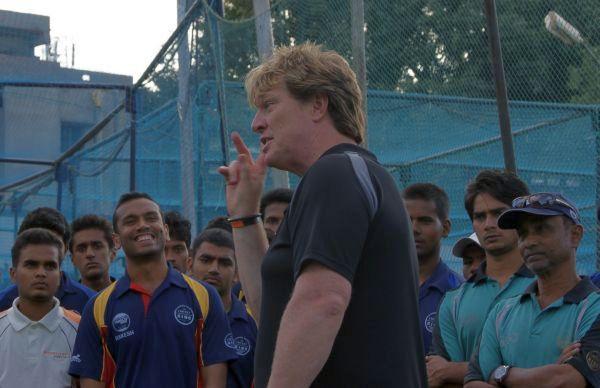 Image: Ian Pont speaks to aspiring pacers during the Ultimate Pace Foundation camp in Bangalore.
Pont was in Bangalore recently for a pacers camp organised by the Ultimate Pace Foundation, an initiative set up by the Karnataka Institute of Cricket and the Mavericks Cricket Institute, which the Englishman set up in 1993.
Given his experience and his work in India, Pont -- who has been Bangladesh's bowling coach -- could be an option worth considering when the five-member panel -- Sunil Gavaskar, Brijesh Patel, Ratnakar Shetty, Shivlal Yadav and Ravi Shastri -- picks India's next bowling coach.
Asked about the areas a new coach should focus on, Pont says, "It really depends on whether a coach is there to hold the bowlers's hands, mentor them, guide them, or whether he is there to improve and develop the attack by galvanising it into a world class, efficient, unit through quality coaching."
"If you want to make your bowlers bowl faster and more accurately, be in control of bowling yorkers and develop great variations, plus hit consistent areas with regularity, then that can be coached," he adds.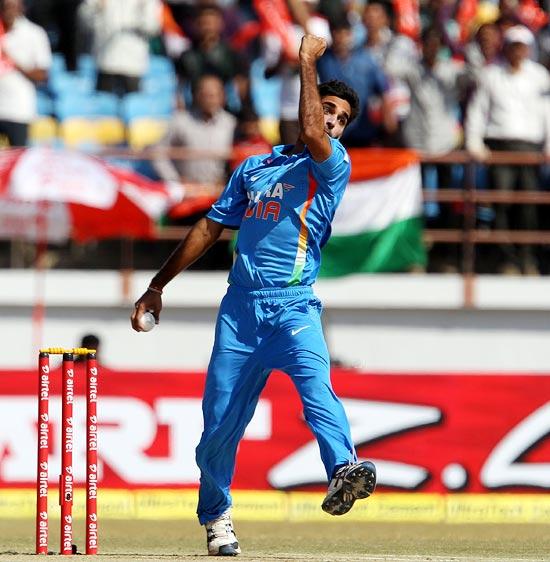 Image: Bhuvneshwar Kumar in action.
Who would he prefer in his team? An out-and-out quickie or a bowler with better control?
"You don't have to compromise and have one or the other. It is not a choice between two things. With the right coaching you can have greater speed and better control. Coaches who advise a bowler to slow down and bowl a line and length simply don't know how to coach fast bowlers," says the 53 year old.
"It is an outdated view that you drop speed. We all know you have to be accurate, whether you are a spinner, slow bowler, medium pacer or fast. The truth is the slower you bowl, the lesser margin for error you have. So we all agree about accuracy."
"Let's move past teaching Indian fast bowlers to become medium pace bowling machines and start to develop thoroughbred athletes who can bowl at high speeds. The only limit we put on fast bowlers is the mentality of the coaches working with them."
"Unless Indian bowlers work with the correct information, the right mindset and the guided discovery learning that encourages pace and accuracy together," Pont says, "they will not be able to maximise their talent."