'They are what a lot of teams aspire to be. The most important thing for us is learning from our mistakes, but most importantly, learning from them.'
IMAGE: Coach Ravi Shastri, captain Virat Kohli with the Indian team players. Photograph: Dinuka Liyanawatte/Reuters
Sri Lanka interim coach Nic Pothas believes India are a ruthless side and his team needs to learn from the work ethic created by skipper Virat Kohli.

India completed a tour sweep on Wednesday by winning the one-off T20 International by six wickets. The visitors had previously swept the Test series 3-0 and the ODI series 5-0.
Heaping praise on India, Pothas said: "First and foremost we have got to put everything in perspective. We are a side that's developing. India are a side that is complete and a side with immense quality. It's always going to be tough to compete against them, or to try and beat them.

"We just maybe needed to compete a little bit more. I think it would be wrong of us not to learn off them. They do so many things very well. Most of them are just basics.

"You see how Virat Kohli runs between the wickets. You see the respect he commands on the field as a leader. He is a role model to people and he pulls people with him. When you look at the way they go about their work and the culture that Virat has created within that team, it's very, very impressive. I am sure it's a great compliment to him, but it's a fact.

"You look at their team and there is a lot of respect for the facilities, there's a lot of respect for the opposition. They are very ruthless in the way they go about their work. Their work ethic is immense.

"They are what a lot of teams aspire to be. The most important thing for us is learning from our mistakes, but most importantly, learning from them," he added.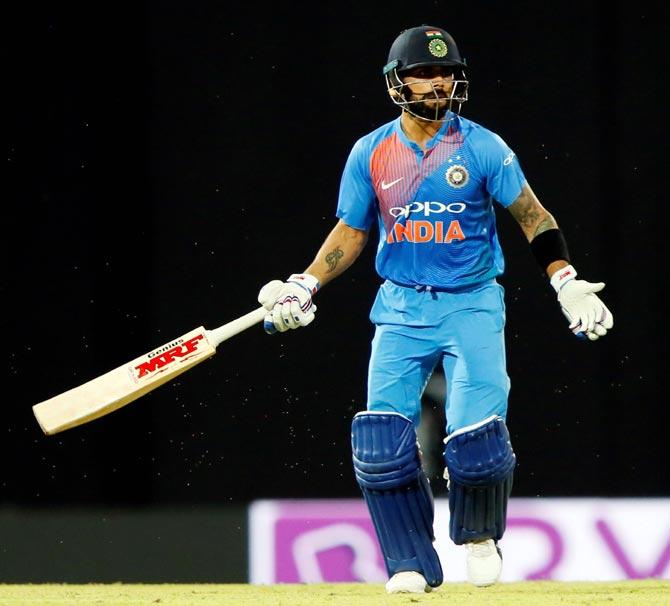 IMAGE: Virat Kohli runs between the wickets. Photograph: Dinuka Liyanawatte/Reuters
After being put into batm Sri Lanka put on 171 in their 20 overs. Pothas claimed it was a competitive total, even if Lanka were few runs short.

"It was a competitive total. But if you looked at how we played, we were probably 15 short of what we could have got on that wicket. We probably had a few too many little cameos that we could have dragged on a little bit longer," he said.

"170 is probably competitive but when you play a team of such quality, you are going to have to be very good in the field and with the ball to try and stop that being scored."

It has been a sharp downturn for Sri Lanka in the past six months or so. They have been unable to achieve home victories against Bangladesh, Zimbabwe or India.

"If you look at it on paper, that's a fact. If you take a young team to South Africa where they prepared the conditions to suit themselves, it's going to be very, very tough over there," Pothas said.

"A lot of good things were done in South Africa. Yes the results didn't go our way. And yeah, at some point you have got to put our hand up. We have spoken about the consistency," he added.

Pothas said Sri Lanka have some good players but they need the self belief to become world-class players.

"We have got a lot of good players in this team. It's just a matter of giving them the confidence and the belief that they are very good players and will become world-class players," he said.

"I think its a little bit of give from the coaching side and there's a little bit of give to come from the players' side, to move forward.

"What we are doing now is to try and create a quality within the team and a depth, so that when players do get injured, the people that come in can do a job for us," he signed off.