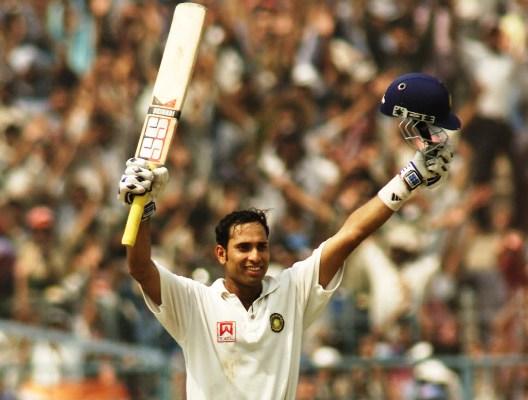 IMAGE: India's VVS Laxman celebrates after reaching 200 during Day 4 of the second Test against Australia at the Eden Gardens. Photograph: Hamish Blair/ALLSPORT/Getty Images
Eclipsing several other great individual knocks, VVS Laxman's masterly innings of 281 against Australia at the Eden Gardens, in Kolkata, in March 2001, was rated as the greatest Test performance of the last 50 years.
The honour was accorded to the Hyderabad stylist's fabulous series-turning knock after India trailed by 274 runs on the first innings, by his fellow-players, commentators and journalists in a poll published in the January issue of ESPN's digital magazine the Cricket Monthly.
Laxman, promoted to No. 3 after his first innings' 59 in the team's score of 171, came up with the magical innings and also added 376 runs for the fifth wicket with Rahul Dravid (180).
In his tribute, one of seven by participants in the Test, leg spin legend Shane Warne recalled: "I was bowling in the footmarks and Laxman was hitting the same ball through cover or whipping it through midwicket. It was so hard to bowl then."
Ricky Ponting said "his work through the leg side in particular was a source of wonderment to many of us... Ultimately we bowled for near enough to two days at him without even looking like getting him out."
Zaheer Khan, his room-mate, recalled how Laxman slept on the floor through the match because of a bad back, while Andrew Leipus, the Indian physio, explains the full extent of Laxman's physical challenge.
Brian Lara has the most entries in the list of 50, with four, including the No. 4: the nerveless 153 not out versus Australia in Barbados in 1999.
Ian Botham, who has three entries in the 50, comes in with two in the top five: the dazzling all-round shows in the Headingley Ashes Test of 1981 (No. 2) and the Golden Jubilee Test in Bombay the previous year (No. 5).
Michael Holding's 14 wickets with supreme pace on a batting track at The Oval in 1976 is at No. 3, and performances by Richard Hadlee, Bob Massie, Muttiah Muralitharan, Graham Gooch and Garry Sobers round out the top ten.
West Indian players have as many 14 entries in the 50, the most by any team.
These include the two earliest performances on the list: Sobers at Lord's and Headingley from the 1966 series in England.
The most recent performance is Kevin Pietersen's 186 in Mumbai in 2012.