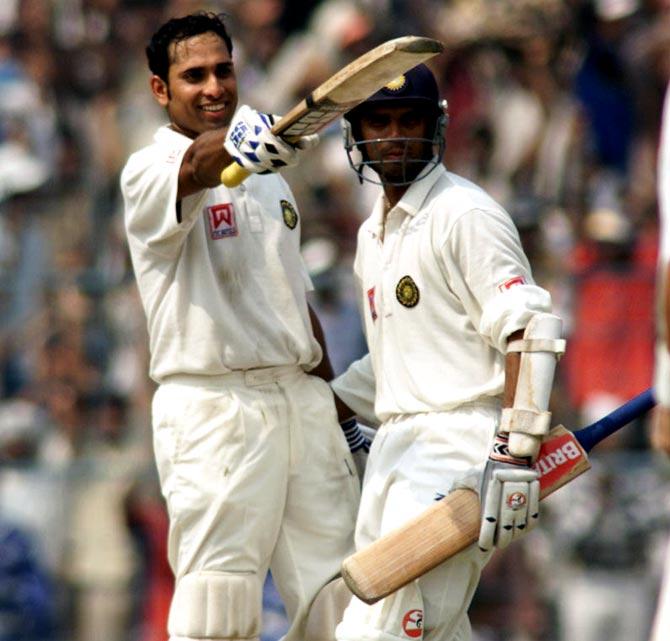 IMAGE: V V S Laxman (left) celebrates with Rahul Dravid after completing his double century against Australia in the second Test at Eden Gardens, Kolkata, in March 2001.
Australia's legendary spinner Shane Warne picked his greatest Indian eleven, comprising players he played against.
However, a notable absentee from his list is VVS Laxman, who he named as 12th man.
Laxman had a fabulous record against the Aussies and was arguably one of the better players of spin bowling.
Warne explained his decision on excluding the wristy batsman in his first 11.
"The hardest position to select for me was the number 6 spot between my great friend VVS or Azhar (Mohammad Azharuddin).
"Depending on the conditions who would actually play at number 6 & what country the game was played in, hence I named 12 & would choose the 12th man on the day," Warne posted on his Facebook account.
The former leg-spinner's team includes Navjot Singh Sidhu, who opens the batting with Virender Sehwag.
Stalwarts Rahul Dravid and Sachin Tendulkar take the crucial No. 3 and No. 4 batting positions respectively.
Warne selected Sourav Ganguly to bat at No. 5, and also named him captain, ahead of India's most successful skipper, Mahendra Singh Dhoni.
However, the famed Aussie spinner, who played against Dhoni only in the Indian Premier League, named him wicketkeeper-batsman, with legendary all-rounder Kapil Dev batting ahead of India's ODI captain.
With Anil Kumble, Harbhajan Singh and Javagal Srinath occupying the remaining spots, another noteworthy exclusion was former pacer Zaheer Khan, who retired recently.
"This was the hardest team to select as I played against a few legends at the end of their careers like Vengsarkar, Sanjay Manjreker, Ravi Shastri, Manoj Prabhakar as well as current players like Zaheer Khan too.
"The Indian side I've selected is a very strong one & would be tough to play against," Warne added in his Facebook post.
Answering questions from fans on his Twitter account, he also named host country India as favourites for the upcoming World T20, to be held in March 2016.
Warne's 'Indian XI':
1. Virender Sehwag
2. Navjot Sidhu
3. Rahul Dravid
4. Sachin Tendulkar
5. Sourav Ganguly (Captain)
6. Mohammad Azharuddin
7. Kapil Dev
8. Mahendra Singh Dhoni (wk)
9. Anil Kumble
10. Harbhajan Singh
11. Javagal Srinath
12. VVS Laxman
- Name your Indian XI, selecting players who played against Warne, here