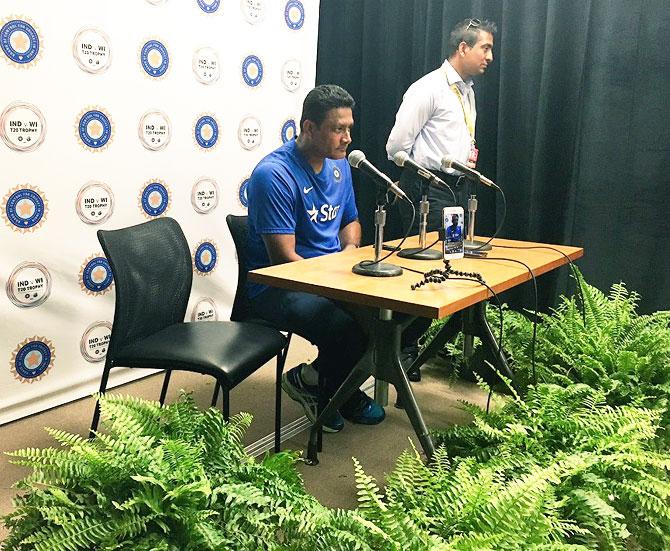 IMAGE: India coach Anil Kumble speaks at a press conference in Florida on Thursday. Photograph: BCCI/Twitter
Left impressed by the facilities at Central Broward Regional Park Stadium, the only ICC certified ODI standard stadium in Florida, USA, India coach Anil Kumble says the two T20 Internationals against West Indies is the start of a "new beginning" for cricket in the US.
Reflecting on India's two-match T20 series to be played in Florida, on August 27 and 28, Kumble admitted that it was a wonderful initiative.
"From an Indian perspective, we are really looking forward to these T20 games against the West Indies. It is a wonderful initiative to play in the USA and it is going to be a sell-out. We know that expats and the huge Indian Diaspora want quality cricket to come to the USA. When we have played in the West Indies in the past, a lot of them have come over from USA to watch us play. This is a start of a new beginning," said the head coach.
Kumble said he has been pleasantly surprised by the facilities.
"I certainly didn't expect the facilities to be as good as what it is in the United States," Kumble said on Thursday.
"I certainly felt that it could be a makeshift. I had heard about Florida and this ground, but very impressed with the facilities that we have seen today. It's the first time that I'm seeing this ground and the wickets are good, ideal probably for a T20, and the practice facilities have been good, the outfield looks fantastic. So, all in all, really impressed with the facilities here."