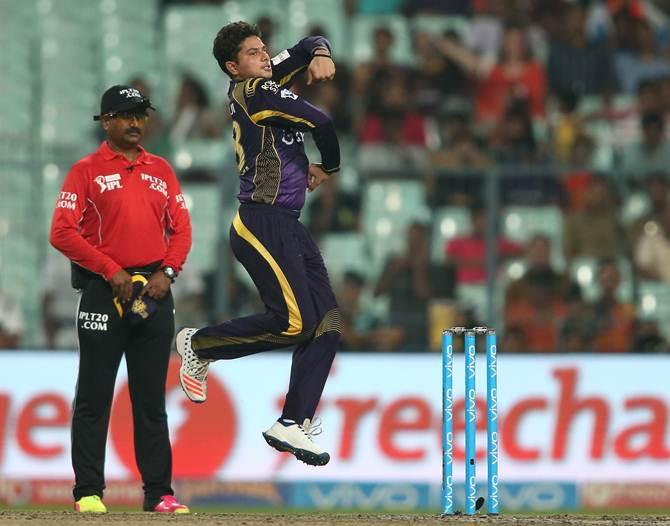 IMAGE: Kolkata Knight Riders spinner Kuldeep Yadav. Photograph: BCCI.
He may have finished on the losing side, but young Kolkata Knight Riders spinner Kuldeep Yadav is cherishing the appreciation he received from Sunrisers Hyderabad's star batsman Yuvraj Singh.
The young spinner claimed three for 35, including the wicket of the dangerous David Warner, as KKR lost to the Sunrisers in the IPL Eliminator on Wednesday,.
Summing up his IPL season, in which has claimed six wickets from three matches, Kuldeep said, "It ended on a good performance personally but not a good result for the team, unfortunately.
"It feels good when Yuvibhai (Yuvraj Singh) appreciates you. He knows me for a long time and it is a big thing for me that a cricket legend talks to me so affectionately and acknowledges me. That really feels good."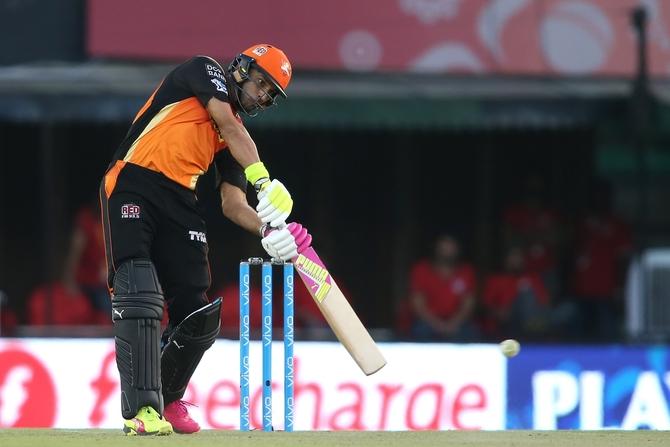 IMAGE: Sunrisers Hyderabad batsman Yuvraj Singh. Photograph: BCCI.
Asked about his plan for Warner, he said, "I was planning for him. I have seen the Delhi wicket; it was holding and keeping low. So I was trying to give him a single or two (and contain boundaries), mixing the pace and variation.
"It has been very good. I have been working very hard since the domestic season. I have been working very hard with (KKR's trainer) Adrian (Le Roux ) and also on my bowling with Brad Hogg and some of the senior players. And if you can perform like this you feel good," the 21-year old Chinaman spinner added.
"They keep telling me about how to plan for various batsmen. During net sessions, they also keep telling me how to bowl to an attacking batsman or a defensive batsman. So that really helped me a lot."
Asked to elaborate on his plans for the different batsmen he countered, he replied, "It depends (differs) upon who is batting. It is different when David Warner is batting and when Yuvraj Singh is batting. I have a plan for Warner also. I don't want to share it, though."
Despite being with KKR for three years, Kuldeep has played only three games so far.
"I think it is hard work. I have been with this franchise for three years and I had played only three games in three years. So I was working very hard off the field also. I have been working on all aspects of the game and fitness. And it has definitely paid off."