'I knew the wicket was slow, so I was trying to spin the ball more'
'I have been working on it, trying to bowl within the wickets'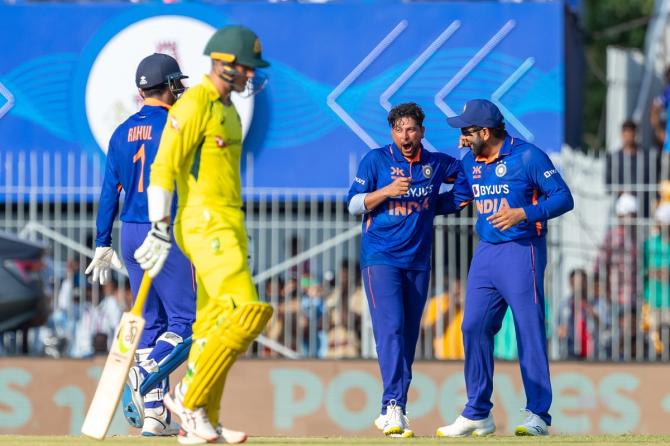 India wrist-spinner Kuldeep Yadav spinner picked up three wickets as as Australia beat India by 21 runs to clinch the three-match one-day international series 2-1 on Wednesday at the MA Chidambaram Stadium.
Kuldeep, who was picked ahead of Yuzvendra Chahal in the ODIs, managed just one wicket in the first two matches. However, he was in his element in Chennai, running through Australia's middle order.
He showed signs of return to peak form when he bamboozled the Australian batters in the third and final ODI in Chennai on Wednesday.
The 28-year-old warmed up with the big wickets of Marnus Labuschagne and David Warner in a span of four overs. Labuschagne and Warner were tempted to play big shots and they were not able to clear the boundary. Then came the amazing delivery to dismiss the well-set Alex Carey.
The left-hander was batting on 38 when he was undone by a delivery that pitched on the middle-leg line and turned away from the left-hander to hit the top of off-stump and was eventually outfoxed.
Speaking after the end of the Australian innings, Kuldeep said he has been working on the new delivery that would pitch in the middle and leg line to the left-handers and spin away.
"I played the India 'A' series in Chennai, so I knew the wicket was slow, so I was trying to spin the ball more. Those were important wickets and especially I loved the one against Alex Carey," Kuldeep said.
"I have been working on it, trying to bowl within the wickets, from there if I can spin the ball, so there is a lot of chance to get caught behind, there is a chance to get top-edge on slog just like David Warner did," he added.
"The way Marsh started, probably thought they would get close to 300 but the way Hardik bowled, he got three wickets and got us back in the game," he added.