The venue of the second Twenty20 international between India and Sri Lanka on February 12 has been shifted from Delhi to Ranchi after the DDCA confirmed that it wouldn't be able to host the match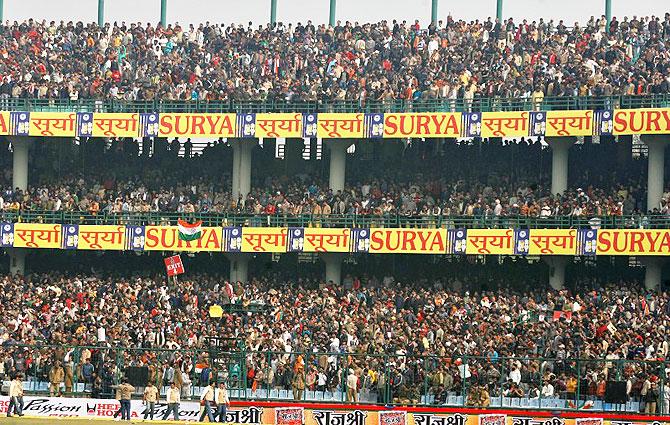 IMAGE: Spectators wait in the stands at Feroz Shah Kotla stadium. Photograph: Punit Paranjpe/Reuters
New Delhi's Feroz Shah Kotla ground is in danger of losing its World Twenty20 fixtures after the Indian cricket board (BCCI) moved a match against Sri Lanka away from the venue due to administrative lapses.
The venue of the second Twenty20 international between India and Sri Lanka on February 12 has been shifted from Delhi to Ranchi after the DDCA confirmed that it wouldn't be able to host the match.
The Delhi and District Cricket Association (DDCA) failed to get the requisite clearances from various civic authorities in order to host the February 12 T20 match, forcing the BCCI to transfer the contest to Ranchi.
BCCI secretary Anurag Thakur said the DDCA needed to procure all the necessary clearances by Sunday if they were to continue as the hosts of the March 8-April 3 tournament.
"As far as the World Cup is concerned, the World Cup management committee has met today and has also discussed the issue of DDCA," Thakur said.
"They have given a deadline of January 31, five o' clock, to come out with the required NOCs (no-objection certificates) so that they can continue as a host of the World Cup matches.
"If they are unable to do so by 31st evening, then the BCCI will shift those matches to the seven other remaining venues."
Despite giving deadline extensions on two occasions, the Delhi and District Cricket Association failed to get even a single clearance or permission to host the match.
Delhi is scheduled to host four matches in the World T20 tournament, including a semi-final on March 30.