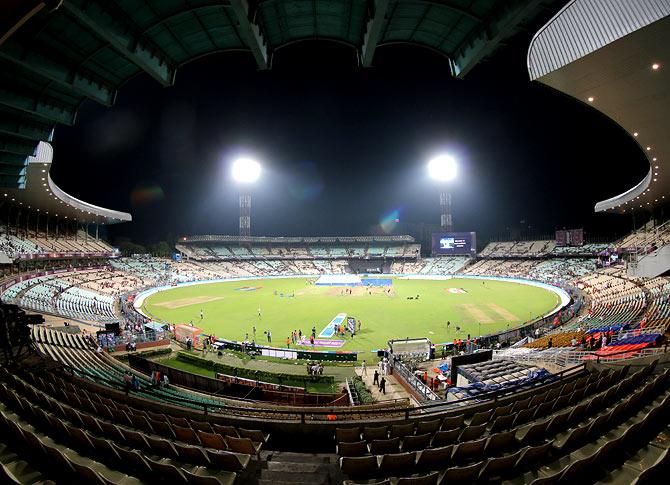 IMAGE: The Eden Gardens in Kolkata. Photograph: BCCI
The Board of Control for Cricket in India on Tuesday awarded three Test matches of the November-December home series against Sri Lanka to Kolkata, Nagpur and Delhi while the newly-constructed stadium in Barasapara, Guwahati was awarded a marquee T20 International against Australia in October.
The decisions were taken at the Board's tours and fixtures committee meeting in Kolkata.
It will be a big home season for the Indian team as it will play 23 international matches across three series starting end of September and concluding at the end of December.
The season starts mid September with five ODIs against Australia slated to be played at Chennai, Bangalore, Nagpur, Indore and Kolkata.
The three T20 Internationals against the Aussies will be held in Hyderabad, Ranchi and Guwahati.
The series against New Zealand will commence mid October and the three ODIs will be held in Pune, Mumbai and Kanpur followed by three T20 Internationals at Delhi, Cuttack and Rajkot.
The final stretch of the international season at home will commence from middle of November with Kolkata hosting the first Test against Sri Lanka.
The second Test is scheduled in Nagpur, which will be making a comeback after ICC suspension for poor pitch. The final Test will be held in Delhi.
The three ODIs against Sri Lanka will be held in Dharamsala, Mohali and Vizag.
The three T20 Internationals will be held in Kochi or the newly-accredited Thiruvanantpuram, Indore and Mumbai.
The Schedule:
Australia Series ODIs (5): Chennai, Bengaluru, Nagpur, Indore, Kolkata
T20 Internationals (3): Hyderabad, Ranchi, Guwahati (Barsapara)
New Zealand Series ODIs (3): Pune, Mumbai, Kanpur
T20 Internationals (3): Delhi, Cuttack, Rajkot.
Sri Lanka Series: Tests (3): Kolkata, Nagpur and Delhi
ODIs (3): Dharamsala, Mohali, Vizag
T20 Internationals (3): Kochi/Thiruvanantpuram, Indore, Mumbai.