'I don't think it will only be me because there will be a lot of people with six packs in the team. We will all be roaming shirtless'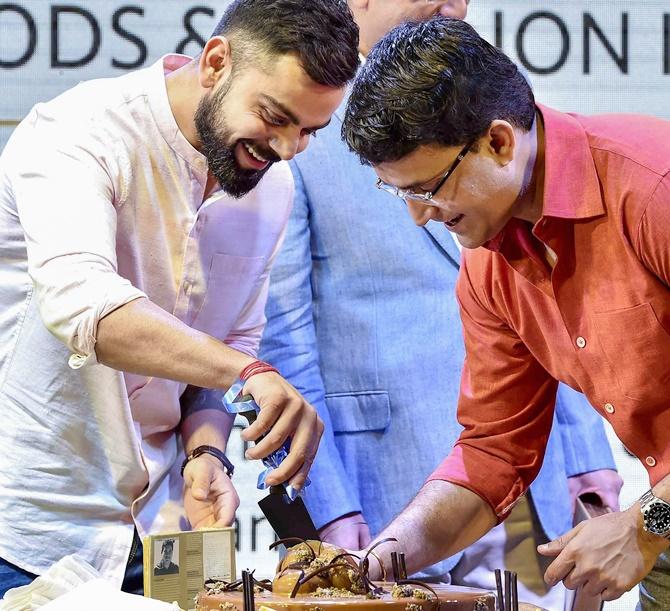 Sourav Ganguly waving his shirt at the Lord's remains etched in memory and Virat Kohli will not just relive that iconic act but has agreed to go one better and walk around Oxford Street shirtless, provided India win the 2019 World Cup.
Almost 16 years after his India team pulled off a remarkable chase to win the NatWest Series at the mecca of cricket, former captain Ganguly foresees another shirt-waving act next year.
"I can guarantee you now, if he wins the World Cup final at Lord's in 2019. We better got our cameras ready, as he's got the six packs, I would not be surprised if he's on the Oxford Street with the Trophy and his shirt off," Ganguly said on Saturday.
The present Cricket Association of Bengal (CAB) president added, "And I can tell you who will be following him -- Hardik Pandya."
"120 per cent," pat came the reply from current skipper Kohli.
"I don't think it will only be me because there will be a lot of people with six packs in the team. We will all be roaming shirtless. Hardik Pandya, there's Bumrah as well... We have got a few candidates," Kohli said.
Ganguly and Kohli today unveiled the book 'Eleven Gods And A Billion Indians' by cricket historian Boria Majumdar.
Recalling the day, Ganguly said, "The best thing that happened at Lord's was, as I was taking the shirt off Laxman was pulling it down. Then Harbhajan, next to me, asked what should I do? 'I said you take it off too'."
Ganguly said Kohli's men have it in them to win the World Cup next year.
"Yes of course, they can do it. They played the Champions Trophy final last year. Let's not get too far ahead. Wish them all the best. They have got some wonderful talent. Hopefully they will be there. We want them to win, and whichever way it's celebrated it'll be up to them."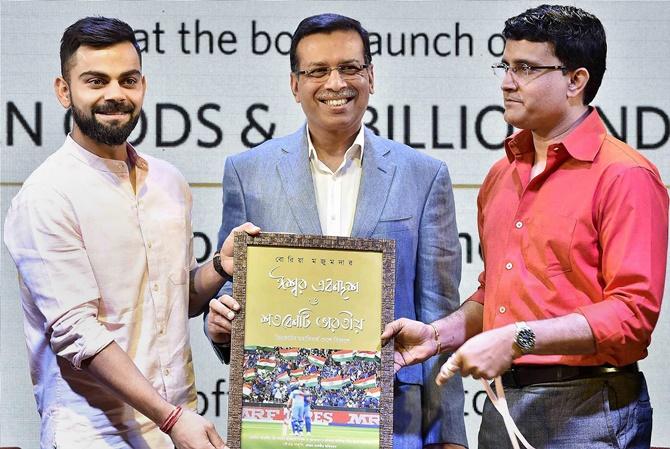 Showering praise on Kohli, he said the present skipper transformed himself after his disastrous England tour in 2014.
"Look at his transformation. He struggled in England and in less than six months, he scores four hundreds in four Tests. I've not seen any Indian batsman play so well in Australia.
"We all got hundreds in Australia, Sachin, Rahul, VVS, I have but what he did in those four Tests was something I've not seen for a long time. That actually transformed him. There are times in life when every sportsman goes through."
Fitness has been given maximum emphasis by the Kohli-led current team.
"There's a purpose to it. It may sound old fashioned. But there's a meaning to it. Over the years, he has realised you play the best when you are the fittest," Ganguly hailed.
The former captain said the change in culture had come under his captaincy.
"We were always a good team at home, the pitches spun. We had the best spinners and at times we never needed to captain. Every time I got tired, I would stand at point and let Kumble and Harbhajan do the job."
"It needed of change of culture and mindset. We for the first time had an overseas trainer, coach and a physio. Before that we used to have manager and coaches for every tour."
"The mindset changed, and understood that if we have to be become a better team we have to go and win away from home," Ganguly said about India's transformation under him.
Majumdar's book delves into every Indian cricket tour and event -- from its first Test in 1932 to the IPL. Published by Simon & Schuster, the book also gives insights into the controversial Monkeygate episode and spot-fixing scandal among others.