Virat Kohli reminds me of Viv Richards, says Shastri
'Shikhar (Dhawan) has a license to be destructive at the top'
'Rohit (Sharma) is all class: brilliant, explosive and his nonchalance is frightening'
India's Team Director Ravi Shastri has words of praise for all. Read on...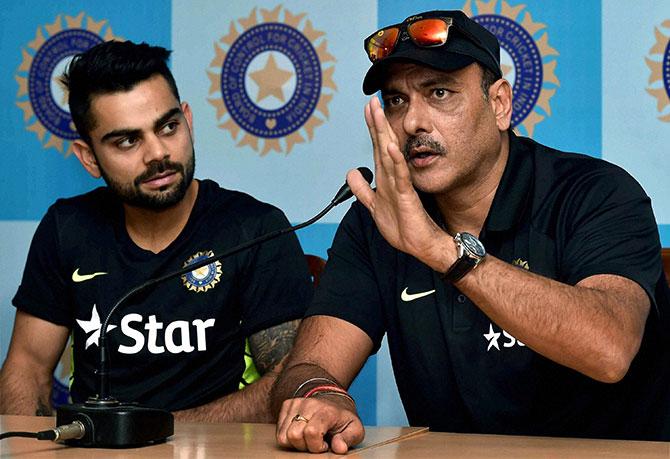 IMAGE: The Indian cricket team's director, Ravi Shastri, right, and captain Virat Kohli interact at a media conference. Photograph: PTI
In awe of Virat Kohli's meteoric rise, India's Team Director Ravi Shastri says the swashbuckling batsman seems like a mirror-image of West Indian great Viv Richards and "wields his willow like a fencer does to his sword".
"Some of his (Kohli) batting reminded me of Viv -- like the way the great man dominated all formats of the game he played. He is an in-your-face kind of batsman," Shastri said, analysing the present Indian team ahead of the World T20 at home next month.
The comparison cannot be too off the mark given that Richards himself has stated that he sees a bit of himself in the flamboyant Indian, the praise Kohli finds surreal.
Kohli has credited Shastri for his revival after the horrible England tour of 2014 summer. His propensity to nick everything on the off-stump was neutralised after he chose to take a middle-off guard, stand outside the crease and adjusted the width of his feet in stance.
"Those were really minor issues. The important thing is he was ready to give it a try," said Shastri, unwilling to dwell further on the subject.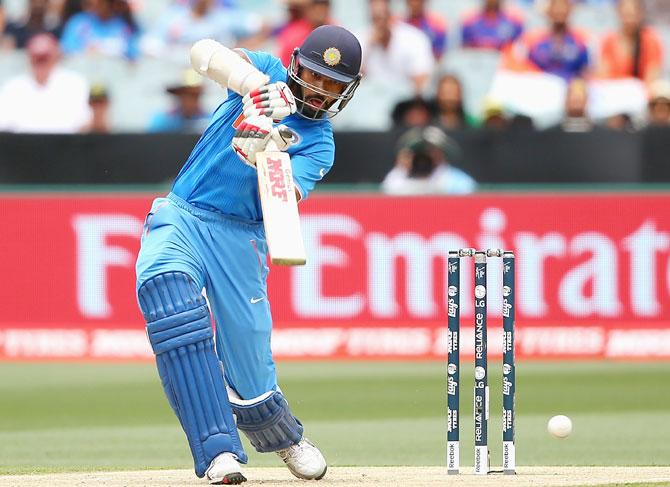 IMAGE: India's Shikhar Dhawan. Photograph: Quinn Rooney/Getty Images
The right-hander sizzled with half centuries in all three T20 games, to go with two hundreds in the preceding ODIs.
Shatri feels Kohli, combined with the equally-devastating Rohit Sharma and revived Shikhar Dhawan, make for the 'best top three in the world'.
The top three were the prime reason Australia were blanked and suffered a never-before low in their proud cricketing history and Shastri was willing to look at each of them individually.
"Shikhar has a license to be destructive at the top, that's the role he has, and once his chances came off, there was no stopping him.
"Rohit is all class: brilliant, explosive and his nonchalance is frightening.
"Virat just tears attacks to shreds, carves them to pieces. He wields his willow like a fencer does to his sword," Shastri explained.
He also didn't lose sight of seniors Suresh Raina and Yuvraj Singh, who both are good insurance in the finishing overs.
"Raina is flamboyant and a match-winner. But I am really pleased for Yuvi. Those two hits (during the third T20 against Australia) would do wonders to his confidence. He is also more than useful as a bowler and adds variety to the attack."
The big derby next month is at home in the shape of the T20 World Cup and Shastri emphasised that a good start is essential for India's campaign.
"T20 could be a lottery. But how well we start would matter. Having said so, we are a strong team who could beat any side in any condition anywhere in the world."
Youngsters have come in and made an instant mark. The latest are Manish Pandey and Jaspreet Bumrah who carved their own space in the high-voltage series Down Under.
"Manish was remarkable. We were chasing a record score and Manish had lost his senior partners. He was at the dead end of it but kept his cool and courage.
"Bumrah might not be a coach's delight but he isn't easy to pick at all," opined Shastri.
Though the top three left little for the rest to play with, Shastri viewed Hardik Pandya as a "livewire".