'Parthiv understands the situation he is in. I am pretty glad he respects that and he is still looking forward to the opportunity and try to make a mark.'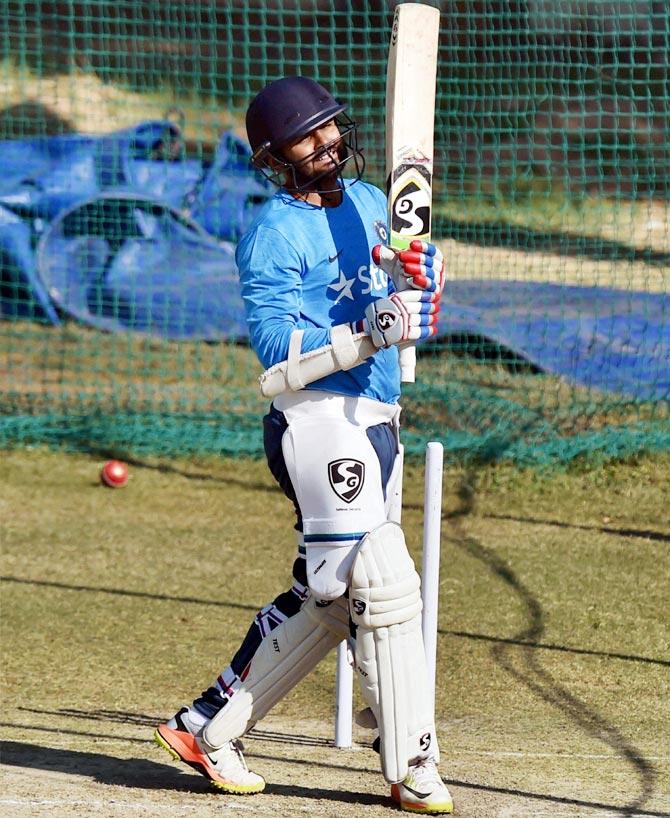 IMAGE: Parthiv Patel bats during a training session in Mohali. Photograph: PTI
India captain Virat Kohli says comeback man Parthiv Patel 'respects' the fact that he is a stopgap keeper but expects him to make full use of the opportunity so that he can grab the second wicketkeeper's slot, especially when India plays away from home.

Parthiv is all set to play a Test match after eight years after first choice glovesman Wriddhiman Saha was ruled out with injury, for the third Test against England starting in Mohali on Saturday.

"We are pretty excited to have him back although we won't have thought about Saha getting injured at this stage. It is part of the game. Parthiv understands the situation he is in. I am pretty glad he respects that and he is still looking forward to the opportunity and try to make a mark. He knows when we plan to take two wicketkeepers away, this is the opportunity."

"Luckily Parthiv's attitude has been great. I don't see any nerves. He has played enough cricket to understand this kind of position and situation. He is pretty excited to be back and make a mark. He has been performing consistently well in first-class cricket for the last few years. He is the guy who has experience at the Test level," the skipper backed the choice of the selectors.

Whether it's by choice or design, Kohli's playing eleven has always had changes according to surfaces and the skipper said that it was the Galle Test match against Sri Lanka where India lost chasing a sub-200 total which triggered that decision of selecting the team according to conditions.

"This is something that we made pretty clear when we lost the game in Galle and after that we had a pretty clear chat that we are going to play people that we think are suitable for different venues. The team bought into it.

"Even with the batting order changes, we have made changes, I have gone up and down the order as well and other batsmen are keen to do it as well. I think it sends the message across that the eventual motive is for the team to win."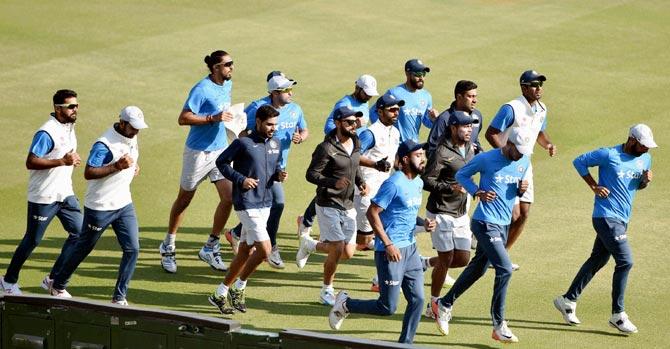 IMAGE: The Indian team during a training session in Mohali. Photograph: PTI
Kohli spoke about a how a change in mindset can change a player's approach. He was referring to a question asked about Moeen Ali being the tormentor during the 2014 series in England but has not made any impact so far in the first two Test matches.

"Again, you are talking about two phases that are very different for a cricketer's mindset. To me, back in 2014, every bowler looked difficult because I wasn't in a good mindset. But when you are playing well, when you are in a good zone, you feel that you have an upper hand against any bowler that you play and that is something that you need to carry on to the field as well.

"Not taking anything away from Moeen, I think he is a pretty terrific bowler. He makes an impact in England as well, so he understands which lines and lengths to bowl, what speed to bowl at."

For him winning is a job that he is being entrusted with for being a professional cricketer.

"It is a challenge, definitely. It is a challenge to repeat the same things the team has been doing for a while but I think that is what professional cricketers are picked to do and that is something that we take as a responsibility but not as a burden.

"We need to make sure we put all things in place for us to give ourselves the best chance of going out there and winning a Test match. That's all we have done in the past couple of years and the results have been nice. The challenge is a tough one and all of them have lived up to it so far and it is really good to see as a captain," he concluded.