'Tendulkar was a great player and great ambassador of India and it is going to take a lot for Virat Kohli to come in comparison with that.'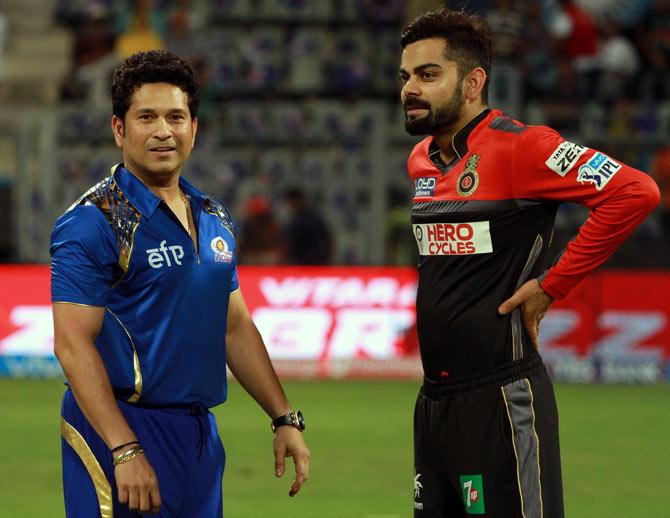 IMAGE: Sachin Tendulkar, left, with Virat Kohli during the ninth edition of Indian Premier League. Photograph: BCCI
Yuvraj Singh feels Virat Kohli is the best batsman of this generation, but it unfair to compare India's Test captain with Sachin Tendulkar.
The left-hander said Kohli and South Africa's AB de Villiers are presently the best batsmen and hoped the former too becomes a great player like Tendulkar.
"I think 100 centuries is really far away to think," Yuvraj said, when asked if Kohli would be able to reach Tendulkar's milestone of 100 international tons.
"Tendulkar was a great player and great ambassador of India and it is going to take a lot (of hardwork) for Virat Kohli to come in comparison with that," he told NDTV.
"Virat (Kohli) is in great form. He is the best batsman of this generation along with AB de Villiers. So I hope one day he becomes a great player for India."
Yuvraj, who is yet to feature in the ongoing Indian Premier League for his new franchise, Sunrisers Hyderabad, because of an ankle injury, said he is fit to take the field against Gujarat Lions at Hyderabad on Friday.
"I am hoping to play tomorrow's game in Hyderabad," he said.
"As long as I am playing I want to play all three formats whenever I get an opportunity to play."