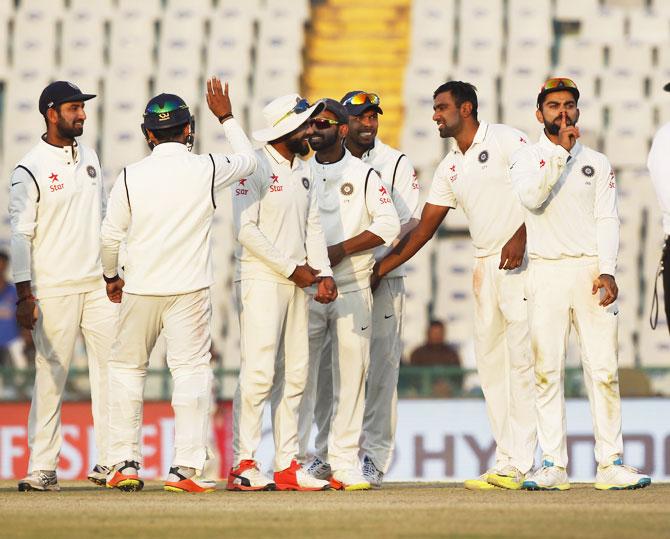 IMAGE: India captain Virat Kohli gives Ben Stokes a 'quiet send-off' after the latter's dismissal in Mohali on Monday. Photograph: BCCI
With ICC sanctions firmly in place, cricket has been losing character due to fear of penalty but there are still a few who can engage the crowd with their on-field skirmishes.
Indian captain Virat Kohli and England's premier all-rounder Ben Stokes have been having a go at each other for the past three days in the Mohali Test -- at times openly, like on the first day of play and at times subtly, like it has happened over the next two days.
These moments of friction between India and England cricketers are not new.
In the past, India's most successful and aggressive captain Sourav Ganguly whose epic shirt-waving episode at the Lord's balcony after the 2002 Natwest ODI final will be etched in a cricket lovers' memory forever.
The trigger was Flintoff waving his jersey after winning an ODI for England at Wankhede Sadium few months prior to the Natwest final.
The third Test at Mohali has also so far witnessed some on-field fireworks between Stokes and Kohli.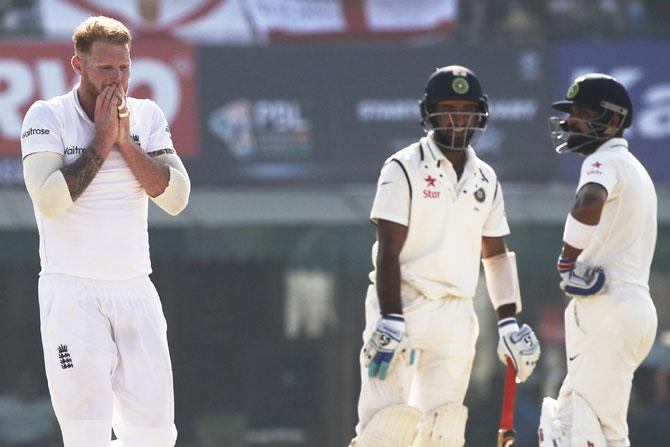 IMAGE: Ben Stokes gestures as Cheteshwar Pujara and Virat Kohli bat on Day 2 on Sunday. Photograph: BCCI
On Day 1, after Stokes was dismissed, he had a verbal spat with Kohli while returning to the pavilion – an act that got him ICC's reprimand.
On the second day, it was Stokes's turn to get a well-set Kohli out and then to comically gesture 'sealed lips' so as to make people aware that he has been under sanction.
On Monday, the third day of play, as soon as Stokes was dismissed by Jayant Yadav, gesturing towards the pavilion-headed Stokes, Kohli had a finger on his lips which said it all.
When Jonny Bairstow was asked about it, the England wicket-keeper said: "It's up to him (Kohli), isn't it. He's obviously quite a vocal character. But that's Virat. He gets a bit wound up. We'll leave him to it. If he wants to do that, let him do that. And we'll go about our business as we have over a period of time. But yes, if he wants to do that and let the crowd do that, then let him."
Bairstow also dismissed the fact that England batsmen were trying some sledging by standing straight when spinners were bowling.
"No sledging. I don't think there's anything in that ,to be honest with you. The standing straight is standing straight. You can stand anywhere you want. I don't think there's a set thing to stand there at the moment. It is not a set-play to try to unsettle anyone or anything like that. It's just that we fancy standing a bit straight.
"You've got Jadeja at one end, who gets through his overs in about four seconds (in a hurry) and you have guys at the other end with a slightly longer run-up. So to try and settle into a rhythm as a batter can be a little tricky when you've got two spinners at different ends going at 4 and 7 second an over!"