'I will start at number three, having specialists at that order and that I have done well for Indian team at No 3'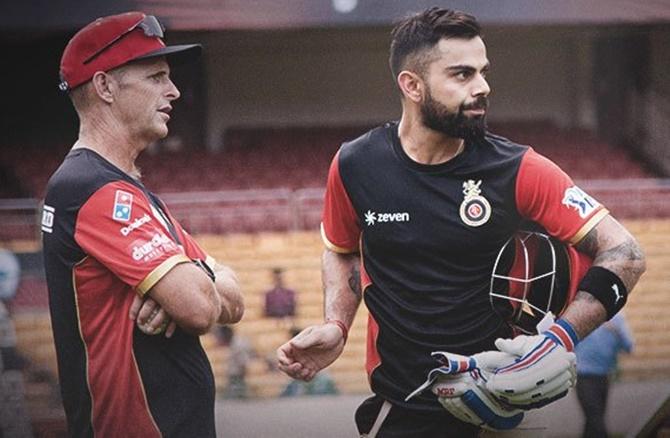 Royal Challengers Bangalore skipper Virat Kohli is all set to give up his opening slot and will bat at No 3, a position he has made his own in the national team.
RCB has multiple opening options in Quinton de Kock, Brendon McCullum, Parthiv Patel, Mandeep Singh and Manan Vohra to name a few.
"In the past, it was more or less that I had to. I quite enjoyed that role. Predominantly, I will start at number three, having specialists at that order and that I have done well for Indian team at No 3."
"I've a good understanding of playing at that position (No 3) and gives the team a lot of stability. I see myself starting there but it depends on who we playing against. But we are going to be flexible, adapting to different conditions," Kohli added on the eve of their IPL opener against Kolkata Knight Riders at the Eden Gardens.
Kohli scored 1,750 runs as an opener from 43 innings at an average of 53.03.
Traditionally a batting-heavy unit, RCB have trimmed their star quotient -- in letting go Chris Gayle, Shane Watson, KL Rahul and Kedar Jadhav -- while bolstering their bowling attack in Chris Woakes, Tim Southee, Umesh Yadav, Moeen Ali and Washington Sundar.
"It's not going to be RCB batting versus KKR bowling. You will be surprised to see our bowling dominating in this IPL. It will be a pleasant surprise for everyone to see RCB's bowling coming along nicely and not just relying on batting," the 29-year-old said.
On their decision to let go Chris Gayle, he said, "Taking nothing away from Chris, we decided to go in with the balance that can sustain in the next three years. We did not want to be relying on 2-3 people all the time and those were few reasons behind it."
RCB were shot out for their lowest ever score of 49 and Kohli said they have put it behind immediately after the match.
"We don't have bad records here. It was just a one off game we had here. It was bizarre, very rarely you get out for 49 with that kind of batting."
KKR will have a new skipper in Dinesh Karthik and Kohli hailed the Tamil Nadu wicketkeeper-batsman.
"I am very happy for him that he has been given this responsibility. He has got really good cricketing brain. I am sure he will do a good job for KKR," Kohli said.
Looking forward to embrace the challenge, Karthik on his part said: "I will be looking to stay as calm as I can. Lot of times I am sure I will be put under the pump and I have to be able to react in a calm manner without getting too emotional about it."
Karthik's last ball six in his eight-ball 29 not out had sealed a thrilling chase against Bangladesh in the T20 Trination final in Colombo last month.
"That's a good takeaway for me from that game. It gives me a lot of confidence in my batting skills. It's important that I keep using that as an experience where I can propel to do better things in the future."