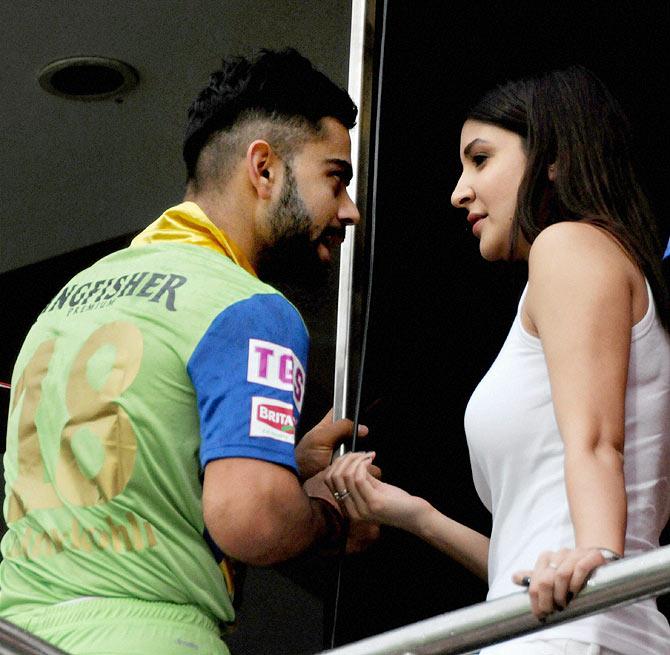 RCB Skipper Virat Kohli chats with girlfriend and Bollywood star Anushka Sharma during a rain break in the IPL match between Royal Challengers Bangalore and Delhi Daredevils in Bengaluru on Sunday. Photograph: PTI
The secretary of the Board of Control for Cricket in India, Anurag Thakur, on Wednesday, confirmed that batsman Virat Kohli was served notice after he was found guilty of violating the Board's anti-corruption code during the ongoing Indian Premier League.
- Virat Kohli let off after minor anti-corruption code breach
- This time it's rain...not Anushka
During the rain-break, in the match between the Royal Challengers Bangalore and Delhi Daredevils, Kohli met and chatted away with girlfriend Anushka Sharma, who was in the VIP box, located next to the players' dressing room, at the M Chinnaswamy Stadium in Bengaluru, on Sunday.
India's Test captain was found to have breached the code, which relates to the minimum standards for Players and Match Officials Area (PMOA).
Thakur said the BCCI's anti-corruption unit, headed by Ravi Sawani, served Kohli notice for the infringement.
"According to the IPL guidelines, the anti-corruption unit has served a notice and seeks an explanation. So whatever was required we have done it," Thakur said in Mumbai.
"No player is bigger than the game and we will follow the guidelines and take action accordingly," he added.