No confirmation on Mahendra Singh Dhoni's availability for the short series, starting June 11.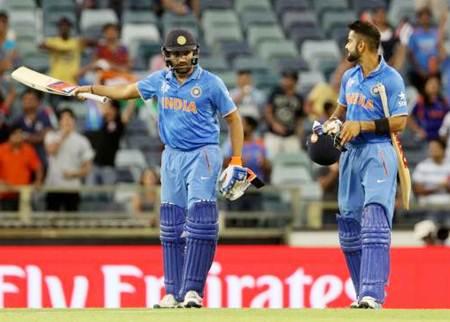 Test captain Virat Kohli, Rohit Sharma and Shikhar Dhawan are likely to be rested for India's tour of Zimbabwe, but there is no confirmation on Mahendra Singh Dhoni's availability for the short series, starting June 11.
India will play three ODIs and two T20 Internationals during the series which marks the end of the season.
"It is more or less certain that both Virat and Rohit will be rested for the series against Zimbabwe. They have been playing non-stop cricket for the last six months and are required to be fresh before India embarks on their tour to West Indies.
"The chances of Shikhar Dhawan going for the Zimbabwe tour are also very less," a source in the Board of Control for Cricket in India said.
Kohli, who hasn't missed a single match, save the short Sri Lanka series, since the start of the home series against South Africa last October, has, besides the ongoing IPL, played four Tests, 10 ODIs and 15 T20 Internationals.
With Kohli set to lead India in 17 Tests, including four away games, in what will be one of the most gruelling home seasons, India's No 1 batsman needs suitable time to get ready for the next season.
Ditto for Rohit, who has also been playing for the better part of last six months save the two-Test, where he was not in the playing eleven.
However, there is no clarity on whether ODI skipper Dhoni will be leading the side in Zimbabwe as he also had his fair share of workload.
If Dhoni skips the Zimbabwe tour, he may not be playing for the rest of 2016 unless the BCCI organises a few limited-overs matches.
In case Dhoni does not go, Ajinkya Rahane, like last year, could lead a young second-string squad to Zimbabwe.
Wicket-keeping duties could be handed over to K L Rahul, whose good form in the IPL has not gone unnoticed.
It will be interesting to see if the Sandeep Patil-led Selection committee includes phenomenally talented Delhi lad Rishabh Pant, since this is the last chance for them to try out some juniors with India set to play only Test matches at home.
Mohammed Shami and Mohit Sharma -- both returning from injuries and plying their trade in the IPL -- could be sharing the new ball.
Harbhajan Singh and Amit Mishra could be the two frontline spinners along with Ravindra Jadeja.
Krunal Pandya, another batsman who has impressed in the IPL, could find a slot in the team while his brother Hardik, struggling to hold a regular slot in Mumbai Indians' playing eleven, may find it difficult to retain his place.
Image: Rohit Sharma, left, and Virat Kohli during the ICC World Cup 2015
Photograph: Solaris Images