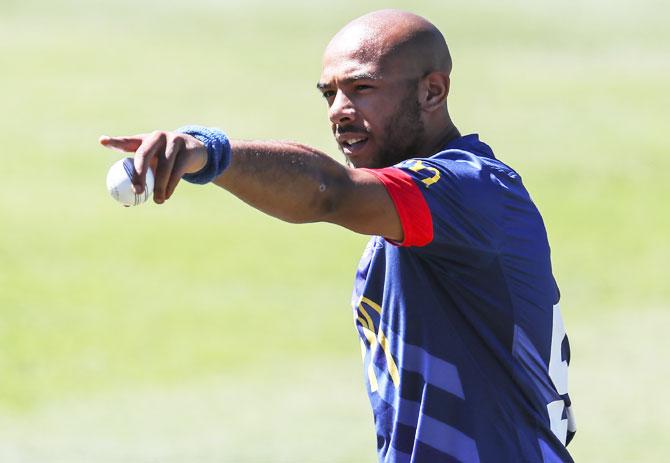 IMAGE: England have brought in left-arm paceman Tymal Mills for the T20s. Photograph: Simon Watts/Getty Images
Taking a subtle dig at an English scribe, India captain Virat Kohli said he was not bothered about the presence of left-arm pacer Tymal Mills in the England squad as he has faced "enough 90mph bowlers in his career".
Asked for his thoughts on Mills, who is a T20 specialist, Kohli responded bluntly.
"I haven't seen much of him but I have played 90mph before in my career so," said Kohli in a dismissive tone.
"They have brought him (Mills) as a T20 specialist; he might have a set of skills which is required for this format. I can maybe comment on him after the second game having played him a bit. But 90mph is not a problem at all. I think I have faced enough 90mph bowlers till now," he said drawing instant laughter in the room.
Kohli, however, was full of praise for the current crop of England players despite being unsure of their utility in the IPL.
"There is no doubt about the talent that is available in the English team. As you mention the small window has always been an issue (in IPL). Not many teams want to spend money on players who are not available for the whole of IPL. You rather prefer to have a guy who lasts the whole tournament and gives you that extra balance. That is my point of view. Teams might think differently," said Kohli, who captains the Royal Challengers Bangalore in the IPL.