First 20 runs important for Virat, says Lalchand Rajput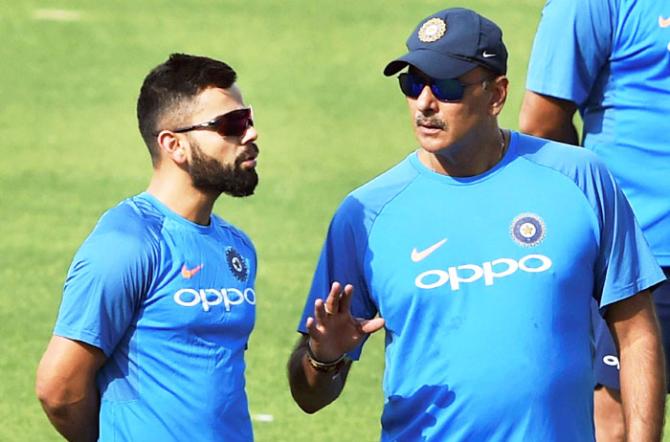 As Virat Kohli looks to make a mark in Test cricket in England, former India coach Lalchand Rajput says the first 20 runs will be crucial for the skipper in the five-match series, starting on Wednesday in Birmingham.
"Virat is a very aggressive player, he wants to be in the forefront and wants to lead from the front. Everyone's eyes will be on Virat, how will he perform, because last one was a disastrous tour for him," Rajput said.
Kohli is keen on erasing the memories of the painful tour of the country in 2014.
"He is four years matured now. He knows his game much better than earlier. I would go one step ahead -- (James) Anderson and (Stuart) Broad are four-years older -- what they were four years back, the same pace wouldn't be there, but in England they will be handy too as they swing the ball well," Rajput, who is now the interim head coach of Zimbabwe, said during an interaction on Tuesday.
Kohli, who has scored runs in Australia, South Africa, apart from his home country, had a forgettable 2014 England tour when he was troubled by the seamers, particularly James Anderson.
Rajput, a domestic bulwark, feels that it will be on Kohli's mind to prove a point by scoring in England.
"Virat has worked on his game a lot. He is in tremendous nick and I am sure he would like to start on a big one, first Test is very important, how he gets on. The first 20 runs will be very crucial for Virat, if he gets those 20 runs, then he will not look back."
"Because he (Virat) wants to make a name for himself, because people are talking that he had a disastrous series, but that's gone and dusted. This is a new series, he wants to prove himself. Last couple of years his conversion rate is terrific, he has got lot of 100s, he has won lot of matches and he would like to prove it in England," added Rajput, who briefly played for India.
Asked what bowling combination the visitors should go with, Rajput said three medium pacers and two spinners.
Though Zimbabwe lost the tri-series involving Pakistan and Australia, and were whitewashed by Pakistan in the ODI series, Rajput feels that the side showed improvement.
"Zimbabwe missed eight players as they had problem with the (Cricket) Board. But there were lot of good youngsters which came up and we gave them opportunity. We could not win but we showed improvement," said Rajput, whose current tenure will end after August.
© Copyright 2023 PTI. All rights reserved. Republication or redistribution of PTI content, including by framing or similar means, is expressly prohibited without the prior written consent.