'On another day I could have got him for 20, and then we are not talking about how brilliant he is.'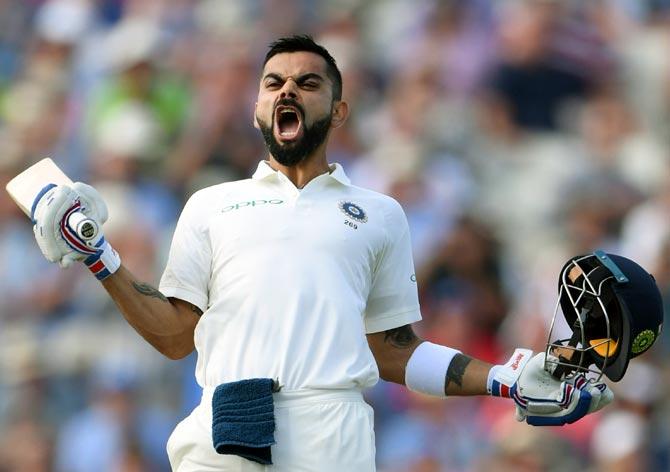 England pacer James Anderson says Virat Kohli is not 'invincible' and poor slip fielding from his team mates has allowed the Indian skipper to get off the hook in the first innings of the first Test in Birmingham.

It was an engrossing duel between Test cricket's second most successful pacer -- Anderson against India's run machine Kohli on the second day when the right-hander was dropped twice off the bowler on 21 and 51 by Dawid Malan in the slips.

Kohli went on to score 149 and was unbeaten on 43 not out in India's second innings score of 110 for 5 at stumps on the third day with the visitors still needing 84 more to win the first Test.

Anderson rued his side's poor catching and said England need to take their chances against a batsman of Kohli's calibre.
"I have been encouraged the way I have bowled at him (Kohli) in this game so far, found the edge a few times in the first innings. On another day I could have got him for 20, and then we are not talking about how brilliant he is," Anderson said on Friday.

"You can't drop Virat Kohli on 21, because he is one of the best players in the world, and he will capitalise on that and which he did. We could have been in a much different position now. We have just got to go away and know we can get him. No one is invincible in world cricket. We can get him out," he said.

Anderson said that Kohli can shield his tail very well, like he did in the first innings, and thus England need to find a way to quickly get him out if the hosts desire to win the Test.

"To be a part of it is great, and tomorrow we have got a really good chance of winning the game. If we recover well and come back fresh in the morning, we know it's going to be 25-30 overs max one way or the other, so we can give it all we can," said Anderson.

"If he (Kohli) bats like he did in the first innings India will win. Even batting with the tail, he just managed to find the gap, or get down the other end - the way he batted with the tail was brilliant.

"We need five wickets, simple as that, fairly quickly - otherwise, they will get the runs. We have just got to give it everything we have got for the first 15-20 overs - leave absolutely nothing out there," he said.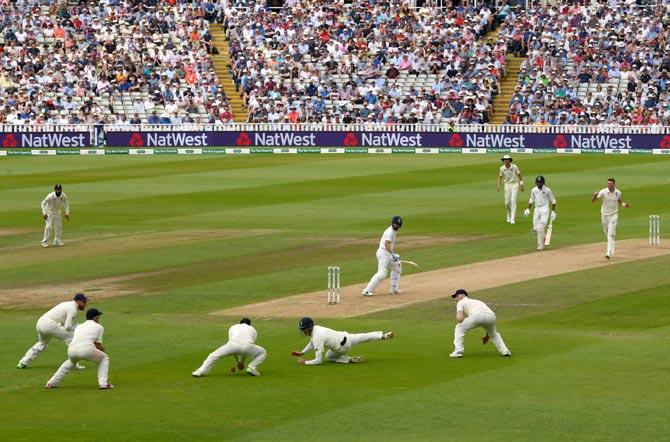 Anderson said the ongoing match is a brilliant example for Test cricket.

"It's been really exciting, if not a bit frustrating at times. What's been great is the way the momentum has shifted. Test cricket at its best -- the way we dominated the first two sessions of the match, then India wrestled back the momentum, then it was our job to go out and bowl well. It's gone to and fro," he said.

"It's a really exciting place to be, because you know we could do something special tomorrow by winning this -- such a close Test match. So, we will go to bed dreaming about getting Kohli out first thing," he said.

The hosts have dropped quite a few chances in the slips, and their record is only marginally better than India's.
Anderson said this is a matter of concern as slip catching is an area where they have struggled for quite sometime now.

"The personnel in the team has changed quite a lot, so it's been difficult to get a set cordon. But we are just going to have to keep working harder and harder, pushing ourselves to be better, because you can't keep creating the chances and not taking them," he said.

Anderson was also full or praise for young Sam Curran, who brought England back into the game with a maiden Test half-century after they were reduced to 87 for seven in the second innings at one stage.

"He's (Curran) a really impressive lad. I remember me as a 20-year-old, and I didn't know what was going on. I was in awe of everyone. But he has been around quite a bit, he knows his game really well for a young lad, and his skills are brilliant with the ball," he said.

"He has obviously got a little bit of fight in him as well, to go out in that situation and show the guts and determination he did to get us back into the match," Anderson signed off.