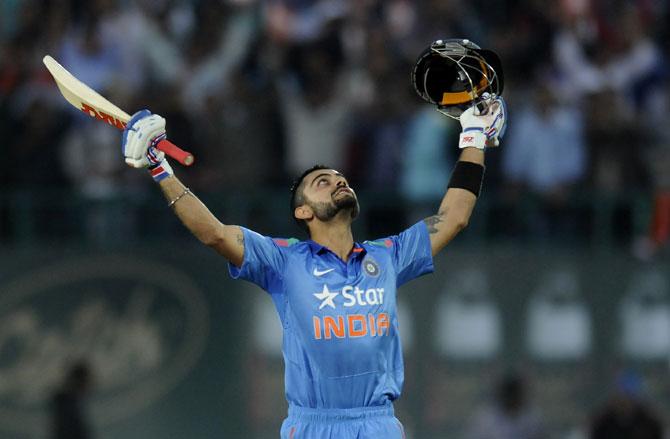 IMAGE: India's Virat Kohli celebrates. Photograph: BCCI.
Virat Kohli once again proved why he is regarded as the king of run chases as his unbeaten 154 powered India to an easy seven-wicket victory in the third ODI against New Zealand, in Mohali, on Sunday.
During this knock, Kohli also emulated Sachin Tendulkar's record of 14 hundreds in successful run chases in the history of ODI cricket.
Former India captain and Sachin's opening partner Sourav Ganguly lauded Kohli for his batting exploits.
"It's remarkable. It's such a pleasure to see him bat. We keep talking good things about him. I have lost all adjectives about him. It's just another good knock. Great knock to be honest. I wish he keeps playing like this," Ganguly told India Today.
Dada was also full of praise for Kohli's match-winning ability calling him the world's best finisher.
"By far Virat Kohli there's no doubt about it. He not just scores hundreds at No.3, he even wins matches. He gets hundreds in all conditions whether it's in Australia, England or South Africa.
"There's no comparison with MS Dhoni. These two are the best ODI players along with Rohit Sharma in the squad. I think Kohli is miles ahead of others in terms of his average, in terms of winning, in terms of scoring runs in all conditions.
"I don't think Dhoni has got a hundred away from sub-continent in ODI but Kohli has got hundreds in all conditions. I think Rohit has also got hundred in Australia but none of them will be at par with Kohli at the moment," Ganguly.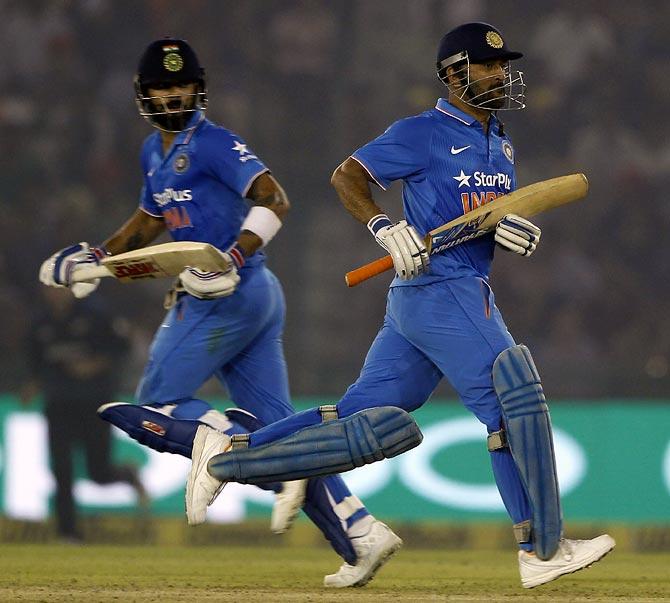 IMAGE: India's Virat Kohli and Mahendra Singh Dhoni against New Zealand in the third ODI in Mohali. Photograph: PTI.
Dhoni, who has been promoting himself up the order in recent times, scored a crucial 80 off 90 balls scoring his first half-century in 11 innings.
Ganguly was of the opinion that Dhoni should bat in the top order.
"Not sure if he continues to bat at No.4. Anil Kumble needs to push him up the order because it makes life lot easier for him and people coming down the order.
"He hasn't got ODI hundred for three years and the reason is he bats just 40-50 balls. I think he not only undermines his talent but also undermines his team's capacity of winning games.
"If you see the innings of Kohli and Dhoni and none of them were under any pressure because both were scoring runs at will. That's what happens when your two best one day players are at the crease.
"For me the Indian batting should be Shikhar Dhawan, Rohit Sharma, Virat Kohli, MS Dhoni, KL Rahul and Ajinkya Rahane. Take the pressure upfront.
"He keeps talking about finishing games. He finished the game today as well. He played so well at No.4," Ganguly said.