- 'Virat is a finisher for me. An opener can also be your finisher. It's not necessary that a finisher would be your number 6 or 7 batsman.'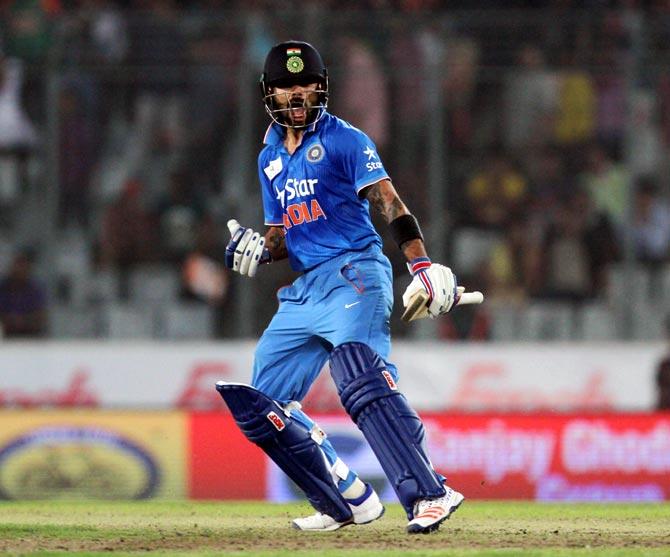 IMAGE: Virat Kohli celebrates after India beat Bangladesh in the final of the Asia Cup T20 tournament. Photograph: Solaris Images
Most of the cricketing world might swear by the finishing skills of Indian limited-overs captain Mahendra Singh Dhoni but former opener Gautam Gambhir feels it is Virat Kohli who deserves the tag of being the side's finisher.

"It's a tag given by the media. Virat is a finisher for me. An opener can also be your finisher. It's not necessary that a finisher would be your number 6 or 7 batsman," Gambhir said at the 'Aaj Tak Salaam Cricket' conclave in New Delhi on Monday.

In fact, Gambhir went on to state that Dhoni should be clear about where he wants to bat in the order.

"We have heard him saying that he wants to bat up the order. He has to decide where he wants to bat, what is better for him," he said, adding the stumper-batsman is best suited for No. 6 or 7.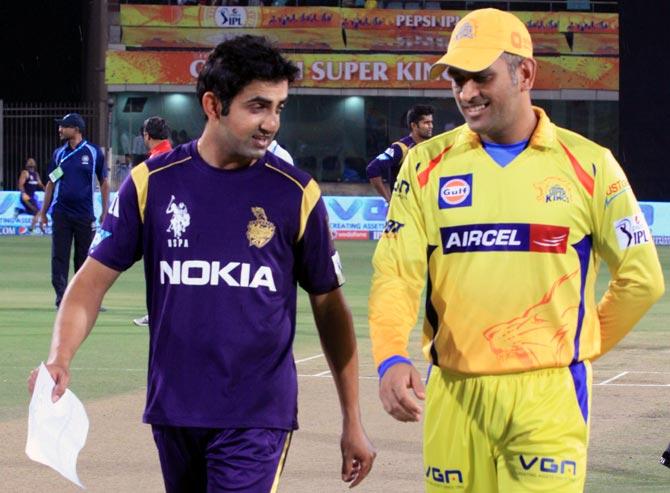 IMAGE: KKR captain Gautam Gambhir, left, with Chennai Super Kings skipper Mahendra Singh Dhoni during IPL 2014. Photograph: BCCI

Gambhir, who was part of India's World T20 triumph in the inaugural edition in 2007, believes that a captain is only as good as the team he leads.

"If only good captaincy wins you World Cups, we would have won more World Cups. We have won only three. A captain can only plan, but the other 10 players have to go out and execute," he explained.

Talking about the World Twenty20 which starts on Tuesday, the Delhi left-hander said it will be crucial for India to have Yuvraj Singh in good form. "Yuvi has to be at his best."

Speaking about his own approach to the game, Gambhir said he likes to maintain a calm demeanour but does not shy away from a showdown should the need arise.

The Kolkata Knight Riders captain was involved in an on-field ugly spat with Kohli of Royal Challengers Bangalore during the sixth edition of the Indian Premier League in 2013. Both players were warned and reprimanded for breaching the IPL code of conduct.

"No one should take comments made on cricket field, personally," he said.

"I am not there for friendships. If I have to argue again, I won't be shy. It does not make a difference to me who is playing on other side, whether it is MS (Dhoni) or Virat. If I am captain, the way I play, my team will play the same. If I am subdued, my team will also be subdued. The way the captain plays, the team plays," Gambhir said.