'He (Kohli) is someone who will go for a win come what may'
'It is good because the players know what is required from them. It gives an amazing amount of intensity to the team'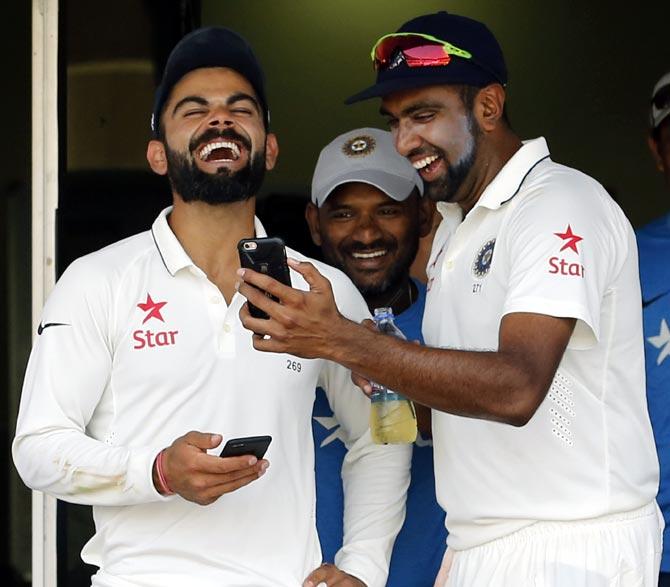 IMAGE: Virat Kohli, left, and Ravichandran Ashwin are all smiles. Photograph: BCCI .
India off-spinner Ravichandran Ashwin, on Monday, described Virat Kohli as a captain with a fierce winning mentality and said that his positive body language always rubbed on the other players.
Talking to reporters after Tamil Nadu's opening match against Gujarat in the Vijay Hazare Trophy, Ashwin went on to say that Kohli is now on-par with the some of the greatest captains in the game.
"He (Kohli) is someone who will go for a win come what may. He does not have a negative bone in his body, he always talks about a win, never about saving situations, we're always moving ahead. It is good because the players know what is required from them. It gives an amazing amount of intensity to the team," Ashwin told reporters after the Group 'C' match.
"This is his first series overseas as a full-time captain. I am sure all the best captains in the past too have a set of home games. He (Kohli) is already on par with most of the greatest captains that have played the game. It is best that we give credit to him," he said.
On the recently concluded Test series in South Africa, of which he was a part of, Ashwin said that he had achieved what he wanted to, though he would have liked to have got a few more wickets.
"On a personal account, I would say I batted beautifully through the first two Test matches. If I had just held myself when the second new ball was taken I could have made a massive difference. I felt a little disappointment for that. But in general that was my role in the game, I had to counter-attack and I felt that way.
"As an individual who went into that series, whatever I wanted to achieve I did achieve. Probably a few wickets lesser than I would have ideally liked. A few dropped catches, which is part of the game," he added.
He also felt that the series was closely fought despite the result going 2-1 in favour of South Africa.
"I feel the series was very very close and it was on the line. In fact, even at Cape Town and Centurion till the last ball was bowled we probably were in the game. Probably, Centurion a little bit earlier. I thought we played really good cricket," Ashwin said.
"On both the occasions, if we had won the toss it would have made a massive difference. As a team we really played well in South Africa. It gives us a lot of impetus going into the England series," he added.
Ashwin hailed the manner in which the team played in the final Test at Johannesburg and said India deserved to win.
The off-spinner, however, refused to comment on the pitch controversy in Johannesburg, saying he was not part of the game.
Ashwin, who has been picked by Kings XI Punjab in the recent IPL players auctions, said he would miss playing for Chennai Super Kings (CSK), adding that he looked forward to play again at the M A Chidambaram stadium where he took his first steps to success.
"Obviously I was a tad disappointed. I have been here for the past 10 years. Literally, I own that space at Chepauk. The cheer that I got every time I came on to bowl, I will miss that. The auction is very unpredictable and probably if you saw this auction, people were not going all guns blazing. I am a bit disappointed that I will not be turning up for CSK."
On the prospect of turning out for Kings XI Punjab against CSK at the Chepauk, he said, "It will feel lovely. I will again get a chance to showcase my skills in front of my home crowd. That is all that matters to me. It is a ground that has great memories. It has been part of my meteoric rise.
"It gave me a lot of momentum going into my international career. Coming back there and play against CSK, it may probably motivate me more. Let's see how it goes," Ashwin signed off.
© Copyright 2022 PTI. All rights reserved. Republication or redistribution of PTI content, including by framing or similar means, is expressly prohibited without the prior written consent.