The team includes four Pakistanis, three Indians, three Englishmen and one Bangladeshi, with Kane Williamson of New Zealand as 12th man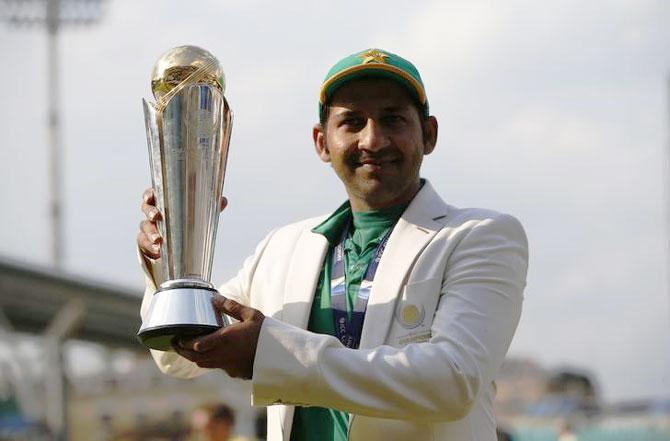 IMAGE: Pakistan's Sarfraz Ahmed poses as he celebrates winning the ICC Champions Trophy. Photograph: Paul Childs Livepic/Action Images via Reuters
Three Indians, including skipper Virat Kohli, were on Monday, named in the ICC Team of the Champions Trophy 2017, with Pakistan's Sarfraz Ahmed named captain, a day after his side's triumphant campaign.
The side includes seven players from the two finalists -- India and Pakistan. All in all, it includes players from five of the eight participating sides.
The team includes four Pakistanis, three Indians, three Englishmen and one Bangladeshi, with Kane Williamson of New Zealand as 12th man.
Sarfraz was chosen as the captain following his inspirational leadership during the 18-day tournament that was the cornerstone of his team's 180-run victory over India.
Pakistan had started disastrously when they suffered a 124-run thrashing at the hands of India, before they bounced back to defeat South Africa by 19 runs, Sri Lanka by three wickets and England in the semi-final by eight wickets.
"To be appointed as captain of the Team of the ICC Champions Trophy 2017, which includes some of the finest and most attractive cricketers of this generation, is the perfect icing on the cake," remarked Sarfraz.
"But I am more happy and delighted for players like Fakhar Zaman and Hassan Ali, who impressed their peers through their talent and performances, and found their way in the side. These two lads, plus Shadab Khan, are the future of Pakistan cricket and I sincerely hope they will only go in the upward direction from here."
India opener Shikhar Dhawan and Pakistan's Hassan Ali had already won the Golden Bat and Gold Ball trophies for finishing as the most successful batsman and bowler, respectively, while Tamim Iqbal of Bangladesh was selected after driving Bangladesh to their maiden semi-final in a major ICC event.
Pakistan's Fakhar Zaman was picked as Dhawan's opening partner after he aggregated 252 runs in four matches at a strike-rate of 113, following scores of 31 against South Africa, 50 against Sri Lanka, 57 against England in the semi- final and 114 against India in the final.
Joe Root was rewarded for his 258 runs in the tournament, while Ben Stokes was selected as an all-rounder following his aggregate of 184 runs and three wickets.
Fast bowlers Junaid Khan, Bhuvneshwar Kumar and Hassan shared 28 wickets between them in the tournament, while wrist-spinner Rashid finished with seven wickets with an economy rate of 4.73.
ICC Team of the ICC Champions Trophy 2017 (in batting order) is:
Shikhar Dhawan (India)
Fakhar Zaman (Pakistan)
Tamim Iqbal (Bangladesh)
Virat Kohli (India)
Joe Root (England)
Ben Stokes (England)
Sarfraz Ahmed (Pakistan)
Adil Rashid (England)
Junaid Khan (Pakistan)
Bhuvneshwar Kumar (India)
Hassan Ali (Pakistan)
Kane Williamson (New Zealand (12th).