'South Africa showed the passion which is needed to win games of cricket. They deserved to win tonight.'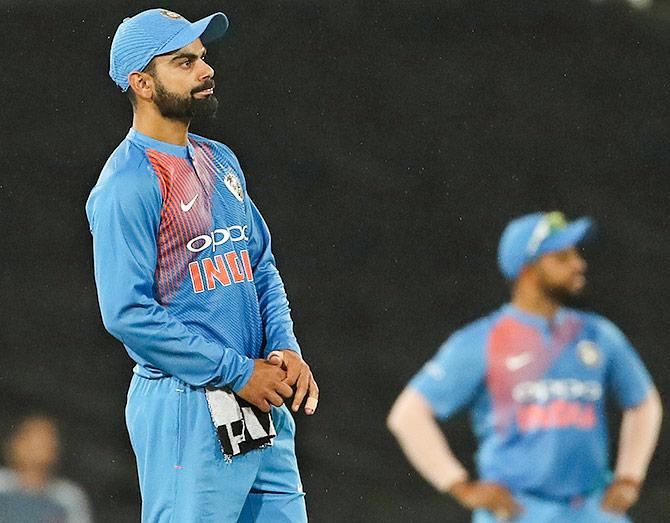 IMAGE: Virat Kohli says the weather made it tough for the bowlers. Photograph: BCCI
India skipper Virat Kohli blamed the weather gods for making life difficult for his bowlers after they failed to defend a total of 188 against South Africa in the second Twenty20 International in Centurion, on Wednesday.
With rain lashing the SuperSport Park, Indian leg-spinner Yuzvendra Chahal found it difficult to grip the ball and bled 64 runs in four overs as South Africa chased down the target comfortably to level the three-match series 1-1.
"Tough one for the bowlers. We were looking at 175 with the loss of early wickets. Manish (Pandey) and (Suresh) Raina batted well initially. Manish and MS (Mahendra Singh) were outstanding to get to 190. I thought that was a winning total. Then the weather made it hard for the bowlers. Till the 12th over it was fine, but with the drizzle the wicket settled down. The ball was difficult to grip too," Kohli said.
Asked about the conditions, he replied: "You don't want play to be stopped. Once the game was continued in the first innings, we knew it was going to be continued throughout. We didn't really have problems with the conditions, it was a constant drizzle, was fine to play."
Kohli praised South Africa's batsmen for constructing their chase well.
"Credit to the SA batsmen. (Heinrich) Klaasen and (Jean-Paul) Duminy really batted well. They were very positive. Good from the spectator point of view," he said.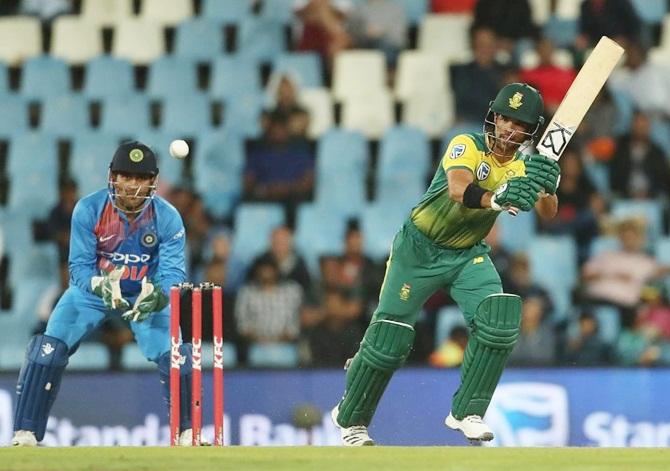 IMAGE: J P Duminy bats en route his 64 not out from 40 balls. Photograph: BCCI
"They took calculated risks. They targeted the short boundary and it came off for them. They deserve to win. We expect them to show some fight. They showed the passion which is needed to win games of cricket. They deserved to win tonight."
Satisfied with his team's effort, South Africa captain Duminy termed it as an "easy" win.
"At the toss we spoke about this being a semi-final. Way we started with the ball was exceptional. They gained momentum with the last five overs but our batsmen showed composure. Pretty easy win in the end," he said.
Duminy said the batsmen constructed the chase keeping the Duckworth Lewis System in mind.
"We tried our utmost to keep with the DLS system. In the end it worked in our favour because it gave us the freedom. It was raining a bit in our bowling innings as well. We knew we had to set the tone with a good first over.
"They came at us a bit but it was key to pick wickets in the PowerPlay. To take down 189 was a pretty good effort. Certainly, (there) will be a good crowd for Cape Town (match). Hopefully we can put up a good spectacle."