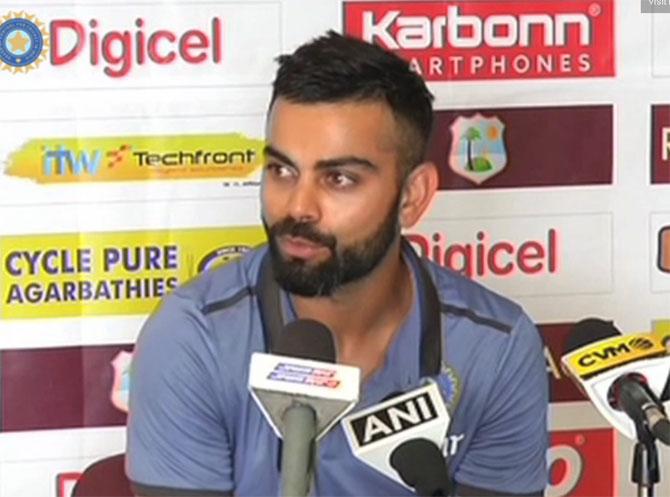 IMAGE: A video grab of India Test captain Virat Kohli speaking at a press conference ahead of the 2nd Test in Kingston, Jamaica, on Saturday. Photograph: ANI/Twitter
Indian skipper Virat Kohli has said that his batsmen will have to take more responsibility on a "result-oriented" green wicket laid out for the second Test against the West Indies in Kingston, Jamaica.
"We are happy the wicket is going to have some bounce and carry. There was decent enough bounce in Antigua for us to exploit whatever help was there. Jamaica is going to be even better. It's a result-oriented ground and we're quite excited about it. It's obviously going to take more application than we showed at Antigua. It's going to take more responsibility and more concentration by the batsmen to get the job done," Kohli said.
"We believe that our batsmen are good enough to tackle any pace and bounce that West Indies' bowlers have. The plan is to go out there and play with the determination and focus that we showed in the first game," he said ahead of the match which begins on Saturday.
The Indian skipper said with spinners R Ashwin and Amit Mishra among the runs in the first Test, the batting line-up has more depth.
"We've got good pace, the bowlers are bowling good areas. Obviously we need to be wary of the conditions a bit more because it is a ground that is result-oriented," Kohli said.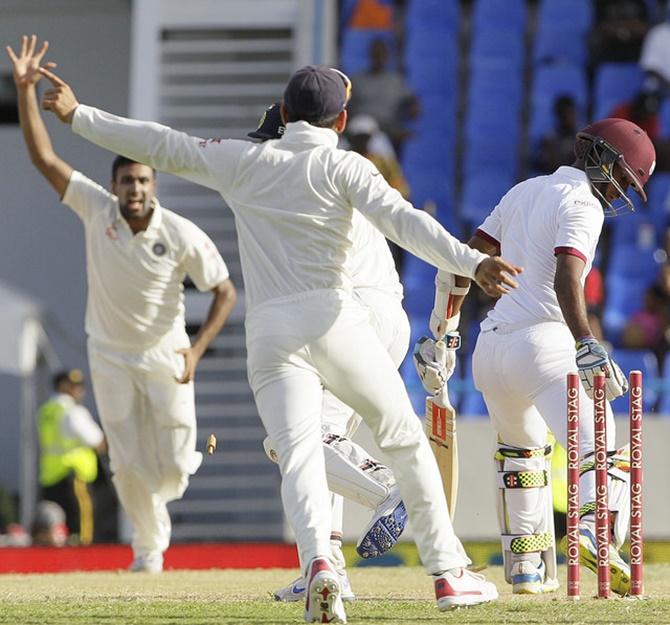 IMAGE: Ravichandran Ashwin of India appeals. Photograph: West Indies Cricket Board
"Ashwin came good at six, Wriddhiman Saha played well and Amit Mishra got runs too. That just deepens our batting line-up and gives us the same bowling options that are required to take 20 wickets," he added.
There has not been a draw at SabinaPark since 1998 with India winning by 63 runs on their last visit here in 2011.
Kohli said that taking a big squad in away series with world-class players in it helps as that gives a lot of options if a particular plan fails to click.
"Obviously, when you take a big squad away from home, it's always great to have the players that we have on the bench, knowing that if anything happens to anyone or if someone is not being able to execute what he wants on the field, we still have options that are world-class," he said.
"If you see Rohit, Bhuvneshwar and Jadeja, all three are world-class cricketers. They have amazing skill sets. It's always pleasing for a captain knowing that you can play with freedom of playing the best eleven that you have, but at the same time you have options," he added.
Talking about the possibility of changing the five-pronged bowling attack as per the conditions, the Indian captain said, "There's not much room to change when you've won the first game, knowing that the fast bowlers have done the job. There's good bounce in this wicket. The last time we played a Test here, in 2011, Mishra and Harbhajan both got good turn and bounce.
So the spinner can't be left out of the game. There is a second innings as well and we need to understand that.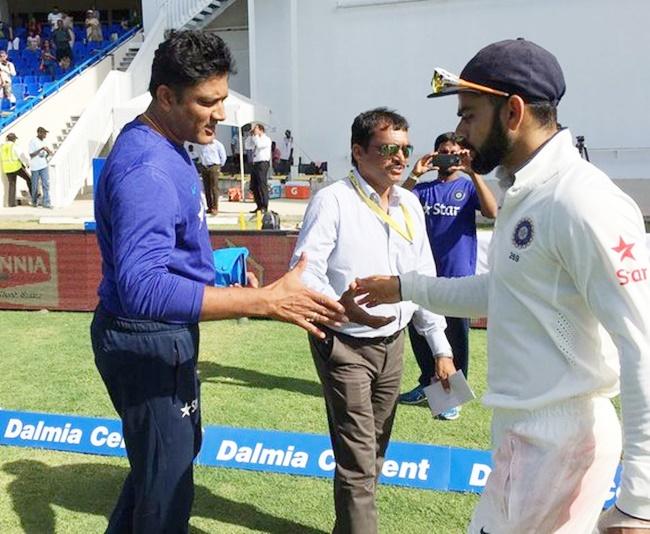 IMAGE: India's coach Anil Kumble congratulates captain Virat Kohli after beating West Indies in the first Test in Antigua, last Sunday. Photograph: BCCI/Twitter
"It's not overcast conditions and a green pitch where you will compromise on one spinner. You know that when the wicket dries up it will start turning and there is good bounce so the spinners will come into play," Kohli said.
"We have to have all bases covered for us to take 10 wickets in the second innings also. We need to have a good balance of spinners and fast bowlers for us to get a result. And that's what we had in the first game. As I said, when you win there's not that much room for change unless conditions are drastically different, which they are not," he added.
As such, India will be looking to strive for consistency after a near-perfect victory in the first Test. At the same time, they will also have to guard against complacency against a relatively weak and largely inexperienced West Indies.
"In Test cricket, if we want to become a consistent team, then we need to inculcate good habits, and they should not differ from team to team. So if you have an opportunity to take wickets and score runs for the team, then you need to take it, whichever team it is against," he said.
"By doing that you can win matches for your team, and every match counts, as a team, and our thinking is that we do not focus on the other team. We always look at getting results, and on this wicket you always get results, that's what I have seen. So we are quite excited by that, that we have an opportunity here to win as a team," Kohli signed off.