Captain Steve Smith is aware of India captain Kohli's good form and believes keeping him 'quiet' can bring some success to the visitors. He also believes that his players know to play spin well enough especially after the challenging tour of Bangladesh.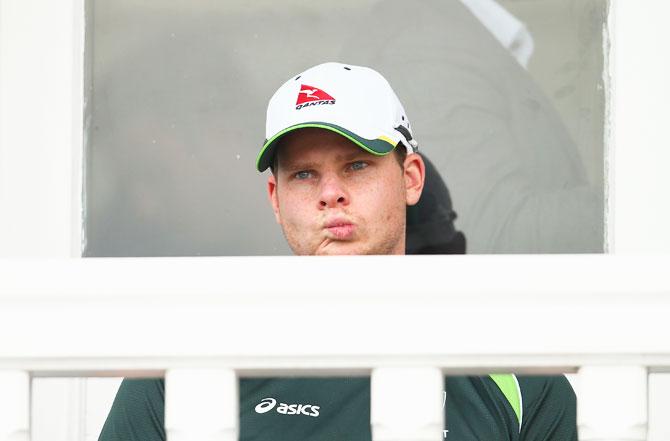 IMAGE: Aus captain Steve Smith reckons there won't be a repeat of the 'brain fade' fiasco that transpired during the Test series earlier this year, stating the ODIs will be played in good spirit. Photograph: Ryan Pierse/Getty Images
Steve Smith reckons that keeping home captain Virat Kohli "quiet" would be key for Australia in the upcoming ODI series against India.
Kohli is in red-hot form as he was the highest run-getter in the five-match series against Sri Lanka with a tally of 330 runs, which included two centuries and a fifty.
The Indian captain recorded his 30th ODI century during his splendid batting show in the Island nation, equaling Australian great Ricky Ponting's record.
Smith, who has eight ODI centuries, said he was not too concerned about the gulf between him and the home captain but to be successful in this series, they will have to get Kohli out cheaply.
"I am not too concerned about the differences with Kohli. He is obviously a very good player and has a phenomenal ODI record. Hopefully, we can keep him quiet as much as possible in this series. If we do that then hopefully it can go a long way in us having success on this tour," Smith told reporters after a practice session in Chennai on Sunday.
When Australia toured India for a Test series early this year, the Bangalore match was mired In a controversy as Smith admitted to looking towards their dressing room for assistance on a DRS call and described it a "brain fade" moment.
Kohli had accused Smith of 'cheating' but the visiting captain promised there won't be any controversy this time.
"I think it will be played in good spirit. It is a hard-fought contest playing against India. Looking back at the last one-day tour, I wasn't on it in 2013. It was a big run fest from memory. Pretty flat wickets and big totals. We will see what we are presented with and it could be the same again."
India chose to rest leading spinners R Ashwin and Ravindra Jadeja but Smith said the hosts still have a potent spin attack.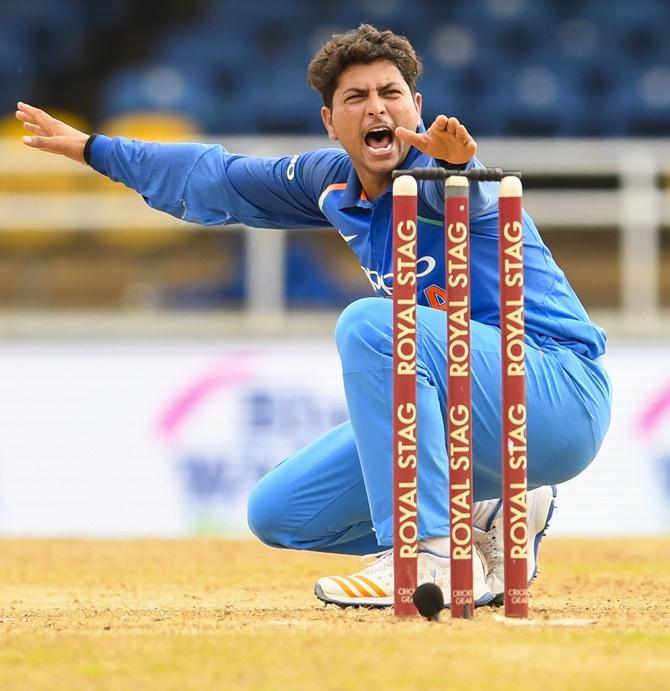 IMAGE: Smith is aware of India's good spin options with Kuldeep Yadav (in the pic) and Yuzvendra Chahal in the squad. Photograph: Cricket West Indies
"This is a completely different format compared to Test cricket. Axar Patel has done well pretty well for them. (Yuzvendra) Chahal is in the squad as well. Kuldeep Yadav is a good bowler too. They certainly have some good spin options and we have got to play them really well throughout the series," Smith said.
"I think the One-day group has played spin pretty well for a little while. Obviously, we are still learning in the Test format and trying to improve. We are coming from a challenging tour of Bangladesh.
"Obviously the guys are learning and trying to improve. Not sure that the ODI wickets will present quite as much as spin perhaps as some of the Test wickets. We have to wait and see and adapt to the conditions accordingly."
Smith also revealed that it was pre-planned that coach Darren Lehmann will leave for home after the Bangladesh tour.
"There are no issues. We will be fine. David Saker has been with us for a while now. It was announced about six months ago that Darren was going to take rest from this series and Saker was going to take over."
Asked if playing an ODI series was ideal preparation ahead of the Ashes series, Smith said," I don't think there is a problem with that."
"I know before the last Ashes series there was a one-day series here as well. There is plenty of time when we get back home and play some Shield games also and get ready for the Ashes."
Australia are scheduled to play against Board President's XI on Tuesday.
The ODI series-opener will be played on Sunday, September 17.
© Copyright 2021 PTI. All rights reserved. Republication or redistribution of PTI content, including by framing or similar means, is expressly prohibited without the prior written consent.