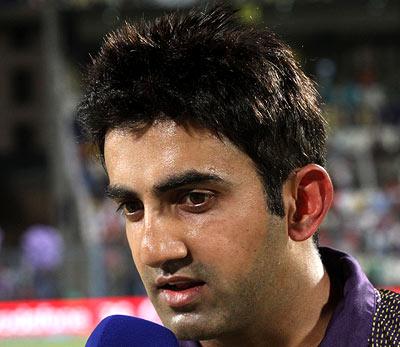 After the Ice Hockey Association of India's (IHAI) desperate call for support to fund the national team's participation in an Asian-level tournament, Kolkata Knight Riders captain Gautam Gambhir on Tuesday pitched in with a donation of Rs 4 lakh to help the cash-strapped federation.

Pained to see the Indian ice hockey team's fund raising campaign in a bid to participate in the IIHF Ice Hockey Challenge Cup of Asia Division I in Kuwait from April 18-24, the former India opener has taken it as a 'moral responsibility' to support the sport.

The 33-year-old left-hander, who runs Gautam Gambhir Foundation, came to know about the ice hockey team's SOS calls on social networking sites and his team contacted them and assured them full support.

"It's the last thing to happen for a sportsperson that he cannot represent his country for the lack of funds. It's the worst thing. After all, they will be called Team India irrespective of the sport they represent," Gambhir said, handing over a Rs 4 lakh cheque to the ice hockey team captain Tsewang Gyaltson in Kolkata.

"For any sportsman, it's a great privilege to support any other sport, especially ice hockey which is not really popular in India. Hope they do well with this support and bring laurels to the country," Gambhir said wishing the India team success in the tournament.

Gambhir said big sports like hockey, football and basketball are not be short on takers with the backing of big corporates.

"I always wanted to support a fellow sportsman, whichever sport it is. I always felt supporting a small sport is always good. You need people to support small sports so that it become popular in future as well," the left-handed batsman from Delhi said.

"I hope ice hockey can become really popular as well. It's a great sport, it's the quickest sport. We don't know much about it because it's winter oriented sport. But it's great fun. It's so fast," Gambhir added.

It was like a dream come true for Tsewang Gyaltson and the Ice Hockey Association of India, who were calling for help to raise funds less than a week back.

"It's a big moment for us. I'll be captaining the side for the first time but we are confident and hope to do well and make the country proud," Gyaltson said.
- Click here to support the Indian ice hockey team
Image: Gautam Gambhir.
Photograph: BCCI