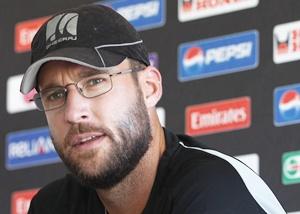 Veteran left-arm spinner Daniel Vettori will not be considered for the upcoming series against India owing to a back injury, which has flared up in recent days.
"Daniel Vettori won't be considered for the India series and his international cricket career remains under an injury-darkened cloud," the Dominion Post reported, quoting confirmation from New Zealand coach Mike Hesson.
New Zealand's squad for the five ODIs against India, starting January 19, will be named on Wednesday.
The ODIs will be followed by two Tests next month.
The inspirational former skipper, who has been battling injury setbacks, is also scheduled to have a chat with Hesson about his future by the end of this month.
"I've spoken to Dan and he wants to come back from Australia and see how his body is, then have a good catch up with Brendon and I and chat about his future," Hesson said.
Vettori is currently playing for Brisbane Heat in the Australian Big Bash.
Turning 35 this month, Vettori's latest back problem has necessitated three pain-killing injections in the space of few days.
Signing up as coach of Royal Challengers Bangalore in the Indian Premier League has led to heightened speculation about his playing career.
The youngest man to play Test cricket for New Zealand, at the age of 18, Vettori is one of only eight players to have managed 300 Test wickets and 3000 runs.
He currently has 360 wickets and 4516 runs in 112 Tests. His ODI record is also impressive having taken 284 wickets besides scoring 2110 runs in 275 matches.
Image: Daniel Vettori
Photograph: Michael Steele/Getty Images