KPH Dream Cricket Pvt Ltd, the owners and promoter of the IPL franchise Kings XI Punjab, has filed a criminal complaint against its title sponsor, NVD Solar Ltd and its officials, for "cheating and duping" them of around Rs 14 crore which they were supposed to pay it as per the contract.
The KXIP has also issued a legal notice to the company, one of India's leading solar equipment makers, for bouncing of four cheques worth Rs 25 lakh each tendered by NVD India.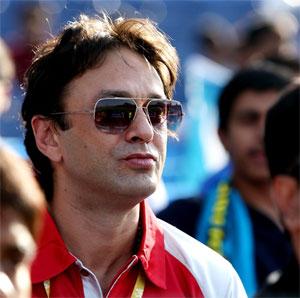 Kings XI Punjab's co-owner and noted industrialist Ness Wadia said that they have been left with no other option but to take a legal recourse against NVD Solar Ltd and its Managing Director Saibal Hazra.
"It's a full blown scam. They cheated us of our hard-earned money. They gave us fake accounts of Deutsche Bank London, Wells Fargo Bank New York, Common Suisse Bank Limited, fake swift message, fake names of officials, even sent us mails from fake IP addresses. It's crazy. They always said we will pay you on a certain date but what we got is only fake assurances," said Wadia.
"A sponsorship deal was struck between NVD Group and Kings XI Punjab in March for Rs 14.3 crore. So far, we have only received a sum of Rs 42 lakh (32 lakh via electronic funds transfer and 10 lakh through a cheque). That means, they owe us 13 crore and 88 lakh. They are actually thug No.1," added Wadia.
NVD Group officials could not be reached for their comments on the issue.
A three-year sponsorship deal was struck between NVD Group and Kings XI Punjab on March one 2013 till 2015 to replace DTH operator Videocon as the lead sponsor. The deal comprised of the NVD group taking up the title sponsorship as well as the right chest sponsorship of the team for a sum of 14.3 crores for IPL 6. KXIP has signed NVD Solar as title partner for three years till 2015 to status for last year's IPL.
NVD claimed to be a large group involved in the field of Solar Energy, with a number of subsidiary companies in numerous countries, including Bangladesh.
An official statement from the KPH Dream Cricket Pvt Ltd said that NVD has been asked to make the payment within 15 days from the date of receipt of the notice failing which a complaint under the Negotiable Instrument Act, 1881, would be filed against them in the Chandigarh Court.
"KPH lawyers have sent legal notice against bouncing of cheques to NVD Solar Limited, Saibal Kumar Hazra and other Directors of NVD Solar Limited U/S 138 of The Negotiable Instrument Act, 1881, as amended, by The Banking Public Financial Institutions & Negotiable Instruments Laws Amendment Act, 1988 for bouncing of four cheques of Rs 25 lakh each tendered by NVD India to KPH.
"In the said notices, KPH lawyers have called upon them to make the payment thereof within 15 days from the date of receipt of the notice else KPH will file a complaint against them in Chandigarh Court," said the statement.
Futhermore, the statement stated: "KPH has filed a criminal complaint with SSP office, Chandigarh against NVD Solar Limited, NVD Solar International Limited, Saibal Hazra and others seeking investigation of the offences committed by them and thus entailing consequent prosecution and punishment, inter alia, under various sections of the IPC for cheating and forgery."
Wadia said NVD officials misled his franchise from Day One of the contract and the only regret he has is KPH did not act against them earlier.
"It's really unfortunate that we got into a relationship with NVD and they cheated us...they duped us of our money. They promised us to pay the money on time, but did not pay despite several reminders."
The promoters of the group had claimed in February that since they wanted to give the entire sponsorship deal an international perspective, they wanted to sign the deal through their Bangladeshi company NVD Solar International Ltd.
Kings Eleven Punjab agreed to the modified arrangement.
The five cheques when presented for encashment by KPH were not honoured due to insufficient funds in their account.
"To date none of the cheques have been honoured. They made false commitments through signed contracts with no intention of clearing the dues," said Wadia.
Photograph: BCCI
© Copyright 2021 PTI. All rights reserved. Republication or redistribution of PTI content, including by framing or similar means, is expressly prohibited without the prior written consent.