The Central Excise Department said it has slapped service tax of Rs 6 crore on the Preity Zinta co-owned KPH Dream Cricket, which is part owner of IPL franchise Kings XI Punjab.
"We have served a notice on KPH Dream Cricket, seeking service tax payment of Rs 6 crore," an official of Chandigarh zone of the Central Excise Department informed.
KPH Dream Cricket has been asked to pay service tax on services categorized under Business Support Services and Manpower supply, the official further said, adding the tax demand was raised pertaining to the fourth edition of the IPL.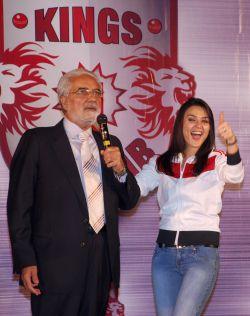 Notably, KPH Dream Cricket reported that its net loss had come down by 95 per cent to Rs 1.52 crore for the financial year 2011-12 in comparison to loss of Rs 35.26 crore for 2010-11, as per financial documents including profit and loss account filed with the Registrar of Companies.
KPH Dream had reported total revenue of Rs 90.16 crore in 2011-12, up by over 80 per cent from the revenue clocked in corresponding period, as per the company's financial statements.
According to the shareholding pattern in the company, Bollywood actress Zinta and industrialist Ness Wadia have 23 per cent stake each while the rest is owned by industrialists Mohit Burman (Dabur) and Karan Paul, chairman of Apeejay-Surrendra Group, among others.
Image: Preity Zinta
Photograph: Ajay Verma/Reuters