From the English media to social networking websites, 'devastated' Kevin Pietersen found support from all quarters.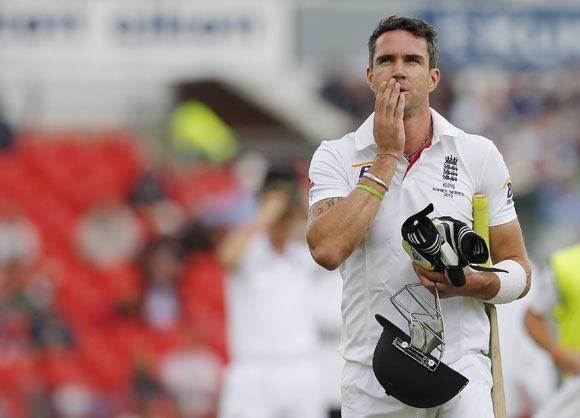 England's Kevin Pietersen walks off the pitch. Photograph: Phil Noble/Reuters
Kevin Pietersen dominated the front and back pages of Britain's newspapers on Wednesday with many sympathising with the controversial batsman whose England comeback bid has been thwarted by new cricket director Andrew Strauss.
- England's loss is IPL's gain... Find out!
- 'It's not about Pietersen's ability as a player, it's about trust'
The flamboyant South African-born right-hander, who hit a career-best 355 not out for Surrey at The Oval on Tuesday, has said the snub has left him "absolutely devastated".
His former captain Strauss, the England and Wales Cricket Board's new director of cricket, said there was a "massive distrust" between them but Pietersen had not been banned.
The Guardian's front page was dominated by a huge photograph of the maverick batsman under the headline "Kevin Pietersen 355 not out. Except he is."
The Sun's back page had the headline "Traitors" with a double page spread headlined "Retired .. Hurt" while the Daily Mirror back page screamed "Betrayal", highlighting Pietersen's remarks "They say they don't trust me, but how can anyone trust them?"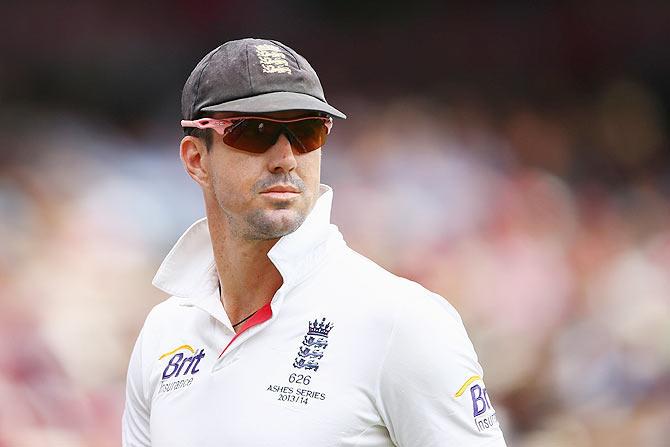 Kevin Pietersen of England looks on. Photograph: Cameron Spencer/Getty Images
The incident has also dominated social media discussions.
"Anyone else struggling to explain to their nine-year-old that Pietersen isn't allowed to play for England?" tweeted former England captain Michael Vaughan.
Another former captain Nasser Hussain said: "The ECB have shot themselves in the foot again. After the appalling way Peter Moores's sacking (as coach) was handled, they need to get their act together."
Former South Africa captain Graeme Smith also joined the debate and tweeted "I see the head boy (Strauss) is making English cricket a laughing stock again."
Somerset all-rounder Peter Trego said: "Has "trust" ever won a game of cricket ? I thought it was runs and wickets. Is there a new World Cup of trust England are hoping to win."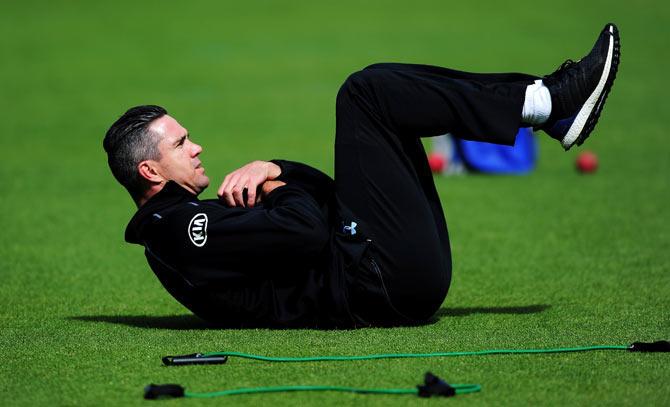 Kevin Pietersen of Surrey warms up. Photograph: Dan Mullan/Getty Images
The fallout went beyond cricket with former England soccer skipper Gary Lineker saying "Strauss's decision seems extraordinarily petty. I have never been in a dressing room where I have liked or even respected everyone. You deal with it."
Broadcaster Piers Morgan, a friend of Pietersen's, added: "Trust? Trust? I wouldn't trust Andrew Strauss to run a bath let alone English cricket."
In his column Pietersen, 34, wrote: "I am absolutely devastated that it looks like my hopes of an England recall have been brought to a close, especially given everything that has been said and asked of me."
"They have used the word trust to justify not selecting me, well, trust is a two-way thing."
Pietersen will fly to join Sunrisers Hyderabad in the Indian Premier League.