'I always knew there is no stopping him, he had to rise some day. He is the best cricketer to come out of Maharashtra for a long time.'
'The iconic belt-wiggling Salman move is his favourite. No wonder that he is 'Dabangg' to his India 'A' team mates.'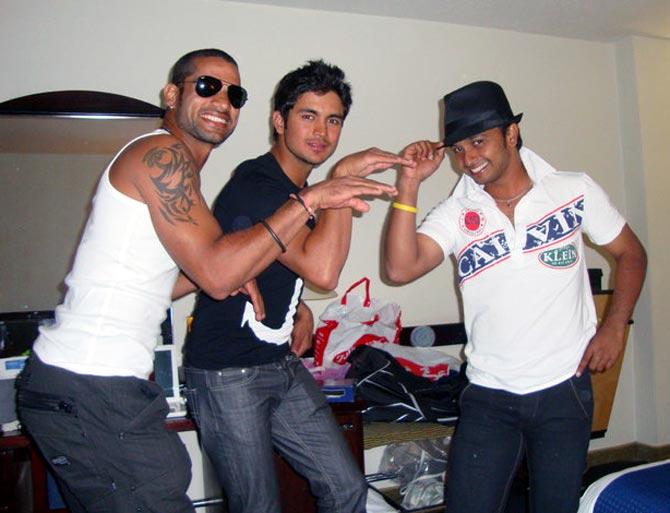 IMAGE: Kedar Jadhav, right, with Shikhar Dhawan, left, and Manish Pandey. Photograph: Kind courtesy, Kedar Jadhav/Facebook
Pint-sized Kedar Jadhav's power-packed 65-ball 100 might have earned him the sobriquet of 'Pocket Dynamite' but former national selector Surendra Bhave revealed how a hard-core vegetarian added power to his small frame by switching to chicken.

Son of former Maharashtra State Electricity Board employee Mahadev Jadhav, Kedar hails from a vegetarian family.

"You can surely give this credit to me. It was me who made him eat chicken," laughed Bhave as he spoke about Jadhav's transformation as a batsman.

"I don't want to take credit for his stardom. I am like his coach, elder brother, mentor and guide, who meet on an off or exchange a few texts. The last time (in 2010-11) I told him that his backlift looked astray and he immediately corrected it resulting in an amazing transformation," former Maharashtra player Bhave added.

He fondly recollected the first time he saw a young Jadhav during a Cooch Behar Trophy game against Kerala where he blasted 195 from 262 balls at the Nehru Stadium in Pune.

"I instantly knew he was special. With the kind of ease he was hitting the Kerala bowlers was really different. His body language always looks casual but he's someone who loves to take on the opposition and finish the match," Bhave said.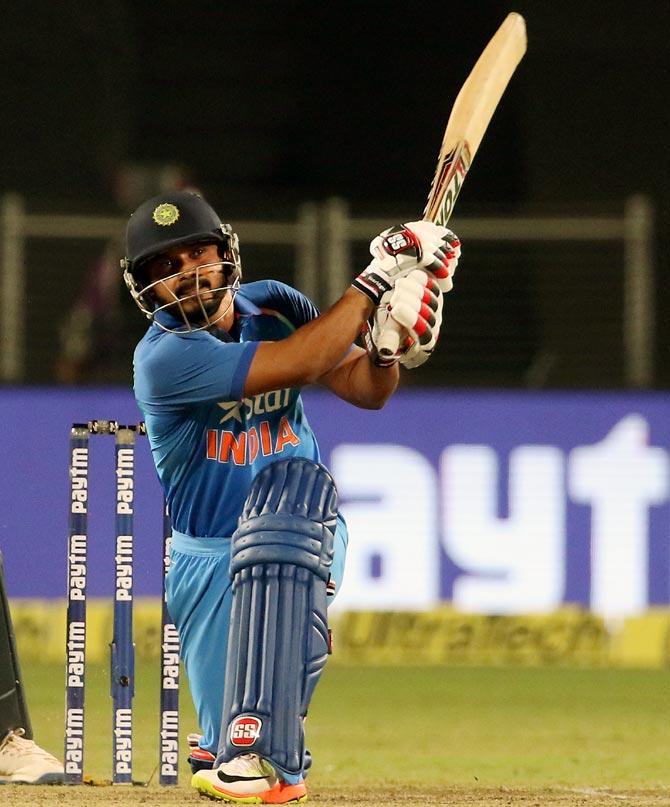 IMAGE: Kedar Jadhav hits out during the first ODI against England in Pune. Photograph: BCCI
Bhave feels that Jadhav is an all-format player, who can keep wickets better than a lot of specialist keeper.

"I have little doubts that he is an all format player. I have seen some of his best knocks in multi-day cricket. He can bowl, give breakthroughs and his wicketkeeping is better than any specialist," he pointed out.

"We have seen his wicketkeeping for Royal Challengers Bangalore and Delhi Daredevils. Clearly he's multi-talented."

Bhave remembers Jadhav's match-winning century against a formidable Mumbai two seasons ago in a Ranji Trophy at the Wankhede Stadium in Mumbai.

"The ball was darting around and doing everything. Zaheer bowled some astonishing deliveries but Jadhav showed he has the technique to flourish even in seaming conditions," Bhave said of Jadhav.

"He is someone who loves to bat till the last. He is a player of three formats. I always knew there is no stopping him, he had to rise some day. He is the best cricketer to come out of Maharashtra for a long time."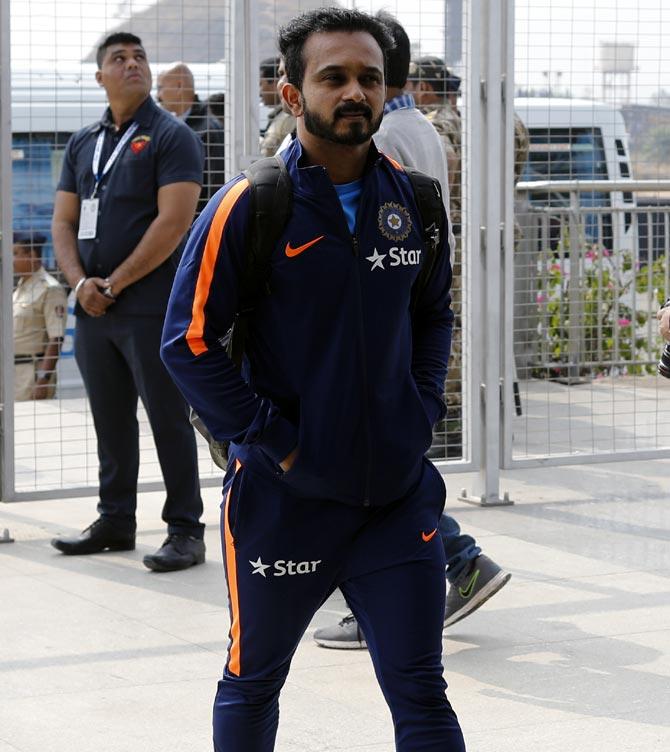 IMAGE: Kedar Jadhav makes his way to the stadium. Photograph: BCCI
His fitness was found wanting matching to Kohli in running in the Pune ODI as he developed cramps but Bhave feels that Jadhav is fit enough for the rigours of limited overs cricket.

"He is supremely fit and it was just one of those days. Moreover Pune was extremely humid that day following rains earlier. Obviously we cannot compare his aerobic ability with that of Virat but he has no fitness issues at all," Bhave said.

The duo also share amazing rapport from his coaching days.

"We begin our chat over the video analysis on his laptop and end up seeing one his innumerable Salman Khan dance numbers. The iconic belt-wiggling Salman (Khan) move is his favourite. No wonder that he is 'Dabangg' to his India 'A' team mates," Bhave concluded.