Statistical highlights of the fifth and final One-day International between India and the West Indies in Kingston, Jamaica, on Thursday.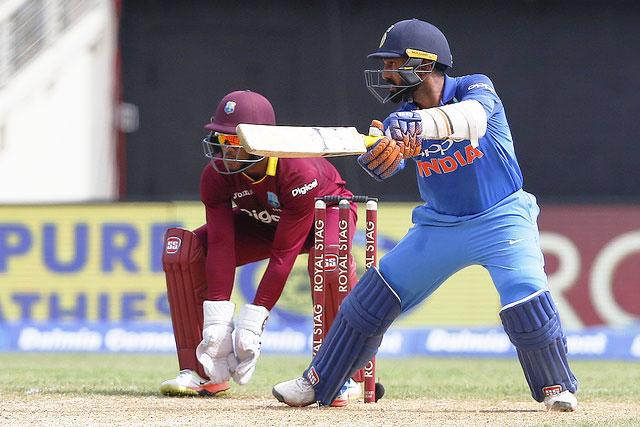 IMAGE: Dinesh Karthik plays a cut short during his crucial innings in the 5th ODI vs West Indies on Thursday. Photograph: WICB/Twitter
# India (3-1) recorded their third successive series triumph in the Caribbean. They had won 2-1 in 2009 and 3-2 in 2011.
# Overall, India have won seven consecutive series vs West Indies in ODIs since January 2007 -- home and away.
# India's eight-wicket triumph is their biggest victory margin vs West Indies at Kingston in ODIs.
# Virat Kohli enjoys a winning percent of 75.86 as captain in ODIs -- 22 wins, seven losses and one no-result match out of 30 contested. Among the Indian captains with at least seven matches, his success percent is the highest.
# West Indies have lost four matches by eight-wicket margins at Kingston -- two to South Africa and one each to Australia and India.
# Jason Holder became the second West Indian captain to win all five tosses in an ODI series/competition. Richie Richardson had accomplished the distinction in the CAB Jubilee (Hero Cup) in 1993-94 on Indian soil.
# Shai Hope has posted two fifty-plus innings in a series for the first time -- 81 at Port of Spain on June 23 and 51 at Kingston on July 6 -- both in the just concluded series vs India. He was the only West Indian batsman to register 50-plus scores in the series.
# For the sixth time in ODIs and the third time vs West Indies, Mohammed Shami has captured four wickets in an innings. His figures of 4 for 48 are his best in 12 matches under Virat Kohli's captaincy.
# Virat Kohli, with his fourth hundred at Kingston, has emulated the tallies of Sachin Tendulkar and Virat Kohli -- the most in ODIs involving India and West Indies.
# Kohli remains the only batsman to have averaged sixty plus in ODIs involving India and West Indies (minimum ten innings) -- his tally being 1387 in 27 matches.
# Kohli has got his 23rd Man of the Match award in ODIs. His tally is exceeded only by three Indians -- Sachin Tendulkar (62), Sourav Ganguly (31) and Yuvraj Singh (27).
# Kohli, with 18 hundreds in 102 innings in chases has set a record, surpassing Sachin Tendulkar's feat of 17 in 232 innings.
# Just two batsmen have registered more hundreds in a winning cause than Kohli's tally of 24 -- Tendulkar (33) and Ricky Ponting (25).
# Also, his overall tally of 28 hundreds in ODIs has been exceeded by two players -- Tendulkar (49) and Ponting (30).
# Dinesh Karthik (50 not out) has posted his eighth fifty in ODIs -- his fourth against the West Indies.
# India have won all eight matches when Karthik registered a fifty.
# Karthik and Kohli were involved in an unbroken third-wicket partnership of 122 -- the last instance when they were associated in a match-winning stand was -- 92 for the third wicket vs West Indies at Johannesburg in the ICC Champions Trophy on September 30, 2009.
# Ajinkya Rahane's tally of 336 (ave.67.20) is a record by an Indian batsman vs West Indies in a bilateral series, surpassing the 312 (ave.52.00) in seven matches in India in 2002-03.
# Rahane became the third Indian opener to manage 300 runs or more in a bilateral series away from home. He has joined Rohit Sharma (441 at an average of 110.25 in five matches in Australia in 2015-16 and Sachin Tendulkar (374 at an average of 53.42 in seven matches in England in 2007).