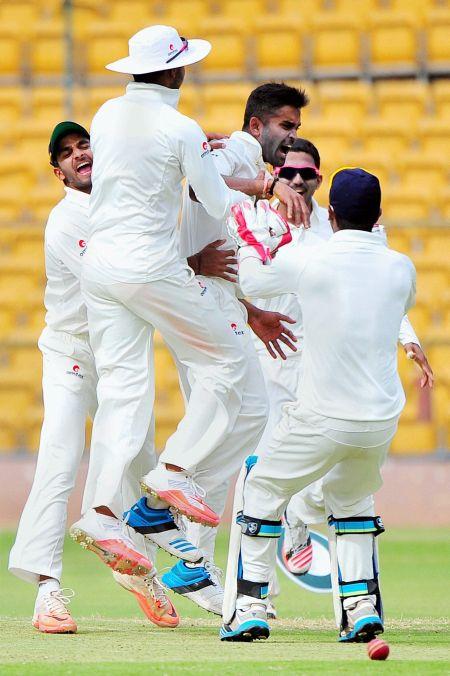 Karnataka captain R Vinay Kumar led from the front with a six-wicket haul that sent Mumbai crashing to a lowly 44 in their first innings on Day 1 of the Ranji Trophy semi-final, which saw 21 wickets fall, at the M Chinnaswamy Stadium, in Bengaluru, on Wednesday.

Except for Shreyas Iyer, who scored 15, and Suryakumar Yadav (12), no other Mumbai batsmen got into double digit scores, as the 40-time champions registered their second lowest total in the history of the Ranji Trophy, with Vinay claiming six for 20 in eight overs. The resurgent Mumbai side's total was only better than their lowest score of 42 all out against Gujarat in the 1977-78 season.
With a lead of 158 runs, Karnataka were at the receiving end in their second essay, ending the day on 10 for 2 from five overs.
Robin Uthappa (4), who top-scored with 68 in the first innings, and K L Rahul (2) were the batsmen dismissed.
Earlier, Mumbai pacer Shardul Thakur took four wickets as Karnataka were dismissed for 202 in their first innings after electing to bat first.
However, the defending champions struck back with a vengeance to claim a 158-run first innings lead.
For Mumbai, all-rounder Abhishek Nayar was unable to bat because of an injury sustained when on the field, after which he was taken to hospital.

Vinay gave Karnataka the perfect start as he struck with the second ball of the innings, getting opener Akhil Herwadkar leg before wicket for a duck.
Iyer attempted to steady the ship for a few overs before he was trapped leg before wicket by Abhimanyu Mithun.
India discard Vinay then took over the show, running through Mumbai's middle order.
Mumbai captain Aditya Tare was caught behind for nine and Siddhesh Lad was caught at square leg off the very next delivery for a duck, in the seventh over of the innings.

Nikhil Patil (2) and Wilkin Mota (0) also fell off successive deliveries, giving Vinay his five-wicket haul.

Shardul had a wild swing against Vinay but was caught by KL Rahul for six before left-hander Harmeet Singh was leg before wicket by Arvind Sreenath in the next over for a duck. Sreenath also had Surya Kumar Yadav caught in the deep for 12.
Earlier, the in-form Thakur claimed four for 61, while Wilkin Mota took two for 18 as Karnataka collapsed after the dismissal of opener Robin Uthappa, who stroked a fluent 68, laced with 10 fours and a six.

Karun Nair was left stranded on 49, while Manish Pandey made 34 but the rest of the batsman failed to contribute with the bat for the defending champions.

India opener Rahul perished early when he pulled a short ball from Thakur straight into the hands of the fielder on the fine leg fence for 15 and R Samarth was run-out for a duck as the hosts slipped to 34 for two.

Uthappa and Pandey rallied Karnataka with a 81-run stand for the third wicket but the former's dismissal saw Karnataka lose their way as wickets kept tumbling at regular intervals.
Scorecard
Karnataka (1st innings):
R Uthappa c Yadav b Mota 68
K Rahul c Sandhu b Thakur 15
R Samarth run out (Herwadkar) 3
M Pandey lbw Thakur 34
K Nair not out 49
K Kapoor b Thakur 0
C Gautam† lbw Nayar 4
S Gopal c Tare b Sandhu 0
Vinay Kumar run-out 17
A Mithun c Tare b Thakur 0
S Aravind c Tare b Mota 2
Extras: (b 8, lb 1, w 1) 10
Total: (in 60.2 overs) 202
Fall of wickets: 1-19, 2-34, 3-115, 4-133, 5-133, 6-153, 7-154, 8-178, 9-179, 10-202.
Bowling: S Thakur 18-6-61-4(1w), B Sandhu 14-0-57-1, W Mota 14.2-9-18-2, Harmeet Singh 5-0-28-0, A Nayar 9-0-29-1.
Mumbai (1st innings):
A Herwadkar lbw V Kumar 0
A Tare c Gautam b V Kumar 9
S Iyer lbw Mithun 15
S Yadav c Nair b Aravind 12
S Lad c Gopal b V Kumar 0
N Patil c Pandey b V Kumar 2
W Mota lbw V Kumar 0
S Thakur c Rahul b V Kumar 6
H Singh lbw Aravind 0
B Sandhu not out 0
A Nayar retired hurt
Extras: 0
Total: (in 15.3 overs) 44
Fall of wickets: 1-0, 2-23, 3-25, 4-25, 5-31, 6-31, 7-37, 8-41, 9-44
Bowling: Vinay Kumar 8-1-20-6, A Mithun 5-0-23-1, S Aravind 2.3-1-1-2.
Karnataka (2nd innings):
R Uthappa c Mota b Thakur 4
K Rahul c Tare b Sandhu 2
A Mithun not out 4
R Samarth not out 0
Extras: 0
Total: ( for 2 wickets, in 5 overs) 10
Fall of wickets: 1-6, 2-10
Bowling: S Thakur 2-0-8-1, B Sandhu 2-1-2-1, W Mota 1-1-0-0.
Image: R Vinay Kumar celebrates with teammates after picking a wicket in the Ranji Tropy semi-final against Mumbai.
Photograph: PTI