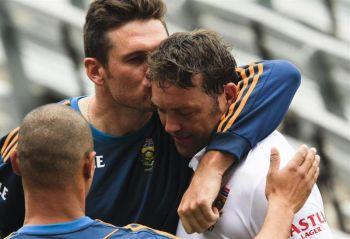 Jacques Kallis became the fourth South African to score a hundred in his last Test, emulating Pieter van der Bijl, Lee Irvine and Barry Richards after his splendid innings of 115 put the hosts in control against India on Day 4 of the second and final Test in Durban, on Sunday.
- PHOTOS: Kallis ton leaves India battling to save Test
He also moved to the third place among the leading run-scorers in Test cricket just before he got out, surpassing Rahul Dravid.
Kallis, who will retire from Tests at the end of this series, now has 13,289 runs in the longest format.
The veteran batsman also posted his 45th century in Test cricket.

Players hitting a century in their last Test:
| | | | | | | |
| --- | --- | --- | --- | --- | --- | --- |
| Player | For | Inns1 | Inns2 | Vs | Venue | Season |
| H Wood | Eng | 134* | DNB | SA | Cape Town | 1891-92 |
| AJL Hill | Eng | 124 | DNB | SA | Cape Town | 1895-96 |
| RA Duff | Aus | 146 | DNB | Eng | The Oval | 1905 |
| J Sharp | Eng | 105 | 0* | Aus | The Oval | 1909 |
| CAG Russell | Eng | 140 | 111 | SA | Durban | 1922-23 |
| GB Legge | Eng | 196 | 0 | NZ | Auckland | 1929-30 |
| A Sandham | Eng | 325 | 50 | WI | Kingston | 1929-30 |
| FR Martin | WI | 123* | 20 | Aus | Sydney | 1930-31 |
| WH Ponsford | Aus | 266 | 22 | Eng | The Oval | 1934 |
| M Leyland | Eng | 187 | DNB | Aus | The Oval | 1938 |
| PGV van der Bijl | SA | 125 | 97 | Eng | Durban | 1938-39 |
| KH Weekes | WI | 137 | DNB | Eng | The Oval | 1939 |
| AG Ganteaume | WI | 112 | DNB | Eng | Port-of-Spain | 1947-48 |
| W Place | Eng | 8 | 107 | WI | Kingston | 1947-48 |
| VM Merchant | Ind | 154 | DNB | Eng | Delhi | 1951-52 |
| R Subba Row | Eng | 12 | 137 | Aus | The Oval | 1961 |
| VL Manjrekar | Ind | 19 | 102* | NZ | Chennai (Corp) | 1964-65 |
| C Milburn | Eng | 139 | DNB | Pak | Karachi | 1968-69 |
| SM Nurse | WI | 258 | DNB | NZ | Christchurch | 1968-69 |
| BL Irvine | SA | 25 | 102 | Aus | Port Elizabeth | 1969-70 |
| BA Richards | SA | 81 | 126 | Aus | Port Elizabeth | 1969-70 |
| RE Redmond | NZ | 107 | 56 | Pak | Auckland | 1972-73 |
| IR Redpath | Aus | 101 | 70 | WI | Melbourne | 1975-76 |
| GS Chappell | Aus | 182 | DNB | Pak | Sydney | 1983-84 |
| M Azharuddin | Ind | 9 | 102 | SA | Bangalore | 1999-00 |
| MW Goodwin | Zim | 148* | 1* | Eng | Trent Bridge | 2000 |
| Saeed Anwar | Pak | 101 | DNB | Ban | Multan | 2001-02 |
| PA de Silva | SL | 206 | DNB | Ban | Colombo PSS | 2002 |
| ML Love | Aus | 100* | DNB | Ban | Cairns | 2003 |
| N Hussain | Eng | 34 | 103* | NZ | Lord's | 2004 |
| JN Gillespie | Aus | 201* | DNB | Ban | Chittagong | 2005-06 |
| PA Jaques | Aus | 31 | 108 | WI | Bridgetown | 2007-08 |
| JH Kallis | SA | 115 | | Ind | Durban | 2013-14 |
DNB = Did not bat
Leading run-scorers in Test cricket:
| | | | | | |
| --- | --- | --- | --- | --- | --- |
| | Mts | Runs | Avg | 100 | 50 |
| SR Tendulkar (Ind) | 200 | 15921 | 53.78 | 51 | 68 |
| RT Ponting (Aus) | 168 | 13378 | 51.85 | 41 | 62 |
| JH Kallis (SA) | 166 | 13289 | 55.37 | 45 | 58 |
| R Dravid (Ind) | 164 | 13288 | 52.31 | 36 | 63 |
| BC Lara (WI) | 131 | 11953 | 52.88 | 34 | 48 |
| S Chanderpaul (WI) | 153 | 11219 | 51.93 | 29 | 62 |
| AR Border (Aus) | 156 | 11174 | 50.56 | 27 | 63 |
| SR Waugh (Aus) | 168 | 10927 | 51.06 | 32 | 50 |
| DPMD Jayawardene (SL) | 138 | 10806 | 49.56 | 31 | 45 |
| KC Sangakkara (SL) | 117 | 10486 | 56.98 | 33 | 42 |
| SM Gavaskar (Ind) | 125 | 10122 | 51.12 | 34 | 45 |