Haresh Pandya recounts one of the biggest upsets in One-day cricket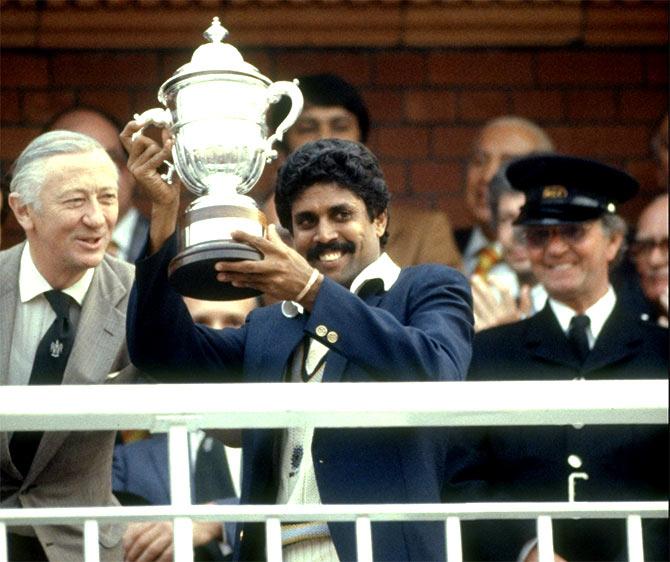 Captain Kapil Dev holds aloft the trophy after India won the World Cup. Photograph: Dave Cannon/Allsport
On June 25, 1983, India turned the cricket world upside down by beating the mighty and seemingly invincible West Indies in the final of the World Cup at Lord's against heavy odds, proving most people wrong.
It was one of the biggest upsets in the history of cricket.
India had gone to participate in the third consecutive World Cup in England with two back-to-back disastrous Test series – one in Pakistan and the other in the West Indies – in June 1983. Given their past record in the first two editions, as well as their overall poor reputation in One-day cricket, virtually nobody expected India to win more than a solitary match or two (they were in Group B consisting of four teams, meeting each other twice) against the seemingly lowly Zimbabwe, let alone bring home the World Cup.
Also see: Summer of '83
The mighty West Indies were everyone's hot favourite to make a hat-trick of the World Cup triumph.
And why not? Clive Lloyd was leading a side packed with explosive batsmen and brutal, hostile fast bowlers.
In those years the very mention of Lloyd, Viv Richards, Gordon Greenidge, Michael Holding, Andy Roberts, Joel Garner and Malcolm Marshall was sufficient to make the West Indies' opponents shiver with fear.
When India, riding on Yashpal Sharma's brilliant 89, "surprised themselves" by beating the West Indies by 34 runs in their first preliminary match at Old Trafford, Manchester, it was considered a "fluke" by many.
Nevertheless, the win against the giants offered a glimmer of hope and India, expectedly, crushed Zimbabwe by five wickets in their next tie at Grace Road, Leicester.
But the hope appeared to be deceiving in the second match against the same Zimbabwe, at Neville Ground, Tunbridge Wells, when India were tottering at 17 for 5, with Peter Rawson and Kevin Curran exploiting the moisture with seam and swing and all the frontline batsmen back into the dressing room – Sunil Gavaskar and his partner Krishnamachari Srikkanth failed to open their accounts, Mohinder Amarnath went for 5, Sandeep Patil for 1 and Sharma for 9.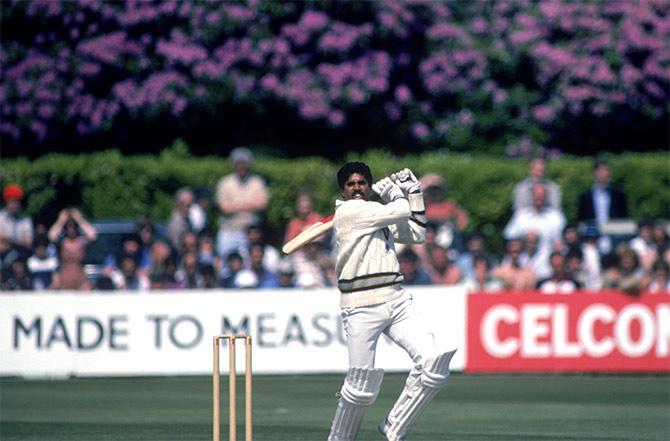 Kapil Dev during his record innings of 175 not out off 138 balls against Zimbabwe, at Tunbridge Wells. Photograph: Trevor Jones/Getty Images
It was precisely then that Kapil Dev took the situation in his hand and played a heroic, captain's innings of 175 not out (138 balls, 16 fours, 6 sixes) – one of the greatest in World Cup history – and saved India the blushes.
Though fiercely attacking, he played like a specialist batsman and executed each of his 16 hits to the fence with sweet timing. It was a chanceless innings.
Considering that India scored 266 (12 extras) for 8 in the stipulated 60 overs, Kapil Dev's contribution to the runs scored off the bat was a mind-boggling 69 percent. For some reason the BBC technicians had called a nationwide strike and not a ball or stroke of the stupendous innings was recorded.
India eventually romped home by 31 runs.
Two days later India humiliated Australia by 118 runs at County Ground, Chelmsford, thanks to some inspired medium-paced bowling by Madan Lal (4 for 20), Roger Binny (4 for 29) and Balwinder Singh Sandhu (2 for 26), and not only took revenge of an earlier defeat but remained second to group-topper West Indies and thus entered the semi-finals.
The format of the tournament was very simple. There were only eight teams in the fray – Australia, England, India, New Zealand, Pakistan, Sri Lanka, West Indies and Zimbabwe. While South Africa was still banned from international cricket, Zimbabwe did not have Test status then. The eight participants were divided in Group A and Group B. There were no quarter-finals. The top two teams from each group advanced to the semi-finals.
On June 22, at Old Trafford, Manchester, India took on England in the first semi-final. Bob Willis's decision to set the target backfired as the Indian medium-pacers bowled beautifully once again and restricted England to a modest 213 (all out) in 60 overs with Kapil Dev taking three and Madan Lal and Amarnath bagging two wickets each.
Most English players, including Ian Botham, who scored six runs off 26 balls, batted as if it was a Test match.
All the top Indian batsmen did their bit (Gavaskar 25, Srikkanth 19, Amarnath 46, Sharma 61) in what turned out to be a spectacular chase in the end because of Patil's regal, unconquered 51 (32 balls, 8 fours). India convincingly won by six wickets (with 32 balls remaining) and entered their maiden World Cup final, something no sensible cricket lover had thought about at the start of the showpiece event.
Amarnath was named Man of the Match for his all-round show.
No upset was expected in the second semi-final, which the calypso charmers from the Caribbean won hands down against Pakistan.
All London roads led to Lord's on June 25. Most cricket enthusiasts, including diehard fans of Lloyd and company, had taken the West Indies win for granted. But they wanted to be at the Mecca of cricket to enjoy and to celebrate. Those few hoping against hope were not the Indian cricketers but their loyal fans.
Hindu gods were invoked in the hope of a miracle. Though cricket had seen some rare miracles, it was widely assumed that Kapil Dev's team, irrespective of its impressive performance till the final, was unlikely to give the West Indies a good run for their money, leave alone defeating them on the big stage on the big day.
Lloyd's decision to bowl first proved absolutely correct when the relentless Roberts (3 for 32), Marshall (2 for 24), Holding (2 for 26) and Larry Gomes (2 for 49) bowled India out for a paltry 183 in 54.4 overs. But for Srikkanth (38), Patil (27) and Amarnath (26) making useful contributions, India would probably have not scored even 150.
During the lunch break (yes, there used to be one), Kapil Dev made a fervent, impassioned plea, peppered with patriotism, to his teammates, asking them to throw at everything in a bid for a miracle against the juggernaut of world cricket.
When Sandhu's prodigious in-swinger did Greenidge (1) in, the Indians were not thinking of victory but fearing the impending mayhem at the arrival of Richards at the crease. Their apprehension was not unfounded. The original Master Blaster went berserk, as was his wont, and scored a breezy 33 (28 balls, 7 fours) in a jiffy even as the West Indies lost Desmond Haynes (13) at 50.
But Kapil Dev got India the prized wicket of Richards when least expected. The Antiguan hooked Madan Lal savagely and the ball appeared to be sailing over the square-leg for a certain six. But India's captain sprinted from his position like a 100-metre runner and took probably the catch of his life. If Kapil Dev had dropped Richards, which was quite possible, he would surely have dropped the World Cup. So violently was Richards batting and it did seem that the West Indies would win with ridiculous ease.
Though the West Indies batting line-up was still very strong, Richards's wicket at 57 showed a rare ray of hope and injected a new dose of confidence and enthusiasm in the despondent Indian camp. Kapil Dev decided to go all out. When India got rid of Lloyd (8), Gomes (5) and Faoud Bacchus (8) with the addition of only 19 runs, a West Indies collapse appeared inevitable.
Jeff Dujon (25) and Marshall (18) tried to stem the rot and steady the innings, but Kapil's Devils were just unstoppable from then on. The proud, historic moment finally came when Amarnath adjudged the last man Holding (6) leg before for his third wicket and ran for the souvenir (the stumps at the batsman's end).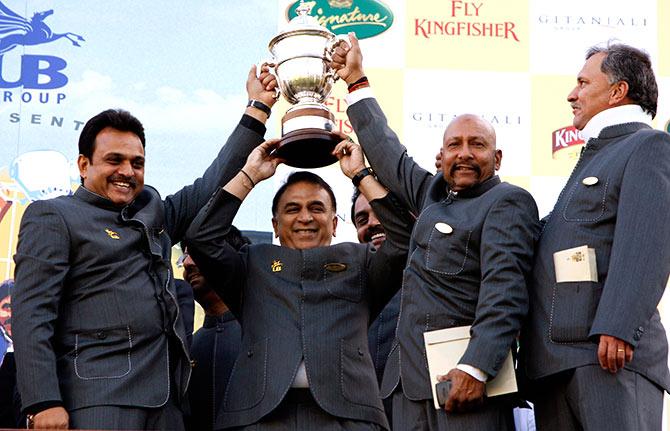 Members of India's 1983 World Cup-winning cricket team celebrate with the Prudential trophy at Lord's cricket ground during the 25th anniversary of their triumph. Photograph: Andrew Winning/Reuters
India had done the impossible, achieved a curious triumph and trounced the seemingly invincible World champions by 43 runs (with eight overs yet to be bowled) in the grand finale of the game's most prestigious tournament.
The medium-pacers did it again and shared all the ten wickets.
Amarnath, the wrecker-in-chief, finished with dream figures of 7-0-12-3. Madan Lal also took 3 for 31 in his 12 overs. Sandhu claimed 2 for 32. Kapil Dev (11-4-21-1) and Binny (10-1-23-1) bowled most economically and did not allow any undue liberty to any batsman save Richards.
It was out and out a team effort even though Amarnath bagged his second successive Man of the Match.
The World Cup triumph turned our cricketers into national heroes overnight. They were accorded a welcome befitting war heroes when they returned to India. They met the Prime Minister, Indira Gandhi, and President, Giani Zail Singh.
The victory increased their financial value, too, and made them millionaires. The much-needed money began to pour into Indian cricket with sponsors making a beeline. Many World Cup stars began appearing on television commercials. The miserly Board of Control for Cricket in India was compelled to open its coffers to the cricketers who brought laurels to the country. The contemporary generation of Indian cricketers, basking in millions of rupees today, owe a sense of gratitude to Kapil's Devils.
Most important of all, the World Cup success changed India's image as a cricket nation. The world began to take India and her cricketers more seriously. (So much so, India could host the 1987 World Cup on the subcontinent in collaboration with Pakistan). It triggered a steady emergence of talented young cricketers in every nook and cranny of India, not just in metropolises like Bangalore, Chennai, Delhi, Kolkata and Mumbai.