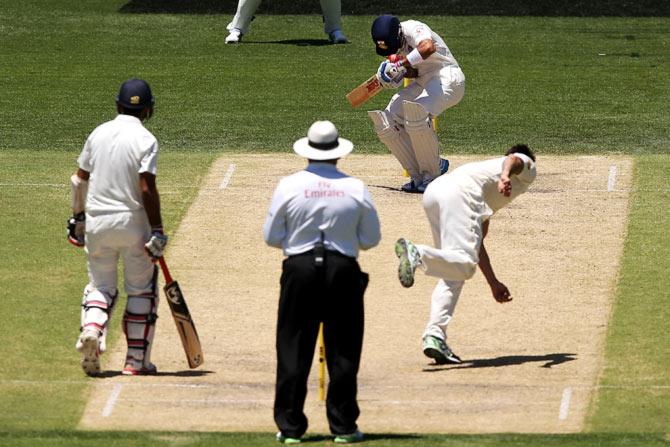 Virat Kohli is hit on the helmet by a bouncer from Mitchell Johnson. Photograph: Michael Dodge/Getty Images
The emotional toll that Phillip Hughes' death has taken on the Australian cricketers was all too evident on Thursday when the home side's nervous players rushed to check on India captain Virat Kohli after he was hit by a Mitchell Johnson bouncer on day three of the third Test in Adelaide.
- Scorecard

The opening Test, which has seen an outpouring of emotions owing to Hughes' death a couple of weeks ago after being hit by a bouncer in a domestic game, was witness to some more dramatic moments in the morning session on the third day.

In the 31st over of India's first innings, Kohli walked in after the dismissal of Murali Vijay (53) and was immediately welcomed by a short-pitched delivery from Johnson.

The right-hander ducked but was hit on the badge of his helmet, prompting him to take off it for a moment.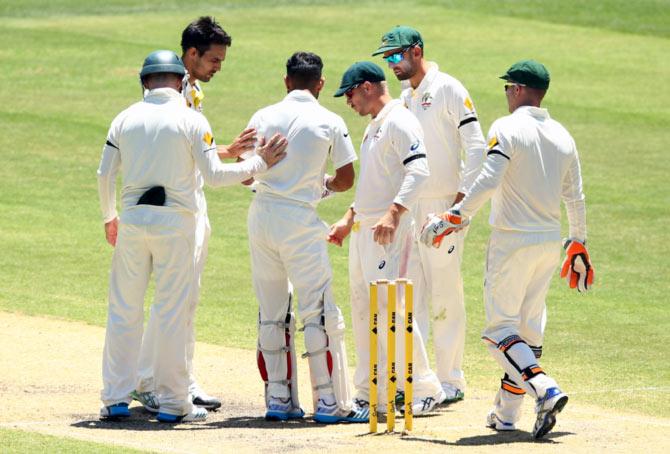 Australian players check on Virat Kohli after he was hit by a bouncer. Photograph: Robert Cianflone/Getty Images
And perhaps it was the trauma of Hughes' death that had a nervous-looking Johnson immediately rushing to check on Kohli's well-being.
The Indian seemed unfazed but the Australian players were visibly rattled when Kohli took off his helmet. Australia captain Michael Clarke was among the fielders who ran up to him and enquired if he was alright.

Clarke, who has broken down publicly quite a few times since Hughes' death due to his close relationship with the late batsman, was later seen comforting Johnson as well by patting the fast bowler's shoulders.
Michael Clarke speaks to Mitchell Johnson after his bouncer hit Virat Kohli on the helmet. Photograph: Michael Dodge/Getty Images
Even the umpires walked up to Kohli to check on him.

There has been a debate on the usage of bouncers in international cricket ever since Hughes' tragic demise.

But most former players and experts believe that the delivery should continue with a renewed focus on providing better safety gear for batsmen.
© Copyright 2022 PTI. All rights reserved. Republication or redistribution of PTI content, including by framing or similar means, is expressly prohibited without the prior written consent.