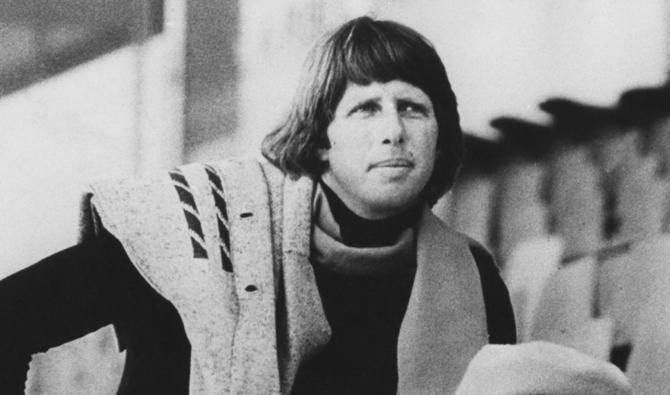 IMAGE: Former Australian fast bowler Jeff Thomson. Photograph: Keystone/Hulton Archive/Getty Images
Former tearaway fast bowler Jeff Thomson will be inducted into the Australian Cricket Hall of Fame at the Allan Border Medal dinner in Melbourne on Wednesday.
Thomson, 65, will be handed the honour 20 years after his one-time fearsome bowling partner Dennis Lillee was part of the original intake of 10.
Wicketkeeper Wally Grout, who died at 41 in 1968, will be inducted alongside Thomson, bringing the membership to 41.
Thomson played 50 Tests between 1972 and 1985, taking 200 wickets, the sixth most at the time.
He is now 15th on the Australian list, with Lillee -- with whom he opened the bowling for most of his career -- in third place with 355. Thomson also played 50 one-dayers for another 55 scalps.
Thomson, still universally referred to as "Thommo", believed the recognition is a reward for all those who helped him during his cricket career.
"It's for my wife and kids, my parents, my brothers, my mates, all those people who took me to cricket when I was young and helped me along the way," Thomson said.
"I got a ring from a mate of my brother's who I hadn't spoken to for 30 years. He was rapt and said how weird it was for a bunch of kids who used to play cricket for hours against a telephone pole that one of us was now in the Hall of Fame."
Thomson rated winning the Ashes in 1974-75, after a difficult debut two seasons earlier with a broken foot, playing the 1975 World Cup Final, which Australia lost to the West Indies at a packed Lord's, and beating the West Indies during 1975-76 as his career highlights.
Grout played 51 Tests between 1957 and 1966, catching 163 batsmen and stumping 24 and averaging 15.08 with the bat. He still shares the record of eight catches in a Sheffield Shield innings with former Victorian captain Darren Berry.