'Will never ever bowl the doosra, as I believe in off-breaks,' says rookie spinner Jayant Yadav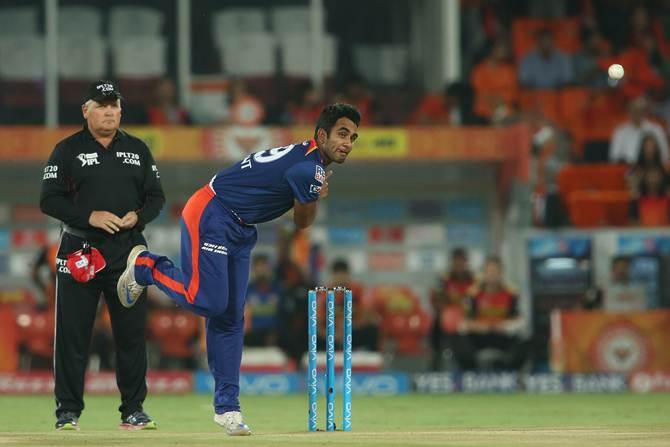 IMAGE: Delhi Daredevils spinner Jayant Yadav in action during IPL 9. Photograph: BCCI
Rookie off-spinner Jayant Yadav, who is set for his maiden India tour of Zimbabwe next month, says he will never attempt to bowl a 'doosra' since it cannot be done without a bit of elbow kink.
"I have never bowled a doosra in my life and will never bowl one. I believe the doosra can't be bowled without a bit of kink. My stock ball is the off-spinner and that's my strength. I am working on my carrom ball (delivery), but, to be honest, I have not reached a stage where I can use it at a big platform like IPL or international matches," said the 26-year-old, who has 110 first-class wickets from 40 matches.
For Jayant, playing first-class matches at the seamer-friendly Bansi Lal Stadium in Lahli was a challenge, since he has had to fight for a place in the state team with Amit Mishra and Yuzvendra Chahal.
"I think it has made me tougher that we play at Lahli, which is known for its seamer-friendly tracks. Also, when Mishybhai (Amit Mishra) is around, he is obviously the first choice spinner. If we play a second spinner, the fight is between myself and Yuzi (Yuzvendra Chahal)," Jayant revealed.
A decision by Haryana Cricket Association supremo and Board of Control for Cricket in India treasurer Aniruddh Chaudhary proved to be the turning point in his career.
"It was my Ranji Trophy debut in 2011, against Gujarat, in Surat. We were fighting to save relegation. Mishybhai and Chahal were supposed to play and Aniruddh sir said that I should be played. It was a match that could have been make or break for me and he (Chaudhary) had belief in my abilities. I got six wickets in the game and we saved relegation," said Jayant, who is waiting to have an interaction with Mahendra Singh Dhoni, as he has never spoken to India's limited-overs' captain.
The next big turn came when he got to interact with Rahul Dravid during last year's India 'A' stint.
"For the first two days I was in awe of him. I simply could not speak as it was like standing in front of Rahul Dravid. Then, as I interacted, I was amazed at his homework.
"That was evident in IPL where in each of the five matches I had the same role and it was a specific one. I was told that I will have to bowl in Powerplays. Rahulbhai believes that in match situations, every player is his own coach and needs to learn to think out of the box," said Jayant, who is employed with Chemplast and plays in the Tamil Nadu Cricket Association league for the renowned Chennai club side.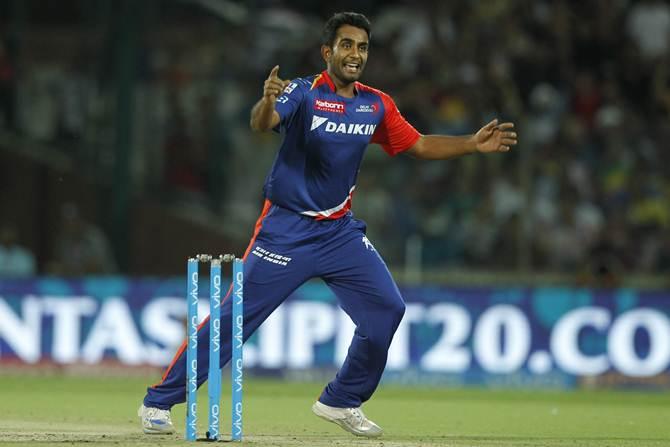 IMAGE: Jayant Yadav has 110 first-class wickets from 40 matches. Photograph: BCCI
Ask him about his favourite off-spinners and he names Ravichandran Ashwin and Graeme Swann.
"Swann had such amazing drift in his deliveries while Ashwin is a master of variations. As a bowler, it is necessary to have variations when one aspires to play at the highest level."
Yadav believes that coming through the age-group ranks helped him go through a steady progress.
"I have played for Haryana in all age-groups. Right from Under-15, Under-17, Under-19, Under-22 and then the state side followed by IPL and India 'A'. It's been a gradual progression. In fact, at Under-15, it was Yuzvendra who was our captain."
Hailing from Gurgaon, Jayant lives with his parents at the Air India quarters at South Delhi's Vasant Vihar area.
"While I am from Haryana domicile, I had started playing my cricket in Delhi's New Friends Club. I was a student of DPS Vasant Kunj and then studied BA programme at the Hindu College. As of now, my aim will be to remain relaxed. Also, like every other youngster, I am also looking forward towards meeting Mahibhai (Dhoni)."