Australia captain Steve Smith is the number-one ranked Test batsman, followed by Joe Root of England and New Zealand's Kane Williamson.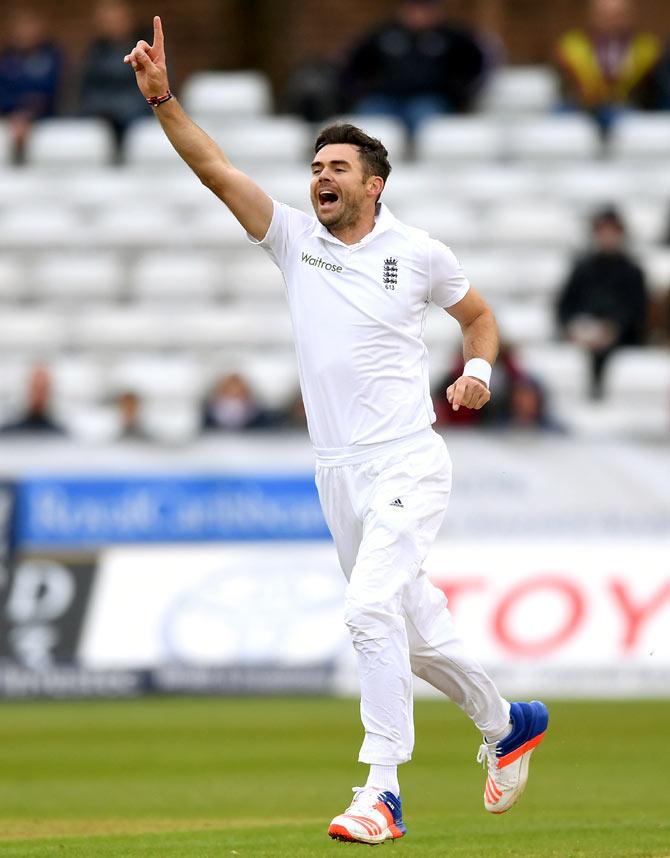 IMAGE: James Anderson celebrates dismissing Sri Lanka's Milinda Siriwardana during the second Test in Durham. Photograph: Gareth Copley/Getty Images
England pacer James Anderson topped the MRF Tyres ICC Player Rankings for Test bowlers for the first time in his career after bowling his side to a nine-wicket victory over Sri Lanka in the second Test at Chester-le-Street, in Durham, on Monday.
Anderson took three for 36 and five for 58, and, in doing so, leapfrogged team-mate Stuart Broad and India's Ravichandran Ashwin into the coveted number-one position.
He now leads Broad by 15 points and Ashwin by 13.
For his efforts, that also fetched him the man of the match award, Anderson earned 30 points. This means in the two Tests against Sri Lanka, the 33-year-old Lancastrian collected 79 points and gained four spots in the rankings.
Anderson is the fourth England bowler to top the bowlers' table since Ian Botham first achieved this feat in 1980.
Steve Harmison stormed up the chart in 2004, while Broad vaulted to the number-one position earlier this year following the Johannesburg Test against South Africa.
Broad, who took five wickets in the Test, slipped behind Ashwin to third place after conceding three points.
Other bowlers to improve their rankings post the Chester-le-Street Test are Nuwan Pradeep (43rd, up by five places), Milinda Siriwardana (50th, up by 13 places) and Chris Woakes (73rd, up by 16 places).
In the batting table, England's Moeen Ali achieved a career-high ranking.
The left-handed batsman scored 155 not out, his career-best score in 25 Tests, which helped England to declare its first innings at 498 for nine.
Following the achievement, Ali earned 82 points that lifted him 12 places to a career-high 35th position in the MRF Tyres ICC Player Rankings for Test batsmen.
Opener Alex Hales also continued to head in the right direction.
After scoring 83 and 11, the 27-year-old England batsman moved up nine places to 70th. In the past two Tests, Hales claimed 47 places and looks strong to gain further spots as he is still in the qualification period.
A batsman qualifies for a full rating after he has played 40 Test innings, while Hales has so far batted in only 11 Test innings.
Sri Lanka's Dinesh Chandimal, who scored 126 in the second innings, moved up one place to 19th, while Nick Compton is now in 67th place after rising one rung.
Alastair Cook, who became the first England batsman to complete 10,000 Test runs while scoring 47 not out in the second innings, retained 15th position.
Australia captain Steve Smith is the number-one ranked Test batsman, followed by Joe Root of England and New Zealand's Kane Williamson.
In the all-rounders' list, Ali gained one place and is now sixth, just a point behind team-mate Ben Stokes.
Ashwin is the number-one ranked all-rounder.
The Test player rankings will next be updated after the third Test between England and Sri Lanka, starting at Lord's on June 9.
ICC Test Player Rankings (As on May 31, 2016):
Batsmen (Top 10)
| | | | | | | |
| --- | --- | --- | --- | --- | --- | --- |
| Rank | (+/-) | Player | Team | Pts | Ave | HS Rating |
| 1 | ( - ) | Steve Smith | Aus | 925 | 60.18 | 936 v Eng at Lord's 2015 |
| 2 | ( - ) | Joe Root | Eng | 878 | 54.46 | 917 v Aus at Trent Bridge 2015 |
| 3 | ( - ) | Kane Williamson | NZ | 868 | 49.23 | 893 v Aus at Perth 2015 |
| 4 | ( - ) | Hashim Amla | SA | 860 | 51.45 | 907 v Pak at Abu Dhabi 2013 |
| 5 | ( - ) | Younus Khan | Pak | 826 | 53.94 | 880 v SL at Lahore 2009 |
| 6 | ( - ) | AB de Villiers | SA | 818 | 50.46 | 935 v Aus at Port Elizabeth 2014 |
| 7 | ( - ) | Adam Voges | Aus | 811*! | 95.50 | 811 v NZ at Christchurch 2016 |
| 8 | ( - ) | David Warner | Aus | 800 | 50.06 | 880 v NZ at Perth 2015 |
| 9 | ( - ) | Angelo Mathews | SL | 784 | 49.25 | 877 v NZ at Christchurch 2014 |
| 10 | ( - ) | isbah-ul-Haq | Pak | 764 | 48.89 | 842 v NZ at Abu Dhabi 2014 |
Bowlers (Top 10)
| | | | | | | |
| --- | --- | --- | --- | --- | --- | --- |
| Rank | (+/-) | Player | Team | Pts | Ave | HS Rating |
| 1 | (+2) | James Anderson | Eng | 884! | 28.33 | 884 v SL at Durham 2016 |
| 2 | ( - ) | R. Ashwin | Ind | 871! | 25.39 | 871 v SA at Delhi 2015 |
| 3 | (-2) | Stuart Broad | Eng | 869 | 28.37 | 880 v SA at Johannesburg 2016 |
| 4 | ( - ) | Yasir Shah | Pak | 846*! | 24.17 | 846 v Eng at Sharjah 2015 |
| 5 | ( - ) | Dale Steyn | SA | 841 | 22.53 | 909 v WI at Centurion 2014 |
| 6 | ( - ) | Ravindra Jadeja | Ind | 789*! | 23.76 | 789 v SA at Delhi 2015 |
| 7 | ( - ) | Trent Boult | NZ | 757 | 29.14 | 825 v Eng at Lord's 2015 |
| 8 | ( - ) | Josh Hazlewood | Aus | 741* | 25.77 | 792 v WI at Hobart 2015 |
| 9 | ( - ) | Morne Morkel | SA | 724 | 29.33 | 776 v Aus at Cape Town 2011 |
| 10 | ( - ) | Vernon Philander | SA | 717 | 22.08 | 912 v Ind at Johannesburg 2013 |
All-rounders (Top five)
| | | | | | |
| --- | --- | --- | --- | --- | --- |
| Rank | (+/-) | Player | Team | Pts | HS Rating |
| 1 | ( - ) | R. Ashwin | Ind | 406 | 419 v WI at Mumbai 2013 |
| 2 | ( - ) | Shakib Al Hasan | Ban | 384 | 419 v Zim at Khulna 2014 |
| 3 | ( - ) | Stuart Broad | Eng | 294 | 382 v Pak at Abu Dhabi 2012 |
| 4 | ( - ) | Vernon Philander | SA | 275*/ | 376 v Aus at Cape Town 2014 |
| 5 | (-1) | Ben Stokes | Eng | 269 /* | 276 v SA at Centurion 2016 |
* indicates provisional rating; a batsman qualifies for a full rating after playing 40 Test innings; a bowler qualifies for a full rating when he reaches 100 Test wickets.

! indicates career-highest rating